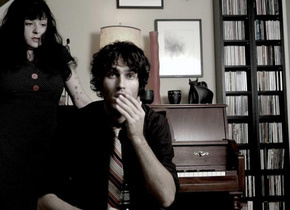 Vandaveer will release Divide & Conquer through Supply and Demand Music on August 25, 2009. A national tour is slated for August, September and November 2009, with additional European touring in October 2009.   Vandaveer will play with Bowerbirds and Megafaun on July 6, 2009 at The Black Cat in Washington, DC.
Download the MP3 for "Turpentine":
The video for "Fistful of Swoon" can be viewed at:
Vandaveer is the alt-folk song singing/record making/globetrotting project penned and put forth by DC-by-way-of-Kentucky tunesmith Mark Charles Heidinger.   The son of a preacher, whose father was a gambler, whose father was both judge and US Congressman, Heidinger one day found himself in possession of a golden pocket watch owned, wound, and regularly counseled by each in this paternal line.   On the backside of the watch was a family name engraved, passed down for more than a century like the timepiece that followed. That name was Vandaveer.