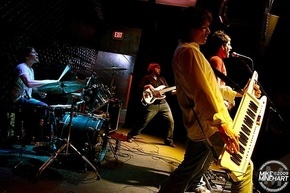 Twin Cities based synth-rock band, Future Antiques, has a fresh, yet familiar sound, combining atmospheric elements of Coldplay and Pink Floyd and fusing them with the edginess of bands like Muse and Mute Math.
Herd brothers, Jason and Joel, first formed Future Antiques in 2005 while they were students at McNally Smith College of Music in Saint Paul, Minnesota. It began as an experiment in duplicating ambient and electronic music in a live band setting. After three years of development and line-up changes, including the addition of Adam Durand on bass, the remaining members decided to start over with a clean slate. They teamed up with longtime friend and singer-songwriter Jeremy Robinson, whose influences were so different, it was not clear at first how all these new musical ideas could work in one band. After nine months of collaboration, the group found its direction. With screaming keytar solos, rich guitar lines, intricate rhythms all tamed by pop rock hooks and smooth vocals, Future Antiques have been warmly welcomed onto the Minneapolis music scene. The band's first EP, The Getaway, was released in August 2008 and is available on iTunes.
It was a hot June evening when I went to the local park and there was a street dance starting.   "Future Antiques" was the opening band for a popular local group "The New Congress".     Being I was so early getting there, I thought I would   listen to few of FA's songs.   I was pleasantly surprised by the sounds coming from Jeremy Robinsons guitar.   He plays with a very mature sound for being a young guy.   The whole group had a familiarity to them but they were uniquely themselves.    
It seemed to me that these guys could catapult to the pop charts very easily.   They had thoughtful and thought provoking lyrics on "The Getaway" as well as "So Help Me" which I found myself singing on the way home.     But what I like most is their music is easy to listen to, keyboards kind of mysterious and crisp clear lyrics.     This young band knows who they are.
Words By: Diana Olson
www.myspace.com/futureantiques