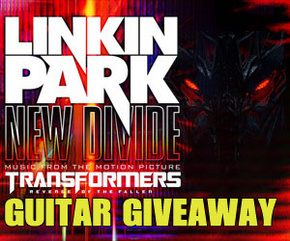 Multi-Platinum Alternative rock band Linkin Park have just released their much-anticipated track for Transformers: Revenge of The Fallen. The single "New Divide" will serve as the official theme song for the movie which is slated for silver screen release on June 24th.
Still haven't had your fix of Linkin Park? Enter now to win a custom Fender Squier guitar from Linkin Park, fully decked out with official artwork from the new Transformers movie: Revenge Of The Fallen!
This contest ends July 5th, 2009!