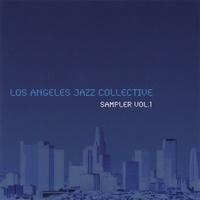 A compilation of upbeat and smooth jazz embodies the Los Angeles Jazz Collective's "Sampler Vol. 1," which was released earlier this year.
 
The LAJC, which has been meeting for nearly two years now, is an assembly of various jazz musicians who aim to "build a stronger jazz community" in the Los Angeles area. Thirteen musicians are at the heart of the LAJC, as well as an ever-expanding following. These are musicians that have worked with the likes of legends Bob Dylan, bassist John Clayton and Harry Belafonte to name a few.
 
With diverse musical education and experiences, the CD gives one a taste of what the LAJC is about. An instrumental, improvised collection is what you will find when listening to this sampler.
"Descending Upward," spearheaded by pianist Gary Fukushima, with bassist Ryan McGillicuddy and drummer Ryan Doyle, is a calm and light piece, perfect for a rainy day listen or even a relaxing day at the park. "Don't the Sun Feel Good" is a sultry and sassy song led by Mike Scott on guitar, Jeff Elwood on tenor sax, Roger Shew on bass and Tim Pleasant on drums.
"Loft Scene" gives a sense of walking through a sexy scene off a Hollywood set, with Robby Marshall on sax and synthesizers, Andrew McKay on guitar, Danny McKay on bass and Luis Cole on drums.
 
The Los Angeles Jazz Collective continues to strive for a "greater public appreciation for improvised music," with a group of dedicated and creative musicians backing them.
To check out more on the Los Angeles Jazz Collective, visit www.lajazzcollective.com.
Review By: Erika Y. Gradecki
[Rating: 3.5/5]