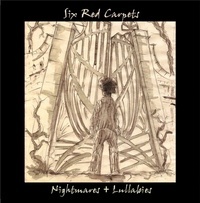 Whisking off to dreamland with the Six Red Carpets' release, "Nightmares + Lullabies," brings you to a mystifying, and nearly sublime state.
 
The Milan, Italy alternative rock group, who notes Radiohead and Muse amongst their influences, has combined an eclectic blend of catchy rhythms, smooth guitar riffs and shadowy lyrics that convey deep messages.
The band members include Mills on vocals and guitar, Leaf on bass guitar, Majlco on guitar and synth and Fly on drums and percussion. The group is completely independent, having done everything from writing and producing, and even to copyrighting.  
In "Here's to the Nightmare," Mills belts out a poetic look at dreams, "He said: 'Thoughts are fluid dreams. They run like rivers to the sea and thousands are the seas to swim. And all you imagine will appear for real. But you've already learnt to fly, you've already hung your soul to the sky…"  
The lyrics on "Nightmares + Lullabies" pulls you into the group's dreamlike state, as does flipping through the CD's insert, where the cover design and inside paintings by Simona Maniello, illustrate each song's overall theme and gives the illusion of stepping into a motion picture.
Several songs are solemn and dark, such as "Deep Down in Water (Pt. 1)," where Mills sings about a lost friend — "I left down on your sill some photographs of us. The lost times, I swear those will be eternal to my heart." In "Asphalt Song," the final cut on the release, Mills sings "Floating high, over your head. Gentle in my rotation. The eternal fall is to the end." Refreshing and unique, the Six Red Carpets make nightmares not seem so bad after all.  
For more on the Six Red Carpets, visit www.sixredcarpets.com.
Review By: Erika Y. Gradecki
[Rating: 4/5]