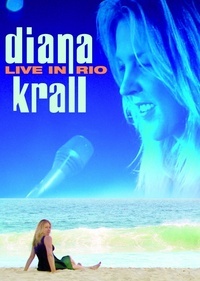 It's not everyday when one comes across a music DVD that is enjoyable from start to finish. That's the feeling you get from watching and listening to jazz vocalist Diana Krall's recent DVD release, "Live in Rio."
 
A sultry mix of bossa nova, jazz and samba, Krall, who for nearly two decades has smashed the music scene with her cool and classy vocals, brings her inspirations from Brazil to life in this DVD. At the stage of the beautifully-lit Vivo Rio Club in Rio de Janeiro, Krall belts out 18 songs with her band — bassist John Clayton, drummer Jeff Hamilton and guitarist Anthony Wilson. Paulinho Da Costa, who plays percussion, has worked with Krall at various venues from L.A. to Paris, and for the first time, was able to play the stage with Krall in his own city of Rio.
 
Krall's live performances pull you in, as if you were there in the audience. At times, she would get personal, such as during "I've Grown Accustomed to His Face," a song that Krall says is "my husband's favorite song." Her soft and composed face describes just how she feels about her husband, with his "smiles, frowns, his ups, his downs…"
 
The songs on the DVD don't just focus on Krall onstage. There are various splashes of street and beach scenes of Rio throughout the DVD that tie into songs such as "Quiet Nights," which was released off of Krall's album, Quiet Nights, earlier this year, and "The Boy from Ipanema," a definite crowd pleaser.
 
The DVD also includes a bonus commentary section with intimate interviews with Krall and her band, and a video for "The Boy from Ipanema."  
 
To check out Diana Krall's "Live in Rio," visit www.eaglerockent.com.
Review By: Erika Y. Gradecki
[Rating: 4/5]