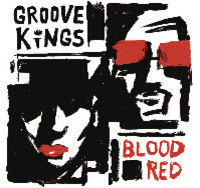 Howard Forman jammin' away on guitar and Irene Marc belting out the vocals make up the heart and soul of Groove Kings.   These two musicians seem to have a special connection when it comes to creating a musical groove.   The combo between Forman's precision on guitar stacked with Marc's passion at the mic = a slam dunk!   The two artists seem to jive together like peanut butter and jam.  
Groove Kings bring a sound that incorporates many different styles of music.   You hear blues, soul, R&B, rock, jazz, Latin beats and even some country-esque rock.   The mixture is quite refreshing and a pleasure to hear to be honest.   This record offers so much raw emotion and power all backed by Irene's impressive chops and Howard's equally impressive guitar playing skills.
Vocally, Irene Marc simply blew me away!   She definitely has a powerhouse voice that just tugs away at you from the inside out.   She sings with such pure passion and energy that just resonates through your eardrums.   Her ability to captivate an audience by way of singing just a certain way is truly amazing.   Marc's approach is definitely the right way and as the old saying goes: if it ain't broke, don't try to fix it.  
Now, Howard Forman on guitar made me think of a well-polished, well-put-together piece of work on the strings.   The arrangements on guitar had such a professional tone to them to the point where it even sophisticated up the mood.   Forman was able to create a precise and intellectual groove to compliment Marc's power vocals.   Forman threw in some really cool solos that rocked the joint.
The record starts up with the title track, Blood Red, and offers a smooth & soulful groove mixed with an action-packed vocal performance.   "Real Love" gives you a fun, upbeat flavor with a splash of jazz.   Track three, "Temporary Man", sheds light on Irene Marc's sensual/sultry side along with a Latin spark and light, jazzy feel.   "I'm the Rain" comes right in the middle to help separate everything and what a tantalizing vibe it brings.   "Bury Me" shows off her Country/Rock tandem while "So Real To Me" includes a real rock groove, but with Irene still remaining incredibly passionate.   "What Did You Think I Would Do" has Marc singing in such a soft & somber manner while Forman brings you that sweet & groovy guitar melody.   Slow Jamz at their best!
Groove Kings "I'm The Rain" MP3:
These Groove Kings definitely found their knack and hope to instill this sound onto many new fans.   Keep it groovin' and never stop movin' Groove Kings!   For more on Groove Kings and their latest release, Blood Red, SKOPE out www.groovekings.ca.  
By Jimmy Rae
[Rating: 4/5]