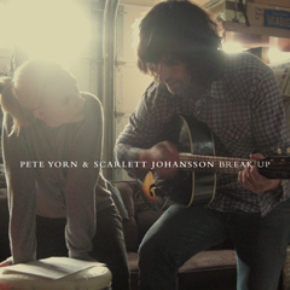 In 2006, critically acclaimed singer/songwriter Pete Yorn contacted actress and Atco recording artist Scarlett Johansson with the idea to record a duets album in the spirit of Serge Gainsbourg's 1960s recordings with Brigitte Bardot.
"I was having a strange week of insomnia and when I finally passed out, it came to me in a dream," says Yorn. "I woke up and the whole thing was in my head, fully formed." Johansson was intrigued by Yorn's out-of-the-blue invitation. "It sounded like an interesting little adventure," she explains. "The idea of two people vocalizing their relationship through duets."
On September 8, Atco Records, an imprint of Rhino Entertainment, presents the resulting work, Pete Yorn & Scarlett Johansson BREAK UP, a deeply emotive yet hook-filled song cycle about a tempestuous relationship. The collection will be available at all retail outlets, including www.rhino.com, for $13.98 (CD), $7.99 (digital) and $13.98 (vinyl). A free stream of "Relator" is available now at www.thebreakupalbum.com and for purchase at all digital service providers for $.99 beginning May 26. Prior to the release of BREAK UP, Yorn will release his fourth studio album, Back and Fourth, on Columbia Records June 23.
Free Stream Of "Relator" Now Available: