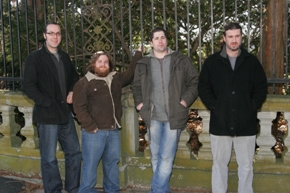 Phish fans can keep that jam vibe going after the big Phish at Fenway Park concert on Sunday May 31. New Haven, CT jammers The Breakfast will take the stage at midnight a couple of miles away at Harper's Ferry in the nearby Allston, MA neighborhood and will bring their own brand of jazz rock. This is also an opportunity to experience another award winning band even if you couldn't get into the sold out Phish show.
The Breakfast has been around music circles since 1998. They started out as the Psychedelic Breakfast and quickly shorted it to just The Breakfast when they realized that it just wasn't an easy name to spell.   "It always used to be a nightmare seeing our name up on marquees and in the papers…..We definitely appreciate that part of the name change,"   Tim Palmieri, The Breakfast's frontman says.
With the launch of their fourth CD, Real Radio, they created a clean-cut photo for the album cover, looking rather like a ska band or a retro-50s jazz group, and were determined to stand on the merits of their music. "We just didn't want anyone to have any kind of ideas before they even listened to us because we feel our music is good enough to appeal to almost anyone once they see us live," Tim Palmieri says. The music that came out of that release and the new one, Moxie Epoxy, is pure rocking jam.
The affirmation in their name is a reflection of the band finding solid footing. In 2001, still in the Psychedelic days, they signed with independent Sonance Records, which was in Philadelphia at the time, but is now located in San Diego. "Once we got with them, we were definitely put on the national spotlight," Palmieri recalls. "Not that they put us there, we just went there. We were playing from coast to coast. We wanted to sell our albums across the country. We hit the road and pretty much toured for three years solid."
 
Then in 2004, The Breakfast won a coveted Jammy award for New Groove of the Year and continued to affect change throughout the band. They hired a new manager and a new agent and continued to tour. Change is still occurring. This year, MJG Productions   took over booking and management and Highland Media was hired to do their publicity. Both their keyboard player and the bass man got married and eventually left the band to start lives with their new wives after the release of Moxie Epoxy.   Recently, their original keyboard player, Jordan Giangreco, returned and took command of the keys from Matt Ostreicher who had graciously filled in the interim. Chris DeAngelis, formerly in Vermont's Turkey Bouillon Mafia,   came aboard to man the bass. Adrian Tramontano's driving drums and Palmieri's shredding guitar continue to set the characteristic tone of The Breakfast. Though Palmieri is the lead singer, all of the band members add their voices to the mix.
 
The Breakfast's approach to music has usually been lighthearted, but Moxie Epoxy delves into deeper issues of heartbreak, difficult choices, and the dichotomy between anger and love. The band has brought their original tunes to a number of club and festival stages across the country, even appearing twice at the 10,000 Lakes Festival.
So, catch The Breakfast at Harper's Ferry on May 31 at the Phish Fenway Park After-Party. In keeping with the Phish model of using public transportation to get to their historic reunion show, The Breakfast encourages fans to take a bus or train (or even a $5-$10 cab ride) to Harper's Ferry.   Tickets are $12 in advance at www.harpersferryboston.com or $15 at the door.   For more information, go to www.thebreakfast.org.
By Janie Franz