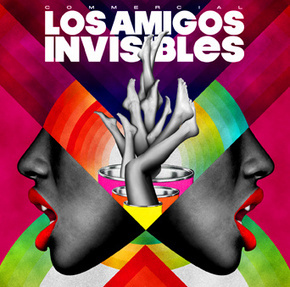 Nacional Records is proud to announce the release of Los Amigos Invisibles' sixth studio album Commercial, which will be available exclusively at iTunes on May 26th and in stores June 9.
Starting with lead single, "Mentiras," the multiple Grammy-nominated group have tightened their hooks and focused their songs, recording their most accessible work yet.
Commercial features a variety of special guests from Jorge Gonzalez (of Chilean rock legends Los Prisioneros) and Mexican songstress Natalia Lafourcade to Senor Coconut vocalist Argenis Brito and Los Tetas' C-funk. Los Amigos also enlisted production work from friends like Dimitri From Paris and Cachorro López (Belanova, Miranda).
Free MP3 of "Mentiras":
"Mentiras" video:
[youtube eEjrqWcKzbE nolink]
'Commercial' full album streaming: