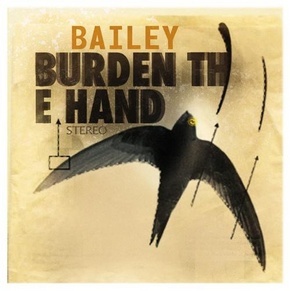 My nexy guest is a one man band and he proves that on his album, 'Burden The Hand.' Bailey is from Los Angeles by way of Ohio. He spent the better part of 2008 recording 'Burden The Hand' in his Hollywood apartment. Bailey went without a band as he played all the instruments from guitar, harmonica, keys and percussion. He also got Ted Greenberg to master the EP. It is a breath of fresh air talking with a musician like Bailey who does not do music for fame or fortune but because it is in his soul.
Stoli: How long have you been playing music?
Bailey: Since I was a wee lad. I grew up listening to my mom sing & play guitar.
Stoli: At what point in life did you realize that you wanted to pursue music full time?
Bailey: I'd think it really seemed like a possibility when I was in art school (college). I'd always played guitar – but I started writing my own tunes and jamming with pals. People seemed to like what I was doing & things just started to click.
Stoli: What was the transition like moving from the Ohio music scene to Los Angeles?
Bailey: You have to be willing to go from being a decent sized fish in a small pond – to a teensy weensy fish in the vast ocean. Entertainers in Los Angeles are a dime a dozen, respectfully… but, there's much more opportunity in Los Angeles & the weather is always nice. I've met many amazing people who are making things happen. My latest record was mastered by a two-time Grammy winner. Things like that don't happen to often back home.
Stoli: In 2008 you released the EP. "Burden The Hand." What is the meaning behind that title?
Bailey: It's sort of a play on words. Burden The Hand twists the phrase "A bird in the hand is worth two in the bush". Which means   that it's better to keep what you have than to give it up and try to get something better. To Burden The Hand would be to carry around your worries.
Stoli: What kind of state of mind & environment must you be in to create music?
Bailey: Whatever the mood may be…   on occasion a moment of calm arrives… That's when it happens.
Stoli: If you could name one thing that you love about being a musician what would that be?
Bailey: Meeting people. It's amazing how many folks you can meet doing this gig.
Stoli: Your last EP was a solo effort. What is the advantages to recording & creating music alone than with a band?
 
Bailey: Well, when you're alone – you have the final say… But, that's not always a good thing. There's nothing better than getting together and jammin' with your boys. Sometimes that's not feasible so you do it on your own. I needed to challenge myself on this one.
Stoli: After you have created a track how do you test that track and see if it's a hit?
Bailey: I can't say what is a hit & what isn't a hit… but if the song makes me feel something – then, to me, it's a keeper. If I can play it over and over and over again without getting sick of it – it's a hit.
Stoli: You play all the instruments on 'Burden The Hand.' For those not familiar how do you accomplish such a huge feat?
Bailey: Necessity. I was spoiled by my days in Moonlight Graham. Bill Littleford is an amazing musician, i learned more from him than anyone I know. Whenever I'd come up with an idea – he'd just make it work. Now, being all by myself – I had to really challenge myself to play other parts and instruments that I would've leaned on Bill for. But doing something all by yourself really can give you a sense of great accomplishment (if it goes well).
Stoli: At what point will music consumers only purchase digitally and do you see that as a good or bad thing?
Bailey: There will always be a need for physical media. Consumers want to feel like the "get their money's worth". So, if I'm going to pay 10 or 15 bucks on a record – I want to have something other than just a few megabytes on my hard drive to show for it …But, I wish I hadn't sold my Apple stocks back in 2000.
Stoli: What is the most personal track on 'Burden The Hand' and why?
 
Bailey: That's a tough one. Probably 'Between The Tracks'. I wrote it about the state of the world & the wars we seem to keep fighting.
Stoli: Where can readers get more from Bailey and what is coming up for you?
Bailey: Come on over! We'll have a beer or two. For those outside of the greater Los Angeles area, find me online at www.myspace.com/baileyandthe. A new album is in the works… keep your eyes and ears peeled for that soon.