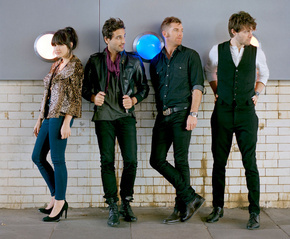 Nettwerk Music Group is proud to announce the signing of Australian rock n rollers HOWLING BELLS. The breakout group is set to release their sophomore album and N. American debut RADIO WARS on July 28th in the US and Canada, with their smoldering first single "Cities Burning Down" out June 2nd on iTunes.
They'll celebrate early by joining COLDPLAY on their North American tour this May and June.
The UK-based band–lead vocalist Juanita Stein, guitarist brother Joel Stein, bassist Brendan Picchio and drummer Glenn Moule–formed in Australia in 2004 and shortly after moved to London, where they recorded their 2006 self-titled debut album with producer Ken Nelson (Coldplay).
Howling Bells – Cities Burning Down
[youtube fMpn7NSUXc0 nolink]