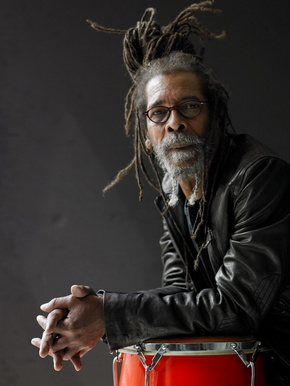 It's a widely accepted notion: not much rivals listening to reggae on a warm spring or summer day.   Enter Jamaican reggae drum legend Larry McDonald.   Larry has worked with Bob Marley, Peter Tosh, Bunny Wailer, Bad Brains, Gil Scott Heron and many others over his 40-year career.  
His first solo album, 'Drumquestra,' will be out 6/2 and features Toots Hibbert (Toots and the Maytals), Dollarman, Shaza and more, along with Larry's drum   orchestra.   Larry is also a founding member of NYC bands The Rocksteady 7 and Dub is a Weapon.   The first single is "Head Over Heels," featuring Dollarman, an underground Brooklyn reggae, dub and dancehall vocalist who has performed with the Easy Star All Stars.  
Behind Dollarman it's all drums: mellow chords played on marimba make the off-beat reggae rhythm, the low end anchored by funde and bass drums.   Perfect for the soundtrack to your next day in the sun.
Check out "Head Over Heels" MP3: