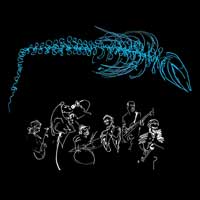 "The recipe: Find a nice room, invite friends, put a great band together and record." That is written in the liner notes for Sarah Brooks and Graceful Soul's Under the Bones of the Great Blue Whale. And it's exactly correct, because that's exactly what it sounds like. There is an intimacy in the togetherness of the music that makes everything sound impeccable. And in a mind-blowing revelation, Brooks herself assembled a dream team of musicians for this one night, one gig, yet never met any of them before that night.
Sarah Brooks really can wail. With such a beautiful, powerful voice, she was born to be the leader or such a dynamic group. While it certainly isn't all about her, as every piece of this impromptu band is a phenomenal musician, she certainly lets the audience know who's in charge from the moment she opens her mouth in "Bring it On Home to Me."
Listening to Brooks sing her heart out is a privilege, but certainly don't ignore the instrumentalists. Brooks steps back during "You Can't Do That" in order to let first the guitarist followed by the saxophonist to shine doing what they clearly do best: improvisation. Originally a Beatles song, this gang give this song a completely new vision.
The night continues with a beautiful rendition of "At Last," a song that many attempt but few perfect. Brooks takes the opportunity to really let her voice speak for itself, performing complicated vocal gymnastics that make this song showier than some of the others, but she manages to pull it off without sounding too over-the-top. It's one of the best renditions I've heard.
But the real show-stopper on the album is "Amazing Grace." It features two versions, the first a vocal rendition and the second an instrumental.
The vocal version is nice, the band toning it down a notch so as not to overshadow the powerful lyrics that everyone knows so well. But the instrumental rendition takes the cake. Even though it's not part of the gig and was in fact recorded ten years prior, it serves as a tribute to the late tenor saxophonist Oliveira, featured here with an impromptu duet of his own. Trading off the melody throughout the verses, the two saxes perfectly complement each other. And the subtle entrance of the band behind them for the last two minutes gives the final few verses added depth for a strong finale. It's the perfect tribute and end to this fantastic compilation.
Review By: Valerie Williams
[Rating: 5/5]