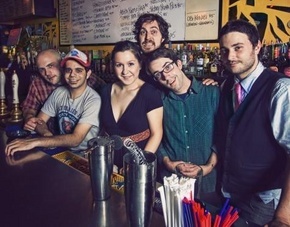 Josh Epstein is certainly no stranger to change. The Silent Years' founder and frontman has seen his share of shifts throughout the past four years his Detroit-based outfit's been active, whether it's in the line-up, musical approach or associations with record labels.
And it's this ever-evolving momentum that has fed his creative drive, maintaining a steady pace that, to this day, includes a host of respectable tours and a batch of even more respected recordings.
The Silent Years will embark on a one month tour supporting their upcoming EP titled 'Let Go' which will be released on July 14th on SideCho Records.
The Silent Years – "Madame Shocking":
SKOPE IT HERE!
 
The Silent Years Tour Dates:
* w/ Jukebox The Ghost
^ w/ Chiodos
05/01: Des Moines, IA @ Vaudville Mews
05/02: Denver, CO @ Hi-Dive *
05/03: Salt Lake City, UT @ Kilby Court *
05/04: Boise, Idaho @ Visual Arts Collective
05/05: Seattle, WA @ The Sunset Tavern
05/07: Los Angeles, CA @ Spaceland
05/09: San Diego, CA @ Red Bull Air Races
05/09: Fullerton, CA @ Santa Fe Express
05/11: Phoenix, AZ @ Rythm Room
05/13: Lawrence, KS @ 8th St. Taproom
05/14: Lincoln, NE @ Box Awesome
05/15: Omaha, NE @ The Slowdown
05/21: Rochester, NY @ Abiline Lounge
05/22: New York, NY @ Mercury Lounge
05/29: Columbus, OH @ The Basement ^
05/30: De Kalib, IL @ House Cafe ^
05/31: Madison, WI   @ Majestic Theater ^