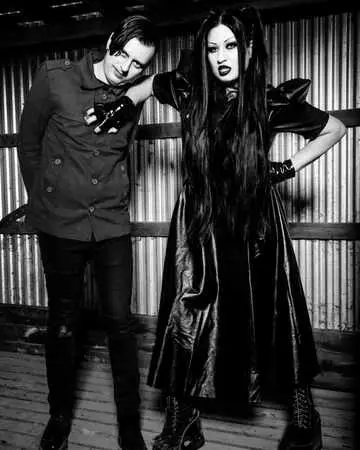 Shake up your spooky season with Minneapolis industrial rock group Gabriel and the Apocalypse. Founded by powerhouse lead vocalist Lindy Gabriel, this hard-rocking duo holds nothing back, tackling subjects of death, sex, grief, and aggression with raw talent and emotion. Supported by Jake LaCore on guitar, with a live backing band, Gabriel and her team molded their dark sound and energetic performance on nationwide tours. Now with a swelling discography and steadily growing fan base, they're here to give us a hardcore Halloween with more electrifying singles and performances.
Get into the haunted holiday headspace with Gabriel and the Apocalypse's new single "Get Dragged," which argues that ghosting someone is the less scary option in toxic relationships. Pounding drums and the axe of Jake LaCore mimic the torturous headache of shame and confusion described in Gabriel's lyrics. Her masterful vocals express everything from demonic possession to child-like fear and innocence as she paints the entire landscape of getting dragged along in a doomed partnership.
The music video for "Get Dragged" offers an even more intimate and intimidating view of the horror of relational disharmony. Directed by frequent collaborator Cody Hoffman, the video features close-up shots of Gabriel's darkly decorated face, bound in nets as she expresses her pain and indecision. Symbolic images of cocoons and birds layer over Gabriel alongside her powerful lyrics, visually expressing her feelings of bondage and desire for flight. Insect motifs artfully dabbled throughout keep us squirming and captivated, like a full moon on Halloween night. Dive into Gabriel and the Apocalypse's "Get Dragged"—if you dare!
Follow Gabriel and the Apocalypse:
http://gabrielandtheapocalypse.com/
https://www.facebook.com/gabrielandtheapocalypseofficial
https://www.instagram.com/gabrielandtheapocalypse/
https://www.tiktok.com/@gabrielandtheapocalypse