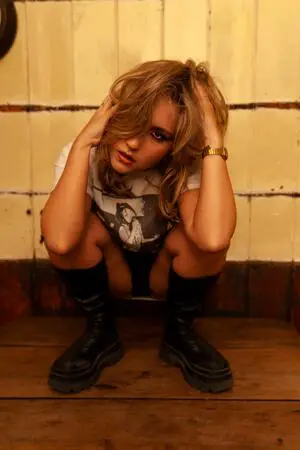 @skopemag news – friday – october 27, 2023 @ 2 pm est
https://www.facebook.com/SkopeMag/
https://twitter.com/skopemag
https://www.youtube.com/@skopetv2
https://www.instagram.com/skopemag/
APP – Apple iTunes –
https://itunes.apple.com/app/id1465224822?mt=8
@skopemag APP – Google / Android –
https://play.google.com/store/apps/details?id=hr.apps.n207414718
Support @skopemag –
https://www.paypal.com/donate/?hosted_button_id=3APKAKT8K6ETW
Rising LA Indie Band Nitefire Unveils 'The Great, Unwashed,' Five-song EP Out Today
STACEY RYAN SHARES NEW SINGLE "DREAM BOY"
C'ing Jerome Shares New Single "Countryfied"
Caleb Lee Hutchinson shares debut full-length album Southern Galactic
Portland neoclassical folk group Twin Bridges shares new album
VV Brown: Am I British Yet? Out Now
CASH MONEY RECORDS SINGEE SAXKBOY KD DROPS NEW SINGLE "SPELLS" FEATURING TAYLOR RICARD — OUT NOW
RIIZE RELEASES NEW SINGLE "TALK SAXY"
DJ and producer iilliaa is gaining attention in the international electronic music scene with his debut single "life gets hard"
The Drowns Release New Single "Blacked Out"
Today, HOWLING GIANT release and stream new album
GXTP Release Debut Album 'Smoke & Mirrors' – Out Now!
SKY ROMPIENDO PRESENTA CRUSH JUNTO A DEI V FT ARCANGEL
TroyBoi & Armani White Present New Single "Shut Shit Down" Out Today, October 27
Spencer Elmer Drops Energetic New Track "Independent Queen"
LESLIE ODOM, JR. DEBUTS NEW SONG "HOLDING ON TO US"
Canadian rapper Classified shares new single "Wonder": A Reflection on Life and Struggles
AÁYANNA REVEALS HER SOUL-STIRRING DEBUT EP "DON'T LOOK BACK" HERE
RYAN TERRIGNO PROVES HE IS ALIVE & WELL NEW ALBUM OUT NOW
TIËSTO LINKS WITH TEARS FOR FEARS, NIIKO X SWAE & GUDFELLA FOR PULSE-POUNDING COLLABORATION "RULE THE WORLD (EVERYBODY)"
BEDROOM-POP ARTIST & PRODUCER AWFULTUNE DROPS INTROSPECTIVE NEW SINGLE "MALWARE"
HANNAH GRAE DROPS HALLOWEEN INSPIRED TRACK 'WHO DUNNIT?'
DYLAN MARLOWE TEAMS UP WITH DYLAN SCOTT ON NEW TRACK, "BOYS BACK HOME," OUT NOW
Pop-Rock Band 'Von Tagen' Depict The Difficulties Around Long-Distance Relationships In Latest Single 'Colorado'
ARIEL ROSE RELEASES "DRIVES ME LOCA" // ARIEL ROSE LANZA "DRIVES ME LOCA"
NEW MUSIC:LUH KEL DROPS NEW SINGLE & VIDEO "REMINISCE"
Sam Grow Announces New Album + Shares Focus Track "Loretta"
TOM GABRIEL WARRIOR'S 'TRIUMPH OF DEATH' ANNOUNCE DEBUT VIDEO 'MASSACRA'
DEVON THOMPSON slays in new single and video "So Close"
Duran Duran Release New Album 'Danse Macabre' Today!
Arctic Lake release their new EP 'How Do You Make It Look So Easy?' // Listen here
NERO Announce Third Studio Album 'Into The Unknown' With New Single 'Truth'
JADE LEMAC UNVEILS NEW SINGLE "YOU'RE NOT A GOD" OUT NOW
Elliott Fullam Shares Tim Burton-esque "Let's Go Somewhere" video + vinyl LP (Kill Rock Stars)
flor learn to love again with new single "Same Color as the Sun"
Guaynaa y Yng Lvcas Encienden la Escena Musical con su Nuevo Sencillo "3ple X"
Sydney Mae Brings Ethereal and Contemplative Beauty to Pop Single "Rhythm"
STAYTUS Debuts Enticing Industrial Release "Wasteland of Broken Hearts"
New Music This Week from Taylor Swift, The Kills, Nirvana, Prince& the New Power Generation and More
sophie meiers Shares Ominous New Single & Music Video "hotline"
Wes Cage Releases New Single "The Wolf"
Alt-Metal Enigma SIIICKBRAIN Drops New Single "Psychopath"
Pony Girl Share New LP + "Wannabe" Single and Video via Atwood Magazine
"We're all clowning in some form": Pony Girl's "Wannabe" Aches with Autumnal Warmth, Anxiety, & Cathartic Release
OMB PEEZY REVEALS INTROSPECTIVE NEW SINGLE "THE STREETS"!
SKYLAR BLATT DROPS "F*CK FAME PT. 2" FEATURING LOLA BROOKE
NIGERIAN-CANADIAN RAPPER, SINGER, & SONGWRITER DAX RELEASES NEW VERSION OF SINGLE "TO BE A MAN" FEATURING DARIUS RUCKER OUT NOW
for Skope: Kaskade's signature REDUX 006 EP – full 7-track deep house package out now after 2-year break
LOWER 13 Share New Track, "Holding on to Misery"
FREDO BANG RELEASES NEW SINGLE & MUSIC VIDEO "FWM" TODAY