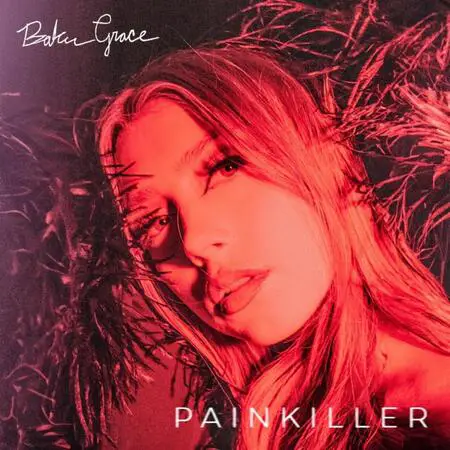 Baker Grace is releasing her new single "Painkiller" on Friday, November 3rd, 2023 which is the follow up to her hit single "American Dream Girl."
With her debut EP in 2019, "Girl I Know", Baker Grace emerged as an artist with undeniable confidence. She stretches the boundaries of pop music and with each new release shows a new level of musicianship and introspection while maintaining her integrity and singularity. The 23-year-old singer-songwriter from Weehawken, NJ is working to create her own charming reality aside from the masses. Her sophomore EP, "Yourz Truly" illuminated her inner world and personal philosophies more freely than ever, sharing her story with equal parts boldness and dreamy sensitivity. Each song represents either a letter to herself or to someone else. "Yourz Truly" was followed by collaborations with rising star Cautious Clay, Grammy-nominated producer Scott Harris (Shawn Mendes, The Chainsmokers, Dua Lipa, Chance The Rapper, Kygo), and Mexican pop singer-songwriter Charlie Rodd. Following a slew of singles in 2021, Baker wrote four songs on the soundtrack for the feature film Last Survivors starring Alicia Silverstone, which topped the charts on Hulu, featuring the breakout track, "Lullaby". Splitting her time between NYC and Los Angeles, she continued through 2022 with singles "Shake The Earth" and "Pressure", and collaborative song "Little Magic" with Sabino along with stunning music videos to accompany them.
In 2023 she released the amazing single "American Dream Girl" that went viral all around the world. Her follow up "Painkiller" will be released on November 3rd, 2023.
About painkiller in the word of Baker Grace:
"I wrote painkiller after experiencing nightlife in NYC for the first time. I was going out to these places where people were spending 1000 dollars on one bottle of alcohol at the same time as I was going to yoga, therapy and meditation classes, learning what it means to grow love and happiness from within. The juxtaposition was fascinating to me. It solidified the idea that life's only true painkiller is finding peace in your mind. Being present, loving and accepting yourself, and practicing gratitude is worth more than gold in my humble opinion. In Painkiller, I personify happiness in its most genuine form and it is sensual, sexy and flaming with confidence."
The official website for Baker Grace may be found @
https://www.bakergracemusic.com
Baker Grace will be performing at The Mercury Lounge In NYC on November 2nd, 2023 opening for Jake Huffman. Doors open at 5:30 PM ET. Get your tickets here:
https://www.ticketmaster.com/jake-huffman-w-baker-grace-new-york-new-york-11-02-2023/event/00005F19B77A56C8