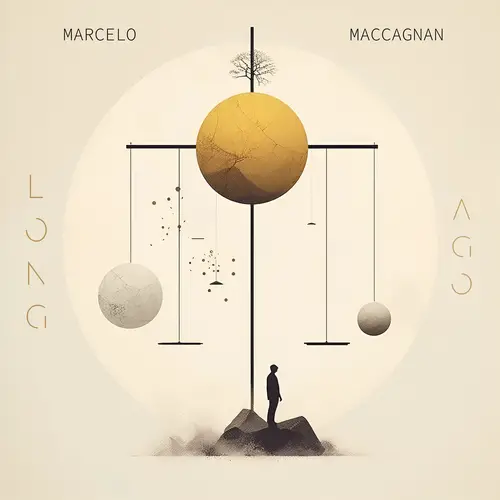 Gorgeous patterns emerging from the acoustic guitar give Marcelo Maccagnan's "Long Ago (feat. Danielle Cormier)" a sense of eternity. The riffs have an emotional cadence, with their layering feeling Byzantine. Her calm, reassuring voice allows an eye in the storm. With this view, the listener can hear everything. Lyrics go for a surrealistic gleam. Nods to John Fahey American Primitive emerge. The approach feels vibrant, painterly even. Beyond the unmistakable elements of folk, she brings raga, classical, even dream pop, and psychedelic into the fray. The balance between these elements is awe-inspiring. Nothing ever flies out of control, allowing a tightly wound center to steer through the many moments of trouble.
The guitar takes on a rhythmic stance, almost like galloping. With this unique tempo, the piece has a living, breathing ethos. She initially allows her voice to serve yet another textural element before it becomes important. This sense of purpose leads the piece along like focusing on a photo. Seemingly timeless with textures, the song transcends trends for a work that feels truly eternal. Production quality helps this atmosphere, too, with the intensity of the appointment feeling sublime. Throughout the piece, the song grows and builds. The inclusion of the electric helps to give it a frenzied activity for the final stretch, a fully earned final lap.
"Long Ago (feat. Danielle Cormier)" shows the intrepid pristine beauty that Marcelo Maccagnan conjures up with surprising ease.