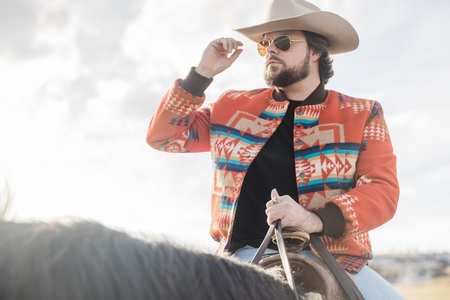 It's hard to get more Montana than Ryegate. The small town is right in the middle of a giant state — one hour north of Billings in the direction of the mountains and forests. Ryegate is ranch country, farm country, big sky country; a place of rolling prairie, open roads, and wire fences that go on and on toward a distant horizon. In Ryegate, cowboy stories aren't fiction. This is where Austin Martin is from. The country music fanatics in Billings might have made him Montana-famous, but Ryegate is the place where his vision was forged.
Though he's toured the nation five times and seen his name on the Billboard charts twice, Austin Martin's heart belongs to Ryegate and central Montana, and that's apparent in every line he writes and every note he sings. He's developed a country-rock sound big enough to fill a wide and open landscape, and he plays it with the endearing roughness of a man accustomed to hard (and sometimes dirty) work. Whether he's in the field or in a bar, a guy like that is going to keep things rowdy. Occasionally, he's going to get "Country Drunk," and when he does, it's best not to get in his way.
"Country Drunk" is a party-starter — and a stomper worthy of a Billings Saturday night. Over a slamming beat and a growling electric guitar riff, Austin Martin tells the story of the aftermath of wild night. It's a celebration of hedonism – and an affirmation of the resilience of people who get up whenever they're knocked down. The track is a worthy successor to The Country Network favorite "Small Town Nights," a tale of backwoods showdown and a demonstration of the singer's dynamic microphone presence.
The Country Network watchers will remember that the "Small Town Nights" clip was shot outside the Ryegate Bar and Café, a watering hole on the corner of a country highway. It's exactly the sort of place where a viewer might expect an Austin Martin story to unfold, and this hometown boy made the most of the location. In keeping with the theme of the song, "Country Drunk" picks up the following morning in a barn, where a bleary-eyed Martin takes inventory of himself and tries to piece together what happened. But before long, he's got the band together, and they're plugged in and roaring in the front yard, horsing around together, and ready and willing to start the cycle all over again.
Follow Austin Martin:
https://austinmartinmusic.com/home
https://www.youtube.com/@AustinMartinTV
https://www.instagram.com/austinmartinradio/
https://www.tiktok.com/@austinmartinradio