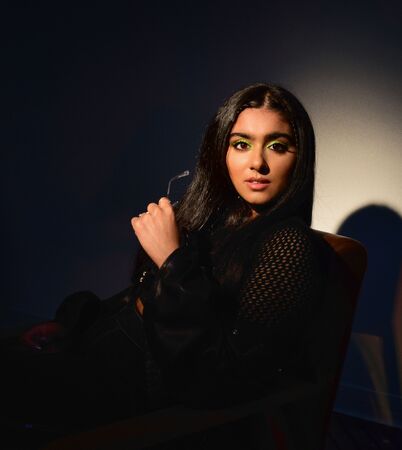 Landing a six-figure job as a software engineer out of a cut-throat college experience? That was the easy part for up-and-coming East Coast pop-rap phenom Neha. She laughs in the face of doubters and haters. On the outside, her upbringing fronted academic pursuits flanked by school choir and Indian Classical Music training. Underneath all the textbook successes, she ravenously consumed hip-hop legends like Biggie, Wu-tang, and Nicki Minaj. Soon after landing her kush job working in Manhattan, for a company based in Seattle, she realized she needed a bigger challenge than corporate climbing, so she unleashed her unquenched passion for music. Trailblazing as a female rapper of Indian descent, she launched herself into refining her passion into a craft and career that is creating ripples beyond even her own expectations. Now, regularly cutting explosive singles like "Backslide" and "Better Watch What You Say," Neha is a burgeoning prodigy of East Coast rap. Fearless in her experimentation with sounds and syllables, we're expecting big things from Neha—catch her at upcoming live shows in NYC before her train pulls out of the station.
Yet another banger of a single from Neha, "Retail Therapy" explores what's left of exes when they're gone. Neha's subject, in particular, left behind oodles of expensive attempts to steal her love in the form of Hennessy, Fendi, and Gucci goods. Rife with the empowerment and wit her fans have come to love, Neha drops bar after bar of clever savagery with memorable lines like "I don't need your gifts, but I still rock 'em on a night out." This is Neha's call to take back your heart and own your rebound with a little "Retail Therapy."
Get in the mood of moving on in style with the music video for "Retail Therapy." Directed by Neha's repeat collaborator Melvin Pacheco (director of the "Better Watch What You Say" video and camera op for "Backslide"), this silky smooth vignette into Neha's New York life drips with sass and class. Perusing the ruins of relationships past, we join Neha as she cleans the house of photos, clothes, bottles, and bling from her swanky apartment. Dragging her glitzy garbage to the beach, she lights it on fire without flinching. Flex. Take notes from Neha—sometimes burning bridges to the past is exactly what we need to move on.
Follow Neha:
https://www.youtube.com/@nehaofficialmusic
https://www.instagram.com/nehaofficialmusic/
https://www.tiktok.com/@nehaofficialmusic