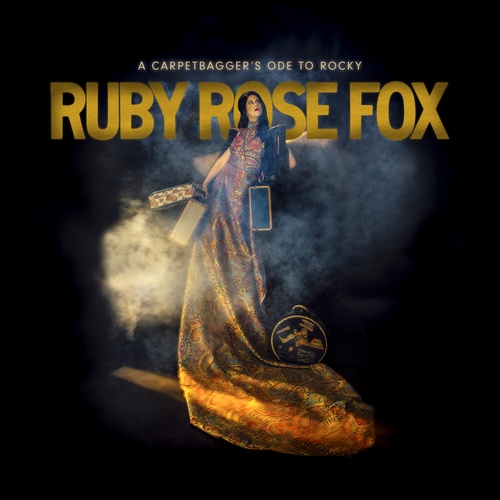 Ruby Rose Fox is an award-winning songwriter and powerful singer with an exciting, new single titled "A Carpetbagger's Ode to Rocky". That level of mystique surrounds Ruby Rose Fox and this new song as the listener will be entranced by the style. From start to finish, "A Carpetbagger's Ode to Rocky" plays out like a descriptive & heartfelt story.
This single was written by Ruby Rose Fox and Colin Sipos. "A Carpetbagger's Ode to Rocky" was produced, engineered, and mixed by Colin Sipos and mastered by Anthony Gravino.
The track features: Ruby Rose Fox (lead vocals, backing vocals, choir, piano)
Colin Sipos (piano, synth, acoustic guitar, baritone guitar, lap steel, drums, percussion, programming)
Pat Sansone (Fender Bass VI, Wurly)
Jon Radford (drums)
Joe George (strings, synth)
Austin Cannon (Moog, synth, FX).
Together, Ruby Rose Fox & company have created a sound that is enticing while also stirring up many feelings & emotions along the way. As soon as you hit play, the audience will hear an intriguing melody that hooks you in immediately. Vocally and musically, "A Carpetbagger's Ode to Rocky" has a distinct charm about it that will draw you in. Ruby delivers a strong performance that comes across as an outside-the-box approach. "A Carpetbagger's Ode to Rocky" contains a haunting yet elegant sound that will capture your attention and captivate your senses.
If you're seeking a unique approach to singing and songwriting, then check out Ruby's soul-stirring number "A Carpetbagger's Ode to Rocky". This single is set to be released on October 20, 2023 and this is sure to be a highly-anticipated release for Ruby Rose Fox. "A Carpetbagger's Ode to Rocky" will be available just in time for Halloween and the perfect treat to satisfy your musical palette. By J Rae
https://www.rubyrosefox.com
https://twitter.com/RubyRoseFox
https://www.facebook.com/RubyRoseFox
https://www.instagram.com/rubyrosefoxmusic
https://rubyrosefox.bandcamp.com/
By Jimmy Rae