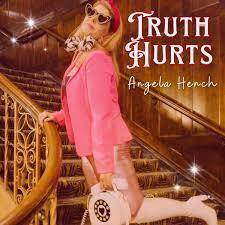 Although it's known to anyone who listens to good music that covers aren't easy to put together, in Angela Hench's version of "Truth Hurts" she's giving herself over to a mighty performance that could stand as her best so far. In this song, Lizzo's lyrics are so much more than a stepping stone from one heart to the next – they're giving us access to unspoken ambitions as they lie untainted by the elements that often come between a good cover and the right audience.
Hench couldn't sound much more committed to the sound she's established as hers in "Truth Hurts, and in the fragility she displays here beside a big band ensemble, there's scarcely a moment that doesn't feel unapologetically honest on her part. The music is angular and at times even a little fast to keep up with, but its surreal backdrop is one that this singer won't steer clear of emphasizing with every ounce of emotionality she can muster from behind the microphone. It's powerful, original, and a signature combination of contrast and melodic execution that has become hard to resist since she first released her debut.
These harmonies are on the cerebral side, but they fail to inspire the bulk of the tension in this single – to me, all of it is sourced directly from the exciting feel of the rhythm. The percussion is indeed quite the limited element in comparison to any of the melodic details in "Truth Hurts," but I think that it needed to be for us to connect with the quick pace of the verses as much as we're able to in this scenario. It feels like Angela Hench wants us to feel the surge of energy for more than a moment in this song if only to have us observe the bond between her voice and the adjacent instrumentation in all of its perfection. There's nothing synthetically bound here, and if we weren't witnessing the climax over minutes rather than seconds, we might have been able to realize the depth behind this cover as it's presented here.
We're seeing a detail-oriented scene start to take total control of the mainstream music industry, and if you ever needed any additional evidence that the future is now, Angela Hench has got a cover you have to hear this summer in "Truth Hurts."
As its boldness would imply, she is a singer who isn't about to shrink from the challenge of standing out in what could be the most talented pool of new artists to come forth in the better part of the last few years, and she doesn't waste a single opportunity she's granted in "Truth Hurts" to give us as personal a performance as can be offered from inside of a recording studio. She's only getting better with time, and I like what she's showing off in this performance not only as a player and an arranger but as someone who took a concept that someone else came up with and ran in a very exciting and unpredictable direction with it.
Gwen Waggoner