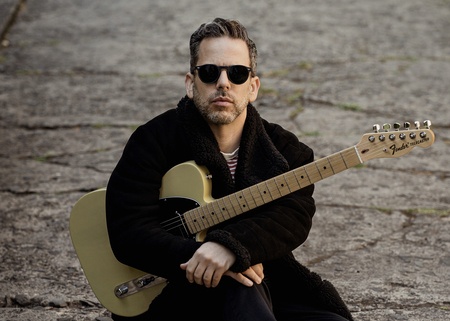 New artist The Wheel will release his self-titled debut album on October 6 via Lakeshore Records. Based in Portland, Oregon, The Wheel is the musical alias of longtime producer and session guitarist Avram Brown who tapped his good friend Raymond Richards (Local Natives, LCD Soundsystem) to co-produce and engineer the entire project. The Wheel album is available for pre-save on all streaming platforms and pre-order on vinyl and CD.
Additional collaborators on the album include violist/arranger Kyleen King (Brandi Carlile, The Decemberists), recording engineer Larry Crane (Elliot Smith) and the late great Ralph Carney (Tom Waits, The B-52's) whose contributions on baritone saxophone and bass clarinet are sadly the last tracks he ever recorded.
With just two weeks to go till the release of The Wheel, the music video for its lead single, "Coyote Mask," is out now. "'Coyote Mask' is a song about the transformational power of love lost," recalls Brown. "It's about awakening to a peaceful place of aloneness without loneliness. It's an acknowledgement of the vulnerability required to allow new love to blossom and heal, without hiding behind deeply ingrained patterns of avoidance." He furthers, "Interestingly, the piano used on the recording of 'Coyote Mask' belonged to Elliot Smith. We tracked the initial sessions at Larry Crane's Jackpot! Studios in Portland. Larry produced much of Smith's early work and is the music archivist of the Elliot Smith estate."
The recording process of Brown's self-titled album initially stuttered in fits and starts. After laying down some skeletal tracks in at least three studios, it took parking his own recording gear and a mountain of guitar pedals at B-Side Studios in southeast Portland to finally get his stride. Brown set up shop as a resident producer at B-Side where he worked with artists ranging in styles from bluegrass to dub reggae. Inspired by the studio's blue knotty pine wood paneling and the endless burning of incense, Brown created the body of work that inevitably became his debut record under his new moniker, The Wheel. Combining melodic vocally-driven lyricism with lush kaleidoscopic production, The Wheel spins open a portal that weaves indie folk-rock into psychedelic dreamscapes on this new LP.
Of the album, Brown notes, "I have a significant backlog of songs that I've written over the years, but I also had some fresh ones born from the transformational pain of splitting up with my life partner of 14 years. It took some discipline, but I was able to narrow the focus to a cohesive body of work with its own sound and feel. This is definitely a record that wants to be listened to as a complete piece of work and I'm grateful to anyone who takes the time to experience it as such."
Avram Brown grew up between New York City and Rochester, NY where his earliest musical inspiration stemmed from his parents' '60s and '70s-heavy record collection. With folk music roots that ran deep, poetry and songwriting came early, giving way to a fascination with improvised music. Ultimately, The Wheel has come full circle to blend the elegant simplicity of a lyric with the never-ending sparks of reverb-drenched electric melodies.
Enter a new realm with the "Coyote Mask" music video. Directed by Karl Whinnery and Evan Gandy, it stars The Wheel (Avram Brown) alongside Ji Tanzer, Benjamin Wright, Scott Macdonald, and Scott Jeffries. "Coyote Mask" features kaleidoscopic, technicolor visuals (motion graphics by Ben Guerette and the Spool app team) that are ever-changing: each musician playing their instrument; planets spinning in our solar system and stars across the night sky; sunshine and clouds; abstract visuals designed to make the viewer wonder. Vivid pink, purple and yellow, blue and green – the "Coyote Mask" visual makes a perfect, hypnotic accompaniment to the track.
Follow The Wheel:
https://www.thewheelmusic.com/
https://www.facebook.com/thewheelmusic
https://twitter.com/thewheelmusic_
https://www.instagram.com/thewheelmusic/
https://www.tiktok.com/@thewheelmusic