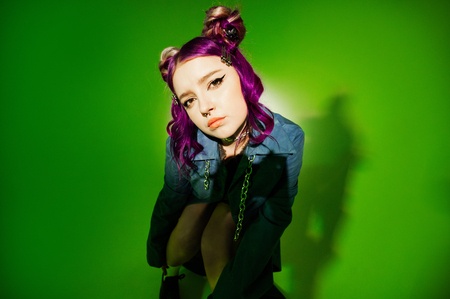 @skopemag news – wednesday – september 27, 2023 @ 12 pm est
https://www.facebook.com/SkopeMag/
https://twitter.com/skopemag
https://www.youtube.com/@skopetv2
https://www.instagram.com/skopemag/
APP – Apple iTunes –
https://itunes.apple.com/app/id1465224822?mt=8
@skopemag APP – Google / Android –
https://play.google.com/store/apps/details?id=hr.apps.n207414718
Support @skopemag –
https://www.paypal.com/donate/?hosted_button_id=3APKAKT8K6ETW
MARZZ RELEASES NEW SINGLE "SWITCHING SIDES" FEAT. DEE GATTI
Today, rising R&B favorite Marzz releases their new single "Switching Sides," feat. Dee Gatti via Keep Cool/RCA Records. The hypnotizing offering showcases their signature silky vocals. "Switching Sides" follows Marzz's latest track "In The Morning" which marked the first taste of new music from the artist since the release of their Love Letterz (Deluxe) EP last year.
Tristan Rene Debuts with "Light Up Garden"
"Light Up Garden" was born from a guitar melody one summer ago in Mallorca. Tristan was sitting on the terrace of his father's house, singing and playing guitar without any real intent. Lo and behold, the rest of the song came to him when he was alone again in Montreal. "Loneliness is the truth behind my music," Tristan affirms.
YOUNGBOY NEVER BROKE AGAIN DROPS SURPRISE SINGLE/VIDEO FOR "TESTIMONY"
L.A. Edwards Premiers Music Video for "Peace Be With You"
Blackened Death Metal Band CULT BURIAL Release New Single "Umbra"
Critically acclaimed blackened death-doom band CULT BURIAL have released their song "Umbra" on all streaming platforms. The song is from their upcoming album Reverie of the Malignant which is out on October 20th, 2023. The album will be released on CD, vinyl and digital formats.
Toronto's TRICK CASKET's Industrial Metal Single "Filth" Is A Brutal And Beautiful Banger
Formed in 2017 by vocalist Connor Grant, Trick Casket found its birth in the depths of Toronto's industrial-metal scene during an arduous journey of emotional turmoil and darkness. A thunderous storm of industrial metal, Trick Casket's sound channels the spirit of legendary acts like Ministry and 3Teeth while paying homage to their key influences, including Nine Inch Nails, Skinny Puppy, Korn, and Suicide Commando. With this formidable musical arsenal, they have carved a unique niche in the genre. Their latest single, the anger-fueled "Filth" marks a new chapter for the band, as they explain:
Skope: TIFFY LP, single annce (RIYL: Speedy Ortiz, Sunny Day Real Estate)
STOMACH: Decibel Magazine Premieres "Double Lung Transplant" By Chicago Sludge/Powerviolence Duo With Weekend Nachos, Sick/Tired Members
A DIVINIS Release Striking New Single "Ov Odium"
A DIVINIS, the blistering project featuring guitarist Casey Childers (THE KENNEDY VEIL), vocalist Taylor Wientjes (ex-THE KENNEDY VEIL, ex-INANIMATE EXISTENCE), drummer Nathan Bigelow (ARKAIK), and bassist Ryan Wright, will be disgorging their latest benefaction: new single "Ov Odium". After a sorrowful and emotive opening, the track bursts forth with violence and melancholy. The blackened death drive meld perfectly with the groove and soaring melodious orchestration. Rhythmic and enchanting, you'll come for the destructive vocals, you'll stay for the feels it evokes.
Junebug Unleashes Captivating New Single "Therapy" (RIYL Big Thief, Phoebe Bridgers)
Junebug belongs to a unique category of artists whose music can be characterized as therapeutic, and her latest single, titled "Therapy," serves as a perfect illustration of this. As a singer-songwriter, her musical style is defined by its gentle and reflective essence, making it effortlessly accessible. It offers a refreshing dose of candidness and simplicity, while also possessing a comforting, soothing quality. This musical aesthetic seamlessly aligns with the vibe of her debut EP, "Turncoat," which was released in 2021. The tracks on the EP are emotive and candid, fostering an informal and intimate ambiance while delving into profound introspection. They provoke thought without overwhelming the senses or the mind. In many ways, Junebug's music echoes the folk and light rock sounds of the 1960s and 1970s, known for their ability to instill a sense of tranquility and ease.
MONALEO RETURNS WITH NEW SINGLE "CRYING ON YOUR BIRTHDAY"
Chinese-American Rising Star, Irene Wong: Music Video Release "mmm idk"
Spiritual Cramp share new single 'Herberts On Holiday'
Dead Nice Reveal New Single 'Observer' Out Now
Albert Hammond: Video for "Don't Bother Me Babe" single
PRESS INFO: Martha Da'ro explores sapphic romance through single and video "Fast Life"
OUT NOW: Ūla shares her brand new single 'SCANDAL' // Listen here
Today, the vivacious Gen Z Lithuanian- Australian artist Ūla reveals her new single SCANDAL, which continues to exhibit her Bubblegum Grunge aesthetic and trailblazing sound to the masses.
Robots In Love share new video
New Zealand's Robots In Love shared the brand-new video for their wistful new dark pop single 'Gossip in Your Head' via Side-Line Magazine (EU) yesterday. Filmed by Stephen Hillman, and edited by Graeme Jack – Graeme having also co-written the song – the new video follows after the single's official release on 14/15 September. Full of haunting vocal harmonies and flickering darkwave guitars, set against a shimmering dark electro backdrop, the single is out now from Bandcamp, and all the usual streaming outlets.
Robots In Love premiere new 'Gossip In Your Head' video on Side-Line
BARBARA NADAS TAKES FLIGHT WITH NEW SINGLE "SOAR"
Emerging international pop star, Barbara Nadas, has released her new song "SOAR;" found on all streaming platforms today. Known for her previous songs "Overthink" and "Semmit nem ér(sz)," this new track takes a journey through her struggles and showcases her resilience like never before. "SOAR" is more than just a song; it's an anthem of empowerment, an ode to rising above life's challenges and reaching for the stars. With her signature blend of heartfelt lyrics and captivating melodies, Barbara Nadas invites listeners to join her on a soaring musical adventure, one that resonates deeply and inspires with every note.
Born Days shares new single / visualizer "How To Disappear"
Born Days is the conceptual darkwave synth-pop project from Chicago-based multi-instrumentalist singer, songwriter, and producer Melissa Harris. Her debut full-length album My Little Dark is set to release on October 6, 2023, through AudioSport Records.
VIDEO: JESSICA WILDE unleashes Kay Holden directed visual for 'Freak Out
Acclaimed alt-pop / rap artist Jessica Wilde launches her sick new Kay Holden directed video for her latest single 'Freak Out' on VEVO today and I'd love to get your eyes and ears on it. She really is one of London's most interesting and awesome top new talents on the rise…
OUT NOW: Keys N Krates New Song "Need Your Love" Alongside New Album Details
Following the announcement of their new forthcoming album, IN:TENSION, last month, Keys N Krates have now delivered the next single from the project, "Need Your Love," featuring Taite Imogen, out now via MNRK/Last Gang Records. The new release also comes alongside the reveal of IN:TENSION's artwork and tracklist, which will feature Lion Babe, Dana Willians, Aaron Carl, and more.
D.White Shares New Single "Mammon" From New EP
TV Death release post-punk/horror-pop single + video 'Village Mentality'
RAEGAN RELEASES ALLURING NEW SINGLE "MEAN"
Today, New York-based queer alt-pop trailblazer RAEGAN returns with the release of her latest single "MEAN." Produced and written by RAEGAN, "MEAN" is the latest offering from the 21-year old, an enticing new track that is rooted in empowerment and sees her reclaim her emotions.
Montreal's La Force Shares Spectral Single "xo skeleton" Previewing New LP Out Friday (Secret City Records)
La Force, the mesmerizing solo project from Ariel Engle, unveils today the title track from her brand-new album, XO SKELETON, out this Friday via Secret City Records. "'xo skeleton,' the song – is the overarching theme of the record," says Engle. "It's an image I'd love as protection. A carapace that keeps the goo inside. This protection is in love, kisses, and hugs. It's what bolsters us in life. The love is an invisible shroud that we adorn others in and are adorned in. It's a reminder that within us are skeletons. Symbols of death and yet the architecture that animated us while we are alive. It's a song about the inevitability of death as both a motivator to love fully and at times disincentivizing Force – why bother if I'm going to die versus I must do so much while I'm still alive."
HUMANE THE MOON REVEALS WILL ROBSON-SCOTT DIRECTED 'I SAW A DOG' VIDEO// WATCH HERE
SPIRITUAL CRAMP RELEASE NEW SONG + VIDEO FROM SELF-TITLED DEBUT
Daneshevskaya shares new single "Challenger Deep"
Lynks Shares New Single "NEW BOYFRIEND"
Lynks has returned with new single & video "NEW BOYFRIEND" – a twisted, queer lovechild of LCD Soundsystem, Metronomy and Confidence Man.
MOUTH FOR WAR: Colorado Brutal Metalcore Outfit To Release Bleed Yourself Full-Length October 27th Via MNRK Heavy
French Indie-Pop Trio 'Exsonvaldes' Unveils Latest Single 'Party People'
French trio Exsonvaldes, announce their new single 'Party People' from their highly-anticipated upcoming album 'Maps', after over a five-year hiatus. Meeting during their engineering studies in Paris, the mathematician rockers have built an identity made of astute tones that exploit their scientific background.
ATO Records' Garage-Punks CIVIC Announce 'New Vietnam & Singles' LP
Babebee Announces New EP 'A PROPHECY', Shares Fever Dream Music Video "VIDEO GAME"
Lala Lala Shares New Song "HIT ME WHERE IT HURTS"
Today, September 27th, Lala Lala has shared a lush atmospheric bop entitled "HIT ME WHERE IT HURTS," available now via all DSPs.
Lala Lala's Lillie West offers this on the single: "HIT ME WHERE IT HURTS," is about destruction and impatience. I wanted the song to sound blown out and desperate"
Nova Scotia's HUMAN MISSILE CRISIS Releases Powerful, Garage Punk Video For Title Track From Debut "Liquor Store Stories"
SLEEPY HALLOW RELEASES NEW MUSIC VIDEO "A N X I E T Y" FEATURING DOECHII
The FunkLabb & Kay Extra Release "Giddy Up" Single
JAIN RELEASES NEW MUSIC VIDEO FOR "NIGHT HEIGHTS"
Circus Devils (Robert Pollard) Announce First New LP in 6 Yrs, Share "Here We Are" Video via Brooklyn Vegan | 'Squeeze The Needle' Out 10/27