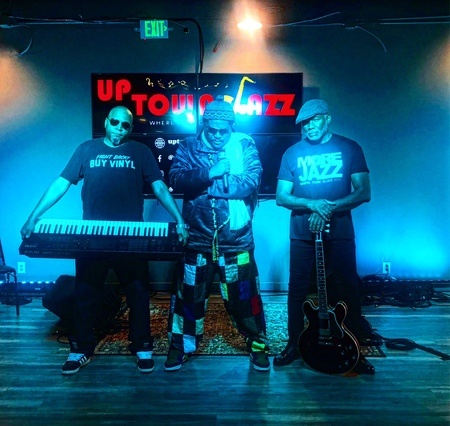 It's time to turn up the transition of the seasons with hip-hop homesteaders Shaheed & DJ Supreme. Bearing the torch of hip hop in Birmingham, AL, these keepers of the craft draw on an endless wellspring of creativity, joy, community, and rhyme. Flexing their talent alongside the likes of Scarface, Jurassic Five, and The Jungle Brothers, Shaheed & DJ Supreme have made their mark on hip hop with their signature brand of conscious rhythms and flows. They're artists for the people, the planet, and the spirit, taking on topics like climate change, conservation, spiritual growth, community, and social justice. Ever with a feel-good vibe, they also pay tribute to the hip-hop greats before them. Their sound is at once nostalgic and fresh, reminiscent of the old school and evolutionary towards new horizons. Check out Shaheed & DJ Supreme's next progression of thought and sound on their new album, The Art of Throwing Darts, and follow along with their community efforts at their non-profit K.R.U.—these men talk the talk and walk the walk, and want you to sing and stroll with them.
Ladies and gentlemen, we've got a double feature. Coming off their new album, The Art of Throwing Darts, Shaheed & DJ Supreme's "Jazz Men" and "Something to Ride To" are a couple of spot-on bullseyes. On "Jazz Men," Shaheed & DJ Supreme are joined by accomplished jazz guitarist Eric Essix to pay a funky tribute to the influence of jazz on hip-hop. Essix and DJ Supreme meld vibes to create a beat that will all but induce a sensuous bounce in listeners as they appreciate Shaheed's vicious flow that seamlessly streams bars together, reflecting on historical jazz and hip-hop collaborations. In the accompanying music video for "Jazz Men," directed by Richard Giles, we join our three jazz men lounging and enjoying each other's company and music. Shaheed & DJ Supreme's signature vibe of warmth and welcoming is accentuated by the cool calm of Essix dropping mad riffs like it's nothing. Relax into yet another instant classic by Shaheed and DJ Supreme.
Then, jump in your car and pop on their next single, "Something to Ride To." The beat is a masterpiece by DJ Supreme. Impossible not to bob your head along with, this one may make you wish you had hydraulics in your daily commuter to feel the full effect of the vibe that this song emanates. Over the infectious boom-bap, Shaheed flexes his full playfulness and creativity, wittily rattling off invitations to all types of drivers in all types of vehicles to cruise along with them. The music video, once again directed by Richard Giles, follows our hip-hop heroes through their community as they enlighten fellow drivers (and even some BMXers!) to the joy of the ride. The intention expressed in the song's hook, "to provide you with something to ride to," is gradually fulfilled one encounter at a time, until no one is left without a smile on their face—and yes, we believe that will include you as well.
Follow Shaheed and DJ Supreme:
http://www.kruhiphop.com
http://twitter.com/shaheed_supreme
http://instagram.com/shaheedanddjsupreme