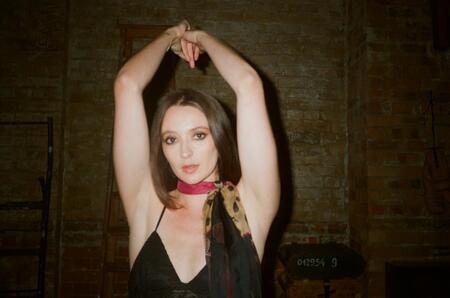 @skopemag news – friday – september 15, 2023 @ 5 pm est
https://www.facebook.com/SkopeMag/
https://twitter.com/skopemag
https://www.youtube.com/@skopetv2
https://www.instagram.com/skopemag/
APP – Apple iTunes –
https://itunes.apple.com/app/id1465224822?mt=8
@skopemag APP – Google / Android –
https://play.google.com/store/apps/details?id=hr.apps.n207414718
Support @skopemag –
https://www.paypal.com/donate/?hosted_button_id=3APKAKT8K6ETW
Trevor Hall shares new self-produced studio album 'Trevor Hall and the Great In-Between'
Trevor Hall and The Great In-Between marks the start of a new era for musician Trevor Hall. Out everywhere today on Hall's own 3 Rivers Label, the highly-anticipated record delivers a future-folk masterpiece anchored in Hall's beloved style, while simultaneously bringing a refreshing new sound to the forefront. Created solely within the confines of a barn-turned-studio in his own backyard, this record marks the first of Hall's career where he helmed every aspect of the production process. Penned without external influence and from a purely creative and explorative space, Trevor Hall and the Great In-Between unveils raw and unfiltered facets of Hall that remain undiscovered. All information and up-to-date news can be found at trevorhallmusic.com.
OUT NOW: Brazilian Producer/DJ Cour T. Releases 'QUEENLOVE' Off Upcoming Debut Album via Dirtybird Records
Today, Brazilian wunderkind Cour T. releases 'QUEENLOVE', the fourth and final single off his forthcoming debut album Brain Deals out October 6th via Dirtybird Records.
Americana Songwriter Michele Stodart Extends an 'Invitation' to Darkness on Third Solo Studio Album
There is a cinematic experience that happens with the music arrangements on this song. There are crossover rhythms, creating a heartbeat atmosphere around the conversational lyrics which build in intensity and sudden relief. The soaring melody line of both violin and piano breaks through and sings – creating that yearning musical pull.
Deaf Dreamer Announces EP and Releases Single
Deaf Dreamer has announced the upcoming EP, "IT'S BETTER HERE THAN IN THE DARK" and released a new single from it….
Deaf Dreamer was the first song Sebastian Ruiz wrote when he started making music in his adolescence. From what started as a bedroom recording project to now an official band, Deaf Dreamer comes out with "Pyramids", the lead single from the new up and coming EP titled "IT'S BETTER HERE THAN IN THE DARK" out September 22, 2023.
Marcus Mackey Shines on Candid Pop-Dance Hit "S.E.L."
Delivering a compelling exploration of modern relationships and the intricate dynamics of today's dating landscape, Marcus Mackey takes center stage with his latest single, "S.E.L.," an acronym for "someone else's lover." With an infectious dance groove intertwined with heartfelt lyrics, the track offers a striking juxtaposition that exemplifies Mackey's musical prowess. Serving as an enthralling introduction to his journey toward stardom, "S.E.L." showcases Mackey's artistry as he navigates the path to recognition in the music industry. "S.E.L." is available now to stream and download worldwide.
Popstar Ari Abdul Releases New Single BURY YOU, Embarks on Her First Tour
BURY YOU showcases Abdul's exceptional talent, captivating listeners with her unique style and melodies. The single is a refreshing track that seamlessly blends elements of pop, rock, and electronic sounds. Abdul's soothing vocals combined with the infectious beats create an irresistibly catchy anthem that sets the stage for her promising career as a rising star in the music industry.
TOMB MOLD: Fourth Album From Toronto Death Metal Outfit, The Enduring Spirit, Out Today Digitally On 20 Buck Spin
The Enduring Spirit, the fourth LP from Toronto, Ontario death metal outfit TOMB MOLD – and undoubtedly one of the most anxiously awaited metal albums of the year – is out today digitally through 20 Buck Spin, who now unveils physical preorders.
Out Now – The Ivy "Good Faith"
Written and partially recorded in a storage container in Puerto Vallarta Mexico, "Good Faith" depicts the feeling of being overwhelmed by the challenges of life while ultimately finding peace in realizing that your true self is found somewhere other than the tasks set before you by the outside world.
Submission for Skope Magazine – Katsy Pline
Katsy Pline is a singer and guitarist living in Berkeley, CA. Combining fingerstyle guitar with the glitchy, granular and synthetic processing of contemporary electronics, her instrumental work hews an otherworldly path both celestial and earthbound. Drawing from the melancholic yearning of early country and folk, Katsy's heartbreak ballads spin tales of apocalypse, beauty and loss amidst the ruin of the present.
Emily Monsen Unveils Poignate Single "Throw The Man Away"
Renowned for her compelling musical narratives that mirror her personal growth, singer-songwriter Emily Monsen is on track to release her latest single, "Throw Away The Man." The poignant track offers a candid perspective from the now 24-year-old artist, recounting a relationship with a significantly older partner while candidly addressing red flags and her inclination to fix others. Through introspection and resilience, Monsen discovers her self-reliance, rendering the track a relatable anthem of empowerment. The single is now available to stream globally.
The Inciters Releases Video For "Boot N Soul"
For Skope: Diamond-certified sensation LUM!X awakes inner child on new single on Spinnin' "Kids Like Us" (out now)
Singer-Songwriter-Instrumentalist-Producer Venus Releases "Things Change" Today, September 15
Southern California-based singer-songwriter-instrumentalist-producer VENUS is releasing her latest single, "Things Change," today, September 15. This dreamy soundscape is the first track to come out ahead of an EP project in the works, which is being composed entirely by Venus herself. Following years of self-discovery, refining her sound, and a collaborative EP release with her group Ahmore which garnered critical acclaim, Venus is embarking on a new chapter with the aptly titled "Things Change."
DWLLRS RELEASE NEW SINGLE "THIS HEAVEN'S TALL"
Speaking on the track, DWLLRS share: "This song captures a sweet ignorance of feeling close to heaven while falling in love-knowing that this love is temporary, and the fall will be devastating. Is the pain worth the thrill?"
Presenting the highly anticipated new single: Kali – by Radhika Vekaria
Renowned for her unique sound, Radhika has skillfully crafted 'Kali' to reflect both personal growth and universal themes of change. This captivating song combines elements of mystery, divinity, and the transformative power of Time, mirroring the attributes of the Hindu goddess Kali herself.
Art of Anarchy Releases New Single "Vilified" and Announces Upcoming Album
Hard rock band Art of Anarchy releases their new single "Vilified" via Pavement Entertainment. This song will be a part of the band's comeback album, entitled Let There Be Anarchy, which is slated for release on February 16, 2024. Both "Vilified" and the upcoming album depict the challenges people face today.
SCARLIP RELEASES NEW SINGLE "NO STATEMENTS"
Tony Jay shares new single / video "Talking In My Sleep" ahead of Slumberland LP
TERMINAL DUSK Release Lyric Video For "Everdark"
TIAGO PZK AND NATHY PELUSO TEAM UP FOR THE FIRST TIME ON THE INFECTIOUS "ELLA TIENE"
"Ella Tiene" is the bracing new bachata single about a troubled love story that unites two mega stars – Tiago PZK and Nathy Peluso – while showcasing Tiago PZK's singular ability to adapt to any kind of musical style.
Peluso said she knew Tiago PZK would be a smashing vocal partner for a romantic song, noting that "Tiago has a very special voice and is a great artist."
Melbourne Indie-folk Singer Hayden Calnin Releases Reflective EP 'A Turning Of The Tide: Side B' 
At the top of 2022 and in the wake of a breakup, Hayden left Melbourne for a creative hideaway in Rye Ocean Beach to write this record. Ultimately, Hayden came out of the isolation with an ability to connect more than ever. "When you hear this, I'd love for you to smile. I'm probably the happiest I've ever been right now. I'm comfortable with where I'm at and where I'm heading for the first time in years. I hope the music shows," he says.
Luluc's New Album Diamonds Out Now!
"It's impossible for Luluc to be truly up-tempo, dragged back a pace by Zoe Randell's low reverberant voice, like Nico fronting Morphine. This is, though, an album of upbeat rebirth, born from considered reflection." – UNCUT
"As album number five arrives, Zoe Randell and Steve Hassett have honed a sound that has well defined roots (modern folk's brooding solemnity, Mazzy Star's hazy dreaminess) but it is entirely their own." – SHINDIG!
Irish Post-Punk Indie Rock Band MOVMENT Is Back With New Single & Video "I Believe In Noise"
Marcus Mackey Shines on Candid Pop-Dance Hit "S.E.L."
Delivering a compelling exploration of modern relationships and the intricate dynamics of today's dating landscape, Marcus Mackey takes center stage with his latest single, "S.E.L.," an acronym for "someone else's lover." With an infectious dance groove intertwined with heartfelt lyrics, the track offers a striking juxtaposition that exemplifies Mackey's musical prowess. Serving as an enthralling introduction to his journey toward stardom, "S.E.L." showcases Mackey's artistry as he navigates the path to recognition in the music industry.
**NEW MUSIC ALERT** Sofia Lafuente In Collaboration With Oliver Kid Presents The Single "NMM"
Simultaneously empowering and sensual, "NMM" makes a profound statement about the importance of loving ourselves and how being confident in who we are affects our relationships with others. Lafuente acknowledges that when we focus on cultivating our self-worth, and then encounter another person who not only understands where we're coming from but is also willing to meet us where we are, it's a feeling like no other.
KICKED IN THE HEAD BY A HORSE: Pittsburgh Hardcore Unit Drops New EP "Sporadic Dystrophy"
Pittsburgh chaotic hardcore unit KICKED IN THE HEAD BY A HORSE is proud to announce the release of its second EP Sporadic Dystrophy, out now via all major digital service providers.
DETROIT RAPPER REALRICHIZZO RELEASES "HOUSE ARREST" OUT NOW VIA PRIORITY RECORDS
"House Arrest" comes nearly a month after RealRichIzzo's last release, "Signing Day". The music video for "House Arrest" is directed by Public Goat, an Atlanta-based videographer. The music video is filmed at a home studio where clips of RealRichIzzo and his crew can be seen vibing along to the song as it plays. Sticking true to his storytelling style, RealRichIzzo briefly touches on the topic of his own house arrest throughout the song as it relates to his past and his future.
Viral Creator Tiko Announces New Album 'Introduction' + Releases New Single "Keep My Cool"
YouTube creator and artist Tiko has announced the release of his third full length album, Introduction, out October 20th via ONErpm. Alongside the announcement, Tiko has also released his new single, "Keep My Cool," an uplifting and energetic track that melds youthful infatuation with ambition over an airy soundscape while he sings about keeping his composure and trying to stay on top of his game.
For Skope: Italian Jude & Frank join forces with Ron Carroll for vocal tech-house "This Feeling" (out now on CONTROVERSIA)
new single from Ohio artist KNOTTS
""The Offer is a backstory of love, it outlines the different personalities in the relationship, one person is confident and ready to fully commit, the other is hesitant. It's a song about the initiation of a relationship; denial, resistance, and then finally, choosing to be together. It's a song about feeling like any scenario where you're not with this person is wrong."
WWild Once share "Meet Me Halfway" from forthcoming debut LP
Buffalo, New York's Wild Once are back with new music in 2023 releasing their first full-length effort, titled The Place You Are Meant To Be Lost, October 27. Recorded in late 2022 at GCR Audio with Jay Zubricky (Every Time I Die, Beach Slang, Pentimento), the album sees the group take on a more traditional tracking approach, recording the instruments individually, instead of live, off-the-floor like their previous EPs.
White Lion Records lanza la canción REMERS x IZZY "XXX STAR"
White Lion Records se complace en anunciar el lanzamiento mundial de la canción "XXX Star" de los talentosos artistas Remers e Izzy. Esta esperada colaboración promete ser una experiencia musical única que cautivará a los amantes de la música en todo el mundo.
PARAVI RELEASES SELF-TITLED DEBUT ORIGINAL EP 'PARAVI'
Today, rising singer/songwriter Paravi releases her debut original EP PARAVI via RCA Records. Anchored by Paravi's soulful vocals and unfiltered lyricism, the EP features previously released tracks, "GOLDEN CHILD," which Billboard called "captivating," the powerful pop anthem "ANGRY," the piano-driven ballad "BROKEN ENGLISH," and her most recent offering the emotive "SKELETON." The EP includes two new tracks including "REVENGE BODY," and "STARGIRL."
STEVE LEHMAN & ORCHESTRE NATIONAL DE JAZZ UNVEIL 'EX MACHINA'
Ex Machina, the new collaboration between visionary saxophonist / composer Steve Lehman and the GRAMMY-nominated Orchestre National de Jazz (ONJ), is a dazzling work that sets a new standard of innovation for large jazz ensembles. With compositions by both Lehman and ONJ's artistic director, Frédéric Maurin, Ex Machina makes frequent use of otherworldly spectral harmonies that are reinforced and transformed, in real-time by live, interactive electronics developed at IRCAM (Institut de Recherche et Coordination Acoustique Musique, founded in 1977 by Pierre Boulez). Soloists in the ensemble interact with highly-nuanced harmonies, propulsive rhythms, and computer-driven sound transformations to thrilling effect. This ambitious project is indisputably a major conceptual step forward for jazz big band.