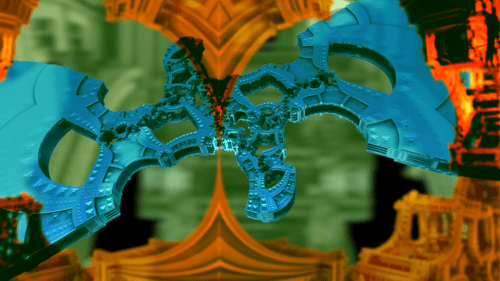 Art that inspires inner reflection: that's the mission of Sonarpilot, the alter ego of producer and digital designer Michael Moppert. Through Moppert's genre-bending electronic soundscapes and imaginative visual voyages by fractal artist Roger Mader, audiences are transported into The Mirage Project, a world of audio-visual contemplations on big contemporary issues like Artificial Intelligence, cosmology, the multiverse, alien life, and more. Upon its release in 2020, The Mirage Project, Season 1 received accolades for its sound and visual elements, consisting of six epic journeys through mind, science, time, and space.
This dynamic duo is back at it again for The Mirage Project, Season 2. They are joined by London-based DJ Jonny Miller to help them map out the farthest reaches of the Mirage cosmos – and the human imagination. The next chapter to be released is "Mirage VI: Kronos," destined to take viewers on a journey to an all-encompassing timekeeper harmonizing an intricate dance of cosmic events.
The elegant techno-dub soundtrack for "Kronos" was created by New York-based sonic wizard Brendon Moeller exclusively for Sonarpilot Audio. "Kronos" unveils long, sinuous melodic motifs; as the composition unfurls its wings, the track embarks on a kaleidoscopic transformation. Like shards of a sonic prism, the musical elements scatter and converge, leaving behind impressions of fleeting beauty and the evanescence of time.
Like the inside of a watch or clock, the "Kronos" music video opens to a set of gears turning in sync with one another. It all seems normal at first, but then things get weird: another set of differently-colored gears appears on screen, and soon enough, they're growing, bending, and melting in ways we wouldn't expect. The weirdness continues, and the gears begin to shift into different sizes, shapes, and colors – fractal versions of themselves, soon becoming unrecognizable from their beginning form. Sonarpilot says about the video, "This enigmatic device creates time, sculpting and flexing its very nature, molding its velocity, orchestrating its myriad of layers. Although the journey takes us close to its source, the tantalizing grip on time's essence remains ephemeral, slipping through our fingers as we endeavor to capture its essence."
Follow Sonarpilot:
https://www.themirageproject.com/
https://www.facebook.com/sonarpilot/
https://twitter.com/sonarpilot
https://www.instagram.com/sonarpilot/