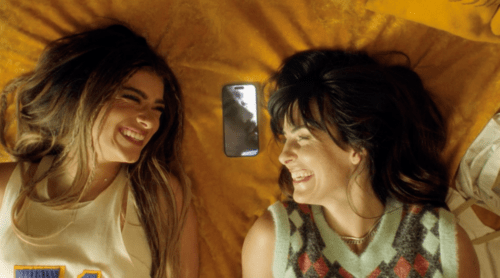 @skopemag news – tuesday – september 12, 2023 @ 5 pm est
https://www.facebook.com/SkopeMag/
https://twitter.com/skopemag
https://www.youtube.com/@skopetv2
https://www.instagram.com/skopemag/
APP – Apple iTunes –
https://itunes.apple.com/app/id1465224822?mt=8
@skopemag APP – Google / Android –
https://play.google.com/store/apps/details?id=hr.apps.n207414718
Support @skopemag –
https://www.paypal.com/donate/?hosted_button_id=3APKAKT8K6ETW
Buzzy indie-rock newcomers Flat Party release new single, produced by Andy Savours (My Bloody Valentine, Black Country, New Road)
(12th September) Buzzy London newcomers Flat Party have released their new single "I'm Bored, Give Me Love" along with an entertaining flat-party-themed video directed by the band's drummer Zander Hearn. "I'm Bored, Give Me Love" teases the band's first body of work, due to surface in 2024 on Submarine Cat Records, and arrives ahead of the band's first UK headline tour in November and December.
PRESS INFO: Liverpool duo Matrefakt herald clubbing szn with new single 'Charge' out now
The last half-decade has seen Matrefakt release a steady stream of high-quality dance records with minimal fuss, and the support speaks for itself: Peggy Gou, Skream, Patrick Topping, Anja Schneider, DJ Boring, Richie Ahmed, Sally C, Sarah Story — the list goes on, and when you listen to their music, their rapid rise comes as no surprise. They're also regulars at their city's famed Circus parties, while the last two years have seen them play key sets at Creamfields, Hideout, Watergate and more.
Little King – Amber Waves (GoodBye)
Broken Hearts mend through music, and Little King is going to do its part to get you through it…
Little King has caught the singles bug and has cooked up another tune for your heart and mind! This one is titled "Amber Waves (GoodBye)" and it was released on August 8th, 2023.
Tex Crick Shares "Barefoot Blues" Single | LP out 10/13 on Mac DeMarco's Record Label
Tokyo-based Australian artist Tex Crick will release his new album Sweet Dreamin' October 13 on Mac's Record Label. He released the acclaimed lead single "Easy Keepers" last month and today reveals new album cut "Barefoot Blues" infused with elements of dreamy Hawaiian guitar, soft rock and piano-pop. "I was listening to Hawaiian music at the time and I guess it found its way into my psyche," shares Crick about the song's inspiration. "It's a tale of a reminiscing drunk exaggerating fond memories with a long lost lover."
A Beacon School Shares New Single / Lyric Video, "Alone," Mixed By Sonny DiPerri (MBV, Trent Reznor, M83)
Dancehall Star Kranium Collaborates with Nigerian-American Singer and Actor Rotimi for Vibes Weekend (Remix)
Released on September 1, "Vibes Weekend" quickly climbed the charts and dominated airwaves with its irresistible rhythm and catchy lyrics. Now, with the addition of Rotimi's melodious vocals and unique style, the remix is guaranteed to captivate a wider audience and make an even bigger impact within the music industry.
Troy Dunnit Teams Up with Hip Hop Icon Maestro Fresh Wes For New Single and Video "Talk To Me Nice"
Troy Dunnit has worked with DJ legends Atrak and Lunice and underground vets Ill Bill and Necro, to name a few. It's important to understand the business of Hip Hop and Dunnit has chosen well. 'Shooter's Shoot' features Canadian music icons Maestro Fresh Wes, Saukrates and Moka Only, Montreal rapper/ Professor Narcy, and Westside princess Yah-Ra out of Planet Asia's crew in Los Angeles California.
"Talk To Me Nice is a portrayal of the man inside the artist. The lyrics are telling…. the swagger is real."
"Talk To Me Nice" single and video… out now on all music platforms. "Shooter's Shoot" drops September 22nd.
Frank Sinatra Platinum marks 70th w/Remaster, New Unreleased Tracks
Available on 4LP, 2CD, and digital formats, the 44-track collection features a cross-section of Sinatra's most beloved songs and sought-after rarities. From the swinging "I've Got You Under My Skin" and ebullient "Come Fly With Me" to the breathtaking "Moonlight in Vermont" and torch song "Only The Lonely," the set also includes previously unreleased tracks culled from the Capitol vaults along with alternate takes, a test track, radio spots and session takes that reveal Sinatra's in-studio artistry. An exclusive deluxe 4LP edition and new signature items will be available exclusively at Sinatra.com.
New Single Release "Live Again" – Zack Miranowic
Lyrics: Consumed by the unknown Taking on fear Left to your own devices The path before you is unclear Where one door closes A new world begins Take a step forward To try and live again Living for another day Looking for another way Beginning to lose all hope You're at the end of your rope Where one door closes A new world begins Take a step forward To try and live again Where one door closes A new world begins Take a step forward To try and live again
Psychedelic Jazz Outfit Mildlife Share New Track "Return to Centaurus"
Out now on Heavenly Recordings, "Return to Centaurus" marks the band's first new material since the release of their lauded, ARIA Award-winning 2020 second studio album Automatic. Opening with droning synths and a wall of horizontal, Kraftwerk-esque vocoders, "Return to Centaurus" evolves from psychedelic space rock into a gloriously hook-heavy acid funk meltdown over the course of its ten-minute-long trip time. Luxuriating in loping, velvet-draped bass lines, sparkling, funk-laced guitar riffs and intricate, morphological percussion, it distills Mildlife's unwavering adoration for the beguiling realms of 70's psychedelic and cosmic sounds, owing as much to Sun Ra and Alice Coltrane as it does Ennio Morricone and Giorgio Moroder.
BABY J & NE$$ JOIN FORCES TO BRING YOU THE LEAD SINGLE "STICK UP KIDS" FROM THEIR FORTHCOMING FULL-LENGTH LP "THE PRICE OF BREAD"
TheSystemDontWork Records' Baby J & NE$$ join forces to bring you the lead single "Stick Up Kids", from their forthcoming full-length LP "The Price of Bread".
"Stick Up Kids" is more than just a song; it's a haunting exploration of abject poverty, seen through the innocent lens of a child growing up in the so-called "First world." It peels back the layers of societal neglect and exposes how circumstances can mould individuals into reluctant participants in the shadowy theatre of "street life." This track serves as a poignant reminder of the intricate dance between adversity and identity, a dance that often leads down unexpected, perilous paths.
Seafood Sam Announces new EP 'Afros in the Wind' with single, '86 Carolina West
WIMS Gaze About The Party In A Glassy-Eyed Panic On "ultimategoodnight"
"ultimategoodnight" is an impressionistic tale of suburban late nights, party fouls and trying far too hard. The track is a non-stop high energy wipeout, thickly layered post punk that frantically shifts between flashes of external chaos and listless internal monologue. The release is accompanied by a moody series of visual tableaus, primal performance energy interspersed with fantastical suburban iconography.
Harp (Project of Former Midlake Singer, Tim Smith) Share New Single & Video / Announce Debut Album Out Dec 1 via Bella Union
JESSICA WILDE invites you to 'Freak Out' and move your body with infectious new single, out today
DISCONNECTED SOULS Unveil Lyric Video For "Fragments"
PSYGNOSIS Streaming Stellar New Album
Magnolia Park Announce New Album 'Halloween Mixtape II' Out Oct. 27, Share Explosive New Music Video "Animal"
Today, prolific five-piece Magnolia Park reveal plans to release their new album Halloween Mixtape II on October 27th via Epitaph Records. The follow up to 2022's debut record Baku's Revenge and spiritual counterpart to 2021's Halloween Mixtape, their kaleidoscopic fusion of sound is on display more than ever as they experiment and expand upon the hardened edge underlying their trademark catchy hooks and memorable melodies.
EX EVERYTHING: Oakland Band With Members Of Kowloon Walled City, Early Graves, And More Signs To Neurot Recordings
Neurot Recordings is pleased to announce the recent signings and Bay Area post-hardcore quartet, EX EVERYTHING, formed by current and former members of Kowloon Walled City, Early Graves, Mercy Ties, Blowupnihilist, Less Art, and others. The label will release the band's debut album, Slow Change Will Pull Us Apart, on November 10th.
Cabrakaän's Metal Documentary Takes A New Look At Their Mexican Folklore Genre And Its Cultural Implications +New Album "Aztlán" Out November 2023
Cabrakaän is a Mexican metal band that is now based in Calgary, Canada. They formed in 2011 and have made it their mission to infuse metal with traditional instruments and folky elements. This year they are releasing an album "Aztlán" and to complement it have produced a documentary further explaining their musical background and heritage. They share their thoughts on the video explanation:
Micah McLaurin Releases "Moon River" Single and Announces 'Diamonds' Album
Co-arranged by Micah alongside GRAMMY-nominated arranger Chris Walden (Aretha Franklin, Paul McCartney, Stevie Wonder), "Moon River," recorded with the Royal Philharmonic Orchestra in London at the historic Abbey Road Studios and British Grove Studios, follows Micah's recent cover of "Diamonds Are A Girl's Best Friend," a tribute to Marilyn Monroe that celebrates all the theatrics and camp of the original which saw him embark on a new chapter in his already ambitious career.
LISTEN: bby share "money body"
The UK's most exciting new band bby have returned with new single 'money body', following their killer debut single 'hotline'. Since the release of 'hotline', things have been nonstop for bby – they have played shows at Leeds Festival and All Points East in London with both The Strokes and Haim, received support from Zane Lowe, Travis Mills, and Matt Wilkinson at Apple Radio, as well as NME, DIY and Dummy. 'hotline' is also rocketing up the alt radio charts in the US, currently at #9 and climbing. 'money body' is a continuation of their insistent sound, destined for big singalongs on crammed dancefloors.
Alt-rock singer Skye Wallace takes fear head-on in "Tough Kid"
Wallace wrote it when she was feeling burnt out from hustling in the music industry for so long. So coming into this next chapter of new music, Wallace was fully armed with concepts, desires, and collaborators who re-lit their fire, and thus made a promise to only do the shit that filled their cup. Things like only making content for social media that they truly felt excited about, creating with inspiring and supportive pals – especially things that didn't have to be "releasable" or commodified – and being critical about what performance and career meant to them.
THE EFFIGY Unveils Haunting Video For "Deliver Me"
CITIZEN REMINISCE ON OLD MEMORIES ON NEW TRACK "WHEN I LET YOU DOWN"
Today, renowned alternative rock band Citizen take a trip down memory lane on fast new single "When I Let You Down." Much like their previous offerings from their forthcoming fifth album Calling The Dogs – due October 6 – the song's honest lyrics endorse the LP's overall themes of personal growth and knowing when to move on from certain chapters (and relationships) in your life.
The Intemperate Sons Release New Single "Lake of Poison" + Official Music Video via FRAME|WORK
Vevo and Jenny Lewis Release Live Performance of "Cherry Baby"
SOUR TIMES Drops New Single "Awaken The Voiceless"
American extreme metal outfit SOUR TIMES are back with their highly-anticipated follow-up to 2021's The 11th Hour. Their new EP, Awaken The Voiceless promises to be staunch, rageful and explosive in its blend of raw aggression and melodic inclination. Today, the band has revealed the title track from the upcoming opus.
Southern songwriter/poet DANIELLE HOWLE releases new single on Kill Rock Stars Nashville
Today, South Carolina songwriter-poet Danielle Howle is releasing "Back in the Sun," the second single from Current, her debut album for Kill Rock Stars Nashville out November 3. Known for captivating audiences with her stunning vocal ability, contagious energy, and seasoned songwriting skills, Howle's music ranges from country-swamp-blues to Americana with country, southern rock and folk influences. Over the years, she's been compared to Patsy Cline, Nina Simone. and writer Flannery O'Connor.
Ez Mil shares "Podium" official music video
Ez Mil's latest music video for "Podium," directed by Alexey Figurov, is an ominous, dark visual shot in black and white that accompanies his relentless, haunting flow. On the track, Ez Mil begins to process his new role as a rising rapper–someone others might look up to–and the mix of fear and excitement that comes with it. Though Ez is used to directing and editing his videos, he enjoyed letting Figurov help create his vision. Ez Mil says the video, to him, is raw, adding, "It is an unfiltered reflection and a glimpse into my artistry." Figurov says the video aims to, "recreate the complexity and versatility of the human personality. To explore our negative sides and a person's craving for self-destruction." The video's black-and-white color scheme complete with red accents was a creative suggestion from Eminem himself.
DIXIE D'AMELIO STARS IN VIDEO FOR MAX'S TOP 40 SINGLE "STRINGS" FEAT. JVKE & BAZZI
"Strings" builds on a new era of music for MAX, which kicked off with Platinum single "Butterflies" feat. Ali Gatie, the 100-million-streamer "IT'S YOU" feat. keshi, plus critical and fan favorites "Gucci Bag" and "Wasabi." When MAX isn't crafting pop sensations for himself, he often lends his talents to enormous artists. Most recently, he co-wrote BTS's single "Yet To Come," which hit #1 on the Billboard Ex-U.S. chart.
Preston D Barnes Releases New Video "Heart Breaks Better That Way" featuring Moriah Domby
Regarding the video production, he said, "Working with Stormlight Pictures in a city I have dreamed about creating music in for so many years was nothing short of 'Incredible' – Driving a 1060's Mustang round the streets of Nashville and creating music with Moriah Domby, an established Singer/Songwriter from Music City made the whole process a dream come true! She really was superb!"
SEMA Fest – Celebrating Motorsports, Music And Car Culture – Debuts November 3-4, 2023 with Imagine Dragons, Incubus, Wiz Khalifa and More At The Las Vegas Festival Grounds
The Specialty Equipment Market Association (SEMA), producers of the SEMA Show, the major trade-only automotive event held annually in Las Vegas is celebrating its 56th anniversary in 2023 with the launch of SEMA Fest, an open to the public two-day full-throttle festival that fuses motorsports, music, and car culture. Headlined by Imagine Dragons and Incubus with over 20 acts confirmed, SEMA Fest happens Friday, November 3 & Saturday, November 4, 2023 at the Las Vegas Festival Grounds in Las Vegas, Nevada. Tickets are on sale now here.
LASTER release new single 'Afgelopen tijd'
Tech-Death Metal band GORY BLISTER drop new "Push Out the Venom" music video, 7th full-length album 'Reborn from Hatred' is out now!
GLDN Unveils Video For "Harmful If Swallowed"
Pistols at Dawn's Single "Fly"
Matt B Releases New Music Video "SHAYO" From Latest Album 'ALKEBULAN' Out Now
Today, GRAMMY-nominated global artist Matt B has released a new music video for celebratory single "SHAYO" taken from his Afrobeats album ALKEBULAN, out now via Vitae Records. Directed by Matt's wife, manager, and producer Angela Benson, the video was filmed in Africa and features Ugandan dance group Fire K Stars as they capture the emotions of what it means to find "SHAYO," a common phrase amongst Nigerians and West Africans meaning happiness.
Watch the video to Anna Hillburg's "Girl Girl Girl," from Tired Girls, out Oct. 13 on Speakeasy Studios SF
"Girl Girl Girl" is a western-baroque-pop groover, harkening to the Kink's Village Green Preservation Society, with lyrics delicately pointing out generational differences between women and all the different lives "girls" can lead. The verse "I've been a lot of places and I've been a lot of girls" speaks to the heart of the record, looking back and looking forward to the wide-ranging experience of women.