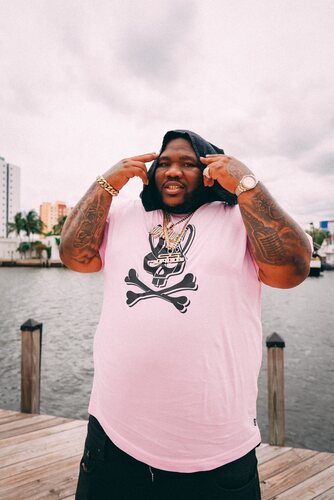 "Make that money," Mike Smiff cautions, "but don't let money make you." That piece of hard-won advice is right there in the chorus of "Go To Ya Head," the South Florida rapper's latest single. In one stinging phrase, Smiff pledges allegiance to the grind and demonstrates the perspective and temperance that experience brings. The song is a reminder of Smiff's status: by the general agreement of everybody who has heard his records, he's one of the wisest men in rap.
Every bit of that wisdom was earned on the streets of Dade County, a hip-hop crucible where only the finest and most forceful are heard above the clatter. Though the scene has a deserved reputation for hedonism, a Florida emcee can't just be a party starter. He's got to have something real to rhyme about. Long before the release of 10 Toes Down, the ferocious 2013 mixtape that spread his fame far beyond the Sunshine State, Mike Smiff was already a legend on the Miami corners for his relentless bars, his plainspoken, diagnostic assessment of the city in which he lived, and his thunderous beats.
"Go To Ya Head" epitomizes the emcee's approach. It's a gorgeous production, driven by trunk-rattling 808 kick drum and decorated with airy synthesizer and dazzling soul samples. The emcee barely takes a measure off: he spits flames for two and a half minutes in that tough, fluid, authoritative delivery that has been shaking the Florida pavement for over a decade. He's the sort of rapper who you'll never mistake for anybody else: press play anywhere in the track, and you'll know it's him. And what is he rhyming about? Lost chances and missed opportunities, the lure of easy cash, kids growing up too soon, bad choices, arrogance, and the seductive quality of life on the street. He knows it because he's lived it.
In the clip for "Go To Ya Head," Mike Smiff is so comfortable on the block that he practically defies gravity. Others throw dice in the alleys and cluster on stoops; the rapper floats down the street like a sailboat with a tailwind. He's in his element, but he's also sufficiently detached from the dirty business of daily life that his commentary feels incisive. But he's not merely diagnostic. He loves South Florida and his community, and that affection comes through in every frame. Call this a video homage to a complicated place — one that Mike Smiff knows all about.
Follow Mike Smiff:
https://www.officialmikesmiff.com/
https://www.facebook.com/MikeSmiff305/
https://twitter.com/mikesmiff305?lang=en
https://www.instagram.com/mikesmiff305/
https://www.tiktok.com/@mikesmiff305