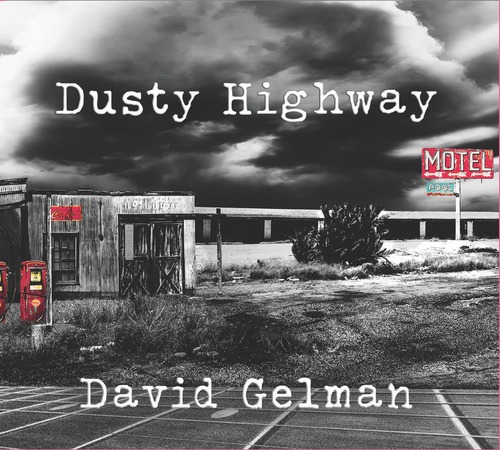 Dusty Highway, the 2023 LP from David Gelman, begins out humbly with an easygoing, melody-led beat in "Lay Me Down" that, while only offering us a glimpse into the majestic melodies that await in the next ten songs, is enough to set the stage for everything we're soon to encounter. The moodiness of the harmonies in this track carries over seamlessly into the eccentric "High Road," and though the elements of stranger seem to get all the stranger as we slip into the comforting sway of a plaintive "Time on My Hands," it becomes harder and harder to turn away from the stereo as this record begins to bind us in a tight sonic ribbonry presently unrivaled in the underground market this summer.
FACEBOOK: https://www.facebook.com/gelmanmusic
David Gelman continues to lay on the vocal harmonies as thick as he can in the simplistic tune "Stuck on Broadway," but I don't believe it's until we hear him shed all aesthetical chains in the first iteration of the title track that we can begin to fully comprehend just how off the rails he's taking his creative approach in Dusty Highway. Emotion finds itself mashed into an almost esoteric context in the lyrics of these tracks, and for every familiar statement Gelman makes, it seems he goes out of his way to strike a counterbalance with the unordinary rhythm, tonality, and texture that cushions his vocal. "Fight My Way" and "Let it Shine" are as far to the side of mainstream standards as I've heard this artist travel, and unsurprisingly to me, he wears the look they afford him better than any of us could have predicted he could.
"No Peace of Mind" is the most conventional track on this album, but it doesn't feel underwhelming squeezed between "Let it Shine" and the anti-cathartic "Maybe Tomorrow" at all, the latter being my favorite song from the record. Dusty Highway approaches its conclusion with a slight hesitance, throwing more and more riddles in our direction as we sink into the passionate throes of "Once a Part of Me," which admittedly took me a good five or six listens to break down critically. A serious fan could spend the whole of a month trying to decipher the layers of emotion that this LP contains, but even for the occasional audiophile, I think that what Gelman constructs throughout these eleven songs is something far more captivating than anything you'll find on the Top 200 is.
https://open.spotify.com/album/0W1be2o6NzfXZmQZDfFz7H
We reach the final curtain call in Dusty Highway with the extended revisiting of the title cut in "Dusty Highway (Instrumental String Quartet)," and through its complete form, I feel like the audience is brought full circle to where we first began with "Lay Me Down." At its core, David Gelman's latest studio album is a journey into the mind of a musician on the verge of going mad from a desperate desire to express himself, and though it's one of the most involved listens that I've sat down with in August, it's an LP I plan on revisiting several times before summer comes to an end.
Gwen Waggoner