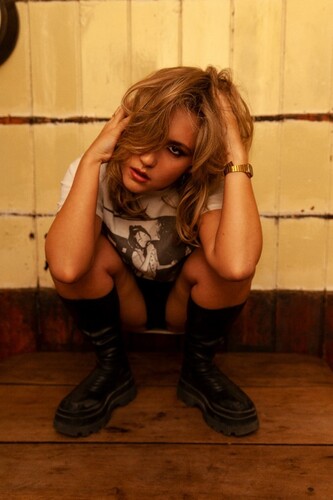 @skopemag news – friday – august 25, 2023 @ 2 pm est
https://www.facebook.com/SkopeMag/
https://twitter.com/skopemag
https://www.youtube.com/@skopetv2
https://www.instagram.com/skopemag/
APP – Apple iTunes –
https://itunes.apple.com/app/id1465224822?mt=8
@skopemag APP – Google / Android –
https://play.google.com/store/apps/details?id=hr.apps.n207414718
Support @skopemag –
https://www.paypal.com/donate/?hosted_button_id=3APKAKT8K6ETW
OUT NOW: Doug E Shaffer shares latest single "Loving Bed", new LP out this September
Today, respected singer-songwriter Doug E Shaffer is elated to release "Loving Bed", the second single from his upcoming Spark Of Life album, due for release on September 29th.
With a summery sound and soothing vocals, "Loving Bed" acts as an encouraging tune, like its predecessor "So Bright". "Loving Bed" shows Doug E Shaffer trying to end each day with love.
THE GLORIOUS SONS RELEASE MOVING NEW SINGLE "CELLULAR"
Today, The Glorious Sons release their new moving single "Cellular." The song is nostalgic and grand, a personal reflection that serves as a touching tribute to lead singer Brett Emmons' late grandfather.
ASKING ALEXANDRIA Release Eighth Album 'WHERE DO WE GO FROM HERE?' via Better Noise Music; Debut Music Video for "Let Go"
British rock luminaries ASKING ALEXANDRIA have spent the past 15 years garnering two #1 albums, four RIAA Gold-certified singles and a #1 Active Rock radio-charting single among several Top 10-landing hits. The band have established themselves as one of the most important rock groups of this generation through years of hard touring, supporting massive bands like Breaking Benjamin, Shinedown, Slipknot, Godsmack, and Korn; co-headlining with Nothing More and Black Veil Brides and later this month The HU; and headlining multiple head-turning treks, breathlessly reported on in numerous magazine cover stories.
Dutch New Wave Brothers 'Pol' Drop Dynamic Self-Titled Debut EP
Dutch New Wave duo 'Pol' drop their highly anticipated self-titled debut EP. Consisting of brothers Ruben and Matthijs Pol their latest 5-track offering looks to bring New Wave to the forefront once again with their dynamic take on the genre.
The lead single off the EP 'L'Amour Fait Mal' exemplifies this sound, crafting a rich analogue soundscape of textured synth lines and driving drum beats that sit behind a characteristically wistful vocal performance that ties the track together. Speaking on the track Pol states "'L'Amour Fait Mal' is a harmonious blend of upbeat energy and poignant melancholy, encapsulating the essence of a new-wave love song."
OUT NOW: Adam Ten & Maori Share Coveted Tech House Track "Spring Girl"
Today, celebrated Tel Aviv-based producers Adam Ten & Maori release "Spring Girl" via Diplo's house and techno label, Higher Ground. The track has been a secret weapon among the most elite DJs in the world (Solomun, Vintage Culture, Michael Bibi, Adriatique) and is now fully unveiled for fans to take in and spin as they please.
JASON ALDEAN ANNOUNCES 11th STUDIO ALBUM, HIGHWAY DESPERADO, OUT NOVEMBER 3rd
Aldean shared the inspiration for the album's title came from his latest sold-out headlining arena tour, as well as his early days as an artist. "I think when I look back on it, I built my career early on my live show, and have been on the road touring since I was 18 years old. For us, touring is our favorite part. Getting on the bus and going town to town and playing our shows and doing our thing and seeing the fans… the title for the tour and album was really inspired from that," shared Aldean, adding that it also served as inspiration for the album's title track, which he co-wrote.
Bran Van 3000's Liquid Ltd charts his journey with new jam 'I Walked'
Liquid Ltd, aka Stephen "Liquid" Hawley has soared to the Top of the Pops with Bran Van 3000's smash hit 'Drinking In LA' and with 'I Walked' has teamed again with Brooklyn's Billboard number one charting, Emmy nominated producer Rench to bring a powerful portrait of desire facing the reality of inner-city life and concrete meeting the dirt road.
THE ARMED DROP NEW LP 'PERFECT SAVIORS'
The Armed have released their new album, Perfect Saviors, produced by the band's Tony Wolski along with Ben Chisholm and Troy Van Leeuwen, with contributions from Julien Baker, Sarah Tudzin, Mark Guiliana, Patrick Shiroishi, Justin Meldal-Johnsen and many more (full contributors list below). The album was mixed by Alan Moulder. Garnering a New York Times profile, cover stories from FADER, Revolver, and Kerrang, along with praise from NPR, The Guardian, Stereogum, Rolling Stone and much more the album is "the group's most polished and likely most accessible record to date," according to the New York Times. The band, who just wrapped up a three-week amphitheater tour with Queens of The Stone Age will head back out starting in October for shows in LA, San Franciso, Portland, Seattle, New York, Baltimore, Boston, Chicago, and Detroit. Full details can be found here.
KK'S PRIEST Unleashes Venomous New Track "Strike Of The Viper" + Music Video
KK'S PRIEST – the iconic heavy metal group of iconic Judas Priest alum and GRAMMY Award winning/nominated musicians K.K. Downing (guitar) and Tim "Ripper" Owens (vocals), along with A.J. Mills (guitar), Tony Newton (bass) and Sean Elg (drums) – will proudly reveal their new sophomore offering, The Sinner Rides Again, on September 29, 2023 via Napalm Records!
Wrabel Unveils New Details of Upcoming Album; Releases 'chapter of you' EP + Announces The Residency Tour
Of today's release, Wrabel says, "i am so thrilled to release chapter of you, the second chapter of this project. This is a collection of songs from me to you… conversations with friends turned into songs. I hope this offers you a shoulder to cry on, a friend to celebrate with, and a reminder that you are not alone."
Avantgarde Post Doomsters UNVERKALT Reveal Full Album Details; New Single and Video Out Now
After the acclaimed first single "Loathe & Love" released in May, Greek Doom Avant-gardists UNVERKALT are excited to reveal the full details of their upcoming new album.
Consisting of seven hymns of outstanding romantic beauty and darkness "A Lump of Death: A Chaos of Dead Lovers" marks the reach of the perfect status by the band, whose roots are sinuously entangled into Post Metal and Doom, with a stand out touch of cinematic imagery and transcendent atmospheres.
NEW RULES DROP NEW SINGLE "NOPE!"
New Rules expanded on the track: "We wrote 'NOPE!' on a trip to Nashville on what turned out to be the hottest day of the year. The AC was broken but we got vodka slushies and pizza and stayed in the studio until 5am. It was probably the most fun we've ever had writing a song and we think it sounds like that."
Boston favorite PHIL AIKEN releases new album 'Here Goes Nothing'
Today, local Boston favorite Phil Aiken is excited to share his brand new Here Goes Nothing album, available now across digital music platforms.
Phil Aiken emerges as a fully developed artist without apology or reservation on his latest album Here Goes Nothing. He tells you what he thinks, feels, and is annoyed about with alarming honesty.
ASHNIKKO'S HIGHLY ANTICIPATED DEBUT ALBUM 'WEEDKILLER' OUT NOW
WEEDKILLER is a collection of irresistible songs that perfect the bold, genre-blending sound that has defined her work to date. The 'WEEDKILLER' universe that Ashnikko has created is a dystopian fantasy that tells the story of a fae civilization occupied and destroyed by machines that feed on organic matter where the faerie protagonist seeks revenge by becoming part machine – a poetic commentary on environmental disaster and the rapid evolution of technology. Full of equal parts naked vulnerability and joyful rebellion, 'WEEDKILLER' gives a thundering voice to the oppressed.
DUKE DEUCE UNVEILS NEW VIDEO SINGLE "GTD"
Combining a chant-like hook with playful dance moves (a.k.a. gangsta walking), Duke adds more fuel to the fire with a song that's danceable and moshpit-worthy. An acronym that stands for "got the draws," "GTD" presents a no-holds-barred dive into the Memphis crunkstar's intrusive thoughts. It's the clearest picture of who he is and what gets him going, resulting in a sound that cuts through the center of lust.
1NONLY RELEASES INTENSE NEW SINGLE "POPTHATRUNK" FEATURING FREDDIE DREDD
Produced by frequent collaborator Dwilly, the track's punchy bass line thumps under a flawlessly delivered verse from 1nonly. The ominous imagery of his verses gives rise to equally insidious bars from Freddie. Together, they deliver an epic collaboration.
MISSIO Embraces The Good Times With New EP 'I Am High'
"'I Am High' represents the second emotion of our musical journey this year. We began the year with 'I Am Sad' which is usually the first of the emotions we tend to experience in times of difficulty. The progression from sadness for us personally usually ends up leading to escapism. This EP represents our frequent desires to run from the world and our problems by escaping reality through our many collective vices. People tend to hear the word 'high' and associate it with substance abuse, however, we all have a variety of vices we escape to on a daily basis (i.e. phone, social media, food)," explains MISSIO.
Indie-pop artist Rosie Darling Releases Resilient New Single "Villain"; Debut LP 'Lanterns' Out Nov 10
"Villain" is a testament to Rosie Darling's artistic prowess, as she effortlessly weaves together emotive lyrics and a captivating melody. The song delves deep into themes of inner conflict, vulnerability, and self-discovery, inviting listeners to explore the complexities of the human experience. With her signature ethereal voice, Rosie Darling draws audiences into a landscape that is both intimate and yet anthemic.
GENRE-BLURRING MADRID ARTIST RALPHIE CHOO SHARES NEW SINGLE "VOYCONTODO"
Breakout Madrid-based singer, songwriter and producer Ralphie Choo shares his new single "VOYCONTODO" in preparation for the release of his debut album SUPERNOVA due September 15th via RusiaIDK under exclusive license to Warner Records. Laced with Ralphie's ethereal vocals, acoustic guitar, and kazoo-like sonics, "VOYCONTODO" showcases the Madrileño's ability to create emotional ballads with dynamic and intricate musicality. Additionally, Ralphie was recently featured on the NPR World Cafe podcast for their Sense of Place: Madrid series performing select tracks from the forthcoming album.
SUNDAY SCARIES RELEASE NEW SINGLE "DANCE NO MORE" WITH KALEENA ZANDERS
Right out of the gate, a club-ready beat courtesy of Sunday Scaries instantly sets the tempo, locking into an unbreakable groove. Meanwhile, Kaleena's seismic vocals take center stage. The hypnotic verses build towards a soaring and soulful hook amplified by her bold delivery. It ultimately culminates in pure house music bliss uplifted even higher by their collective chemistry.
Georgia Mooney (All Our Exes Live In Texas) Releases Sublime Debut Solo Album 'Full Of Moon'
Australian musician, songwriter, singer and presenter GEORGIA MOONEY (one quarter of ARIA Award-winning folk band All Our Exes Live In Texas) is thrilled today to share her long-anticipated debut solo album Full of Moon, a meticulously crafted sonic universe, the birth of which marks the stepping forward of a major talent. Carried by Mooney's soaring ethereal voice over lush, cinematic soundscapes, Full of Moon features the singles 'War Romance', 'Break It Off', 'I Am Not In A Hurry', 'Soothe You' and 'Nothing Is Forever', and is out everywhere via Nettwerk, stream HERE.
RISING R&B ARTIST NOBY RELEASES EMOTIONALLY CHARGED NEW SINGLE "LET ME DROWN"
The track layers mesmerizing chimes above uplifting piano and a sparse, loose beat. Atop this sonic backdrop, he flexes his versatility as a vocalist. He leans into the production with enchanting melodic delivery on the verses before confidently carrying the chorus, "I heard it taste like water, let me drown." It highlights the nuances of his dynamic and diverse approach to R&B.
HOJEAN REVEALS GORGEOUS SINGLE "9-5"// LISTEN HERE
Fresh from revealing new single ' easily' to a strong response at press and playlists, fast rising Atlanta based artist Hojean is following up with sultry, alt- R&B slow jam ' 9-5'. Laying falsetto vocals atop a twinkling arrangement, the track is another gorgeous offering into a back catalog that has seen Hojean rack up over 110m Spotify listeners. Speaking on the release, he states:
OMAR APOLLO SHARES NEW SONG AND MUSIC VIDEO "ICE SLIPPIN"
Following a string of successes this year alone, Omar Apollo returns to share his latest single and music video directed by rubberband, "Ice Slippin." The song arrives with news of a forthcoming EP, Live for Me, which has just been announced for release on October 6th via Warner Records.
GLOBAL GRAMMY-NOMINATED R&B PHENOMENON FRIDAYY RELEASES TRANSFORMATIVE SELF-TITLED DEBUT ALBUM OUT NOW
The 14-track opus featuring Maverick City Music, Adekunle Gold, Fireboy DML, Byron Messia, Chris Brown & Fridayy's Mother traces a creative and personal journey for the rising superstar. It opens with the introspective piano-laden "Came Too Far" uplifted even higher by appearances courtesy of Maverick City Music and his Mom (who offers up a prayer straight from the heart). His booming baritone quivers with raw emotion on the admission, "I knew we would make it someday. I was fucked up couldn't focus through them hard days. All the crazy shit I seen would make you lose your faith. I was 13 the first time I saw the cold face."
ELI BROWN WORKS HARD AND PLAYS HARDER ON NEW CUT "DIAMONDS ON MY MIND"
Following the success of recent single "Be The One," which became the memento of Calvin Harris' Coachella takeover back in April of this year, and his summer-ready July single "Love Is Free," Brown is returning with a track that builds on his proficiencies for making techno anthems that speak directly to the lifestyle of his growing audience.
BOYS LIKE GIRLS announce first album in 11 years, share new single "CRY"
BOYS LIKE GIRLS are excited to announce their first full length album in 11 years, SUNDAY AT FOXWOODS, which will arrive October 20, 2023 via Fearless / Concord Records. The announcement is heralded by today's release of "CRY," the fourth preview of the upcoming record, which is available now at all DSPs.
A R I Z O N A UNVEIL NEW SINGLE "HANGING ON"
Regarding the new song, Zachary Charles explained, "'Hanging On' was written in the middle of the 2020 quarantine, relatively early on in the third album process. It quickly became an internal favorite of ours, and one we had initially planned to include on the album. The song is about dealing with the long-term effects of losing someone close to you, and in turn a piece of yourself. It focuses on how we don't ever really get that piece back, and how that can personally look or feel in day to day life as we wrangle it internally; all the while being forced to interface with the rest of the world still moving around us. It remains a special song (written alongside two close friends and collaborators Ryan Pulford and Ryan Edmundson), and I'm happy it's closely following the album as it's very much a part of the overall journey."
I AM – Soundtrack Composer and Electric Cellist Brianna Tam Unveils New Album
Electric cellist, classical cellist, and soundtrack composer Brianna Tam unknowingly began the conception of her second album, I AM, back in 2019 – even before the creation of her debut album, Growth. It started with a melancholy melody, and grew into a piece temporarily titled, "Stuck in a Rut." The piece was forgotten about until its rediscovery in 2022. After completely rewriting it into the epically stunning and cinematic piece that it is known as today, Brianna retitled it as, "Bioluminescence," thereby marking the beginning of her journey into I AM.
Bournemouth's Small Talk Share Infectious Indie-Rock Bop 'Always Always'
THE PAPER KITES — Release Final Single "June's Stolen Car" Ahead of 'At The Roadhouse' LP (out 1 Sept)
Australian indie-folk groundbreakers The Paper Kites have returned with new single "June's Stolen Car", taken from their sixth studio album 'At The Roadhouse', out Friday 1 September.
New York's Very Own J.I. Releases New Single And Music Video "Thinking Hurts"!
HANNAH GRAE RETURNS WITH NEW SINGLE "SCREW LOOSE"
Today, self-taught musician and songwriter Hannah Grae releases new single "Screw Loose," available now on all streaming platforms here. The new song, co-written by Hannah and Rob Brinkmann, is a hard hitting, punchy follow up to Grae's debut mini album Hell Is A Teenage Girl, released in April this year.
NATURE LOVES COURAGE PLAYFULLY EMBRACES CATHARSIS ON "All Of The Things"
Today, Nature Loves Courage are proud to share their soaring new single, "All Of The Things". The track is a synth-strong head bobber about breaking free from toxic dynamics, originally inspired by a relationship with a "bad boss". However, the lyrics are relatable to any relationship of unequal power dynamics, where we end up feeling frustratingly misunderstood and "go a little crazy."
ADAMS & COSTELLO REMAIN TRIUMPHANT AMIDST LIFE'S TURMOILS ON "ONE BY ONE" NEW ALBUM OUT NOW
Today, Adams & Costello are thrilled to share their self-released sophomore album, One By One The album navigates the ways in which the world may knock us down, consisting of lush sonic landscapes of blues, americana, and folk, that provide a feeling of catharsis amidst the world's terrors.
Jelly Roll & Kendall Tucker Release New Single "Dragging Me Down" Featuring State Of Mine
CHAYCE BECKHAM GETS A "LITTLE LESS LONELY," AS HIT SINGLE "23" CLIMBS TOWARD TOP 25
As announced at Nashville's Bridgestone Arena on August 12 during his electric opening set on Luke Bryan's Country On tour, Chayce Beckham today releases "Little Less Lonely" as a thank you to fans, as his star-making single "23" surges toward Top 25 on country radio. Showing off his innate storytelling prowess, with relatable lyrics and a pulsing beat, the heart-thumping new song depicts a chance encounter between two forlorn people, who want to forget their worries for a night of fun and a little tequila.
Sam Grow Shares New Single "You"
Country music songsmith Sam Grow returns with another heartfelt single, "You," now available on all digital platforms via Average Joes Entertainment.
for Skope: R3HAB and W&W join forces on anticipated Eurodance-influenced "Million Places" (out now)
JADE LEMAC RELEASES NEW SINGLE "GOT ME OBSESSED"
Jade speaks on the track that "Got Me Obsessed" is about the excitement of beginning a new relationship, and all the intense emotions that come along with it. Every single thought is consumed by them and there isn't anything or anyone you crave more. I wrote this in that time of a new relationship and it felt so overwhelming and exciting I wanted to convey that intensity in a song."
BEN GOLDSMITH DEBUTS LATEST TRACK, "BLOWN AWAY"
Goldsmith co-wrote each of the 15 tracks on his debut album, The World Between My Ears. In addition to "Blown Away," the collection includes several other tracks released earlier this year: "Flowers In Your Hair," "It'll All Be Alright," and "Wolves." The World Between My Ears is a result of the singer traveling back and forth to Nashville during the Covid years to write songs, create his own sound, and woodshed in the studio with Brad Jones (Hayes Carll, Chuck Prophet, Ron Sexsmith), who he co-produced the project with. The album illustrates Goldsmith's broad, melody driven and soulful musical palette.
Massachusetts Alt-Folk Duo Handsome Ghost Shares Self-Titled LP
Today, Handsome Ghost, the dynamic Massachusetts alt-folk duo comprised of lead singer/songwriter Tim Noyes and multi-instrumentalist/producer Eddie Byun have shared their self-titled album via Nettwerk. An underlying theme of self-reflection and exploration of purpose permeates on the band's third full-length record, Handsome Ghost. It's an album grappling with becoming stuck in a kind of never-ending adolescence while everyone around you is growing in some way. Handsome Ghost weighs in on their journey of how being musicians have contributed to the complexities of their own adulthood. They look back at the bittersweet times, wondering if it was more bitter or sweet in the aftermath.
Rosie Darling Releases Resilient New Single "Villain"
"Villain" is a testament to Rosie Darling's artistic prowess, as she effortlessly weaves together emotive lyrics and a captivating melody. The song delves deep into themes of inner conflict, vulnerability, and self-discovery, inviting listeners to explore the complexities of the human experience. With her signature ethereal voice, Rosie Darling draws audiences into a landscape that is both intimate and yet anthemic.
New Music this week from Old Crow Medicine Show, Buck Meek, The Armed, Cindy WIlson and More
New Releases for August 25, 2023 Here are the AllMusic editors' picks for the most noteworthy releases this week. Looking for more? Visit our New Releases page.
WESTON ESTATE RELEASE HIGHLY ANTICIPATED NEW SINGLE "SLOWLY"
Re: the track, Weston Estate commented, "'Slowly' has been our favorite for a while and we started playing it live as soon as we made it — the song grew legs of its own as we played it this year and we went through a million iterations just to chase what it felt like live. The song is about having to leave someone who you still care about deeply. Through a full year of changes, we molded it into a song that expresses the sadness of losing someone you love, but also the optimism that something beautiful can come out of it and you can move forward as a new person."
Mipso share earnest, meditative 6th studio album 'Book of Fools' with track "Radio Hell" out now
Book of Fools, the sixth studio album by Mipso out today, sees the band at their most assured, guided mostly by their own intuition and less impacted by time constraints, expectations or outside forces. Over ten cohesive tracks, driving rhythms, earnest, thoughtful lyricism guide the band back to their roots and who they are at their core. As Terrell puts it, "'Book of Fools' feels more relaxed, more confident, more us – like we're wearing our favorite clothes and telling our favorite story and it feels exciting again." There's a fresh, solid confidence and profound understanding of one another that radiates through the music. It's this palpable connection that can only come from this group playing together around the world several hundreds of times and it's here they rediscover their joy and unmatched connection as musicians and as best friends.
NEW ZEALAND POP DUO FOLEY UNLEASH DEBUT ALBUM 'CROWD PLEASER' 
MORGAN WADE'S PSYCHOPATH OUT NOW
"The record is out. My art was released into the world, and I can finally breathe," said Wade via Instagram. "The response has been so great already…I'm very grateful today."
OUT NOW: EDDIE & Lights Unite For 'Pocketknife' via HypnoVizion
Today, Australian producer/DJ EDDIE and Juno-award winning electro-pop vocalist Lights release their new single 'Pocketknife' out now on Rezz's label HypnoVizion.
Devorah Drops Electrifying New Single "Escape Our Love"
Singer-songwriter Devorah – is set to ignite dance floors worldwide with her latest release, "Escape Our Love." Taken from her forthcoming album I Am, this exhilarating electropop anthem showcases a dynamic rhythm that seamlessly intertwines with emotionally charged lyrics, encapsulating the multifaceted journey of love. "Escape Our Love" is available to stream and download worldwide.
Seattle Folk-Rockers Ivan & Alyosha Return With Triumphant New Album 'All We Ever Had'
Today, Seattle folk-rockers Ivan & Alyosha release their triumphant new record, All We Ever Had, out now via Nettwerk. It's an album that almost didn't happen after a tumultuous period that led to a fractured lineup and plenty of questions about the future. Through the tough times, co-founders Tim Wilson and Ryan Carbary found a strengthened resolve and left their hometown to work with Nashville producer Owen Lewis. (Old Sea Brigade, Mickey Guyton).
Los Angeles Songstress, Tiana Kocher, Releases Powerful New Single "love u more" on Her Sophomore EP, up to you
Writing and recording a hit song is a goal that most musicians share in common. Staying grounded, true to oneself and remaining authentic while they do it, that's another story. Tiana Kocher is in an elite category of artists who can check all of these boxes and you don't have to look any further than her new EP, up to you, featuring her brand new hit single, "love u more".