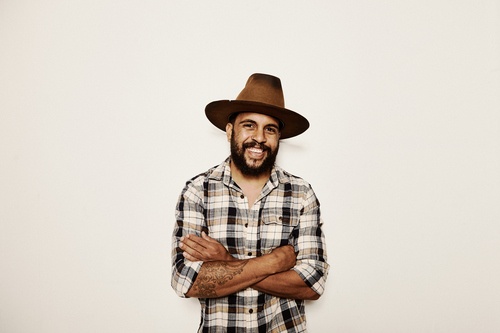 Ottawa-based Americana/folk/roots rock singer-songwriter Mikhail Laxton has just released a heartfelt and lyrically rich eponymous album. He sat down recently with @skopemag to talk about this tremendous collection of songs.
@skopemag: Tell us about your new self-titled album.
Mikhail: This is my debut full-length; a collection of 12 songs that tell the story of who I am, where I've come from. It's simply me.
@skopemag: What is "Dying to Let You Go" about?
Mikhail: I was strumming the guitar, and the chords and melody formed instinctively. Once I'd finished writing the verse and chorus, it became clear that this song was about the loss of my father – the way I had felt about that and the way I wished it would have played differently. It was like the song had been there for 10 years, and it was simply time to let it out.
@skopemag: What is your favorite song on the album?
Mikhail: "Four String Cowboy." I originally wrote this song to be slower, and it wasn't until pre-production that my producer Aaron Goldstein suggested we try more of a driving pace, and, man, it just felt so much better. Once we finished tracking it, it just sounded bold and powerful. The production on this song just really gets me. Love it!
@skopemag: What are the recurring themes on this album?
Mikhail: As a songwriter, a song that is worthy requires a certain level of vulnerability. This album is both unintentionally and intentionally vulnerable, and I think for any record or music that I release, that is going to be the driving force behind the songs.
@skopemag: What made you choose your album title?
Mikhail: Great question! I've wanted to do this album since 2018. These songs, with those musicians, and with Aaron Goldstein at the helm producing and engineering the record. I also wanted this album to "sound" like ME! I feel like we accomplished that, so there was nothing else I could think of calling it other than "Mikhail Laxton."
@skopemag: How would you describe your music?
Mikhail: "Outlaw soul," roots, Americana, blues, and singer-songwriter.