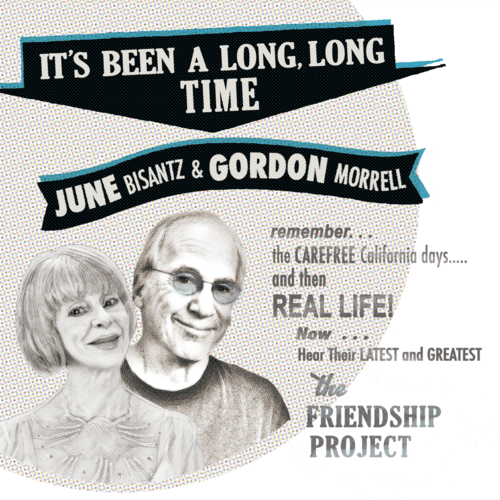 'It's Been A Long, Long Time' is a fitting title for this new album by June Bisantz & Gordon Morrell because it's commemorating a 50th anniversary. Back in 1971, June and Gordon met for the first time kicking off a newfound friendship and musical partnership that has now surpassed 50 years. To celebrate this special occasion, June Bisantz & Gordon Morrell decided to put together seven, iconic songs all inspired by June and Gordon's original playlist from the 70s. As they say, the rest is history!
'It's Been A Long, Long Time' includes classic numbers that play in the key of Jazz/Americana, which has been the backbone for June & Gordon's sound. With elements of New Orleans jazz, folk and traditional country, June Bisantz & Gordon Morrell deliver gem after gem on this new release. There were many talented folks involved with this project and they are: June Bisantz & Gordon Morrell on vocals, David West on all guitars, banjo, string bass and piano, Brian Mann on accordion, Gilles Apap on violin, Jim Mooy on trumpet, Tom Lackner on drums, Nick Coventry on violin, Tom Ball on harmonica, George Friedenthal on piano and Lorenzo Martinez on percussion & vibes. 'It's Been A Long, Long Time' was produced by David West for Play Ball! Musical Services and was mixed & mastered by Emmet Sargeant at Beagle Studios. The end result is refreshing to say the least!
June and Gordon are setting the mood right with the title track "It's Been A Long, Long Time". A pleasing melody will punch you in the ears as soon as you hit play. Next, an appealing sound can be heard that makes for one enjoyable listening experience on "I'm Gonna Sit Right Down and Write Myself a Letter". Track three, "Any Old Time", immediately pulls you in as you shuffle along to the easy-going rhythm. On "Will You Love Me Tomorrow", June and Gordon provide an excellent cover that is full of vibrance. "How High the Moon" is up next and shining bright for the whole world to hear. "How High the Moon" is simply a breath of fresh air that has a light 'n' jazzy tone. Track six, "I Wish You Love", is music to my ears as the overall set was such a treat to hear live on my computer. A simple yet satisfying finale can be heard on "Happy Trails to You" as June & Gordon ride off into the sunset.
It's also worth noting that June Bisantz is a visual artist AND has co-written and produced several collections of original vocal jazz, all of which have received national recognition. She has toured internationally, and performed and recorded with distinguished jazz musicians including Steve Swallow, Bob Moses, Paul Brown, Lew Soloff, Jerry Neiwood, Mike Stern, Jon Burr, Steve Davis & Will Lee. On top of that, Ms. Bisantz is Professor Emeritus of Art & Design at Eastern Connecticut State University who has exhibited her visual artwork in galleries, museums and public spaces throughout the United States. She designs and produces publicity and album artwork for her own projects and those of many other musicians.
June Bisantz & Gordon Morrell have created pure magic here with their latest release and it's safe to say 50 years in the making! 'It's Been A Long, Long Time' is a culmination of all the years of friendship & collaborations all wrapped up into one, nice package. Their love of music, and in particular Jazz and Americana styles, comes shining through on. 'It's Been A Long, Long Time'. I highly recommend this album because June Bisantz & Gordon Morrell prove that timeless music never goes out of style and also that friendships are forever. 'It's Been A Long, Long Time', but June and Gordon have answered that call and it feels so good!
https://www.music.junebisantz.com/
By Jimmy Rae