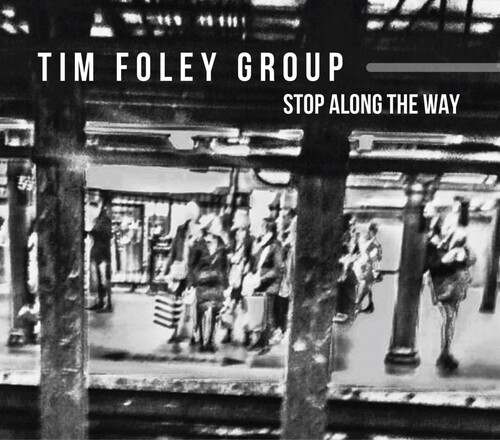 Tim Foley is a songwriter, vocalist and guitarist who runs the gamut when it comes to musical styles. With elements of blues, jazz, folk, classical and funk, Tim Foley is not pigeonholed to one specific genre or category. Tim is original to the bone, and he proves it on the new release titled 'Stop Along The Way'.
The beauty of this record is that it was recorded live, so includes that raw energy that is infectious. Tim Foley added a full band here to make the live experience stand out and so that the music would shine. 'Stop Along The Way' features Tim Foley on vocals & guitar, Mike 'Sax' McLaughlin on tenor and soprano saxophones, Richard Gates on bass and educator Fabio Pirozzolo on percussion. The album was recorded at Middleview Studio with engineer Chris Rival. Tim Foley Group brought nine tracks to life with skilled and energetic playing. Electricity was certainly in the air during the making of 'Stop Along The Way'.
The record kicks off with a smooth delivery from Tim Foley on "You Don't Treat Me Right" where he displays a cool approach vocally. Next, the listener will hear solid instrumentation and excellent direction on "You Believed It So". I believe it is so that Tim Foley nailed this song overall and I also believe in Tim Foley Group, as a whole. On track three, "I Didn't Say", one will receive a sincere delivery vocally & musically as Tim Foley Group is smooth sailing through this track. You get a stellar instrumental piece on the title track, "Stop Along The Way", as Tim Foley Group is blowing it out of the water! Up next, the listener receives a finely-composed composition titled "Look Up At The Moon" that sails along flawlessly. Track six, "If I Stayed", offers up a stylish vibe and the flow is also quite nice. Tim Foley gives a soul-stirring performance on "So It Goes" where you are hooked in from start to finish. We hear another great instrumental piece on "New Time" that truly POPS! It is a fine finish for Tim Foley Group on "Southhold Morning" where all musicians go out in a low-key yet fulfilling fashion.
I was thoroughly impressed with the efforts of Tim Foley Group on 'Stop Along The Way'. This album dropped on July 28 and I suggest you go get a copy right now! This record should get plenty of spins nationwide and major traction. 'Stop Along The Way' is full of life and Tim Foley Group proves that they are serious musicians on a mission to cut a top-shelf record. I would say mission accomplished, so 'Stop Along The Way' to hear for yourself.
By Jimmy Rae