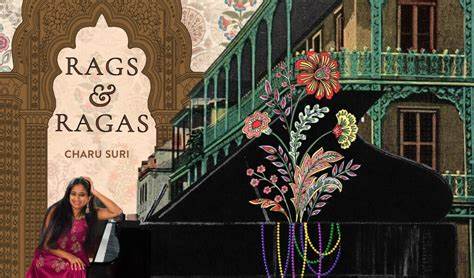 Charu Suri is a highly distinguished pianist/composer AND award-winning journalist who is originally from South India.  Charu's latest release is titled 'RAGS & RAGAS' and she is literally revolutionizing music.  This quite possibly could be the very first album to combine Indian ragas and New Orleans-style jazz.  Charu is no stranger to thinking outside the box when it comes to writing original compositions.  Charu Suri is a true trailblazer when it comes to composing music as she crosses musical boundaries and bends the musical spectrum on 'RAGS & RAGAS'! 
The upcoming album features two legends in the music world, John Patitucci (Chick Corea's bass player, considered by many to be one of the top bassists in the world), and Steve Gadd, legendary drummer to Simon and Garfunkel and The Bee Gees.  There are a number of excellent musicians and talented individuals involved with this project as well.  They are:
Joe Lastie (drums)
Kobi Arad (soloist, Raga Rag No.1 )
Berta Moreno (saxophone)
Charlie Sabach (Oud)
Brent Fischer, arranger of "Parade"
Producers: Charu Suri, Kobi Arad, Devan Ekambaram, Brent Fischer
Recorded at: Sound on Sound Studios, Montclair, New Jersey
and Wackerman Studios (Steve Gadd) in Las Vegas, with Rob Katz (audio engineer)
Lonnie Park (Mixing/Mastering).
'RAGS & RAGAS' contains eight tracks and each one different from the next.  First, get ready to take a "Bourbon Street Stroll" where the scene is pleasant and the mood is just right.  "Bourbon Street Stroll" is one bright composition and excellent way to kick off the album.  Next, you get an up-tempo number that gets you excited and this is one "Parade" you won't want to miss!  Track three, "Raga Rag #1 Electric Version" offers up an appealing sound that instantly draws you in.  Charu delivers a strong performance on "Bhairavi Blues" as the listener will be fully connected to the overall music.  It's smooth sailing on "French Quarter" as peaceful notes come pouring out of the speakers.  A calming sensation rushes over you on "French Quarter" as Charu Suri delivers a stellar performance.  Track six, "Raga Rag #1 Acoustic Version", is one lively number that jumps out at you and just as powerful as the electric version.  "Spring in New Orleans" is in the air next, and it feels just fine!  Charu ends on a glorious note where everyone can enjoy themselves and do the "Jackson Square Waltz".  
I was thoroughly impressed with Charu's efforts on this record because she composed an impressive lineup of well-crafted, well-constructed compositions.  Charu Suri created harmonious notes & chords on 'RAGS & RAGAS' and I sense major traction and recognition for this record.  Charu was able to unite different cultures through music and the result is nothing short of magnificent!  Charu Suri is a musical innovator and her work on 'RAGS & RAGAS' is a perfect example of that fact.  Enjoy and embrace the fresh, new style being tapped into on 'RAGS & RAGAS'.
By Jimmy Rae