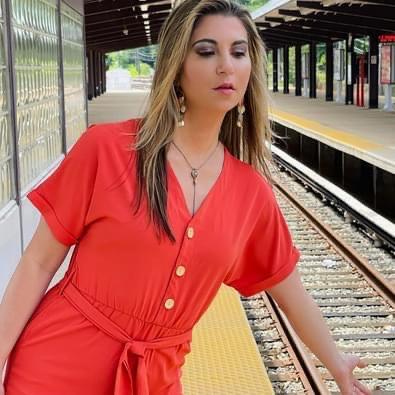 J Rae: I have worked with you numerous times over the years via Skope and can honestly say I have been a fan from the start! How have you evolved, not just as an artist, but also as a person over time?
Laura Cheadle: Thank you for the continued support! I love Skope Mag! I have definitely evolved spiritually as a person. Throughout my life as an artist, I have become more fearless on stage. I live for the rush of performing and it feels like I found my groove. As a person, I have gone through so many ups and downs with personal healing and that has reflected into my music. I truly know who I am now and that makes my artistic identity very genuine.
J Rae: Next, we have to talk about your new music video for "Time Thief" (https://www.youtube.com/watch?v=IZbd2CyRS0Q) because I was personally blown away! I thought it was a fantastic job overall where visually and sound-wise, everything was clicking. How did the initial idea come about to make this video?
Laura Cheadle: This video was the brainchild of myself and director John Hoehn of Life After Television Network. John instantly 'got' the concept and that time is precious and that having your time 'stolen' has a huge impact.
There are so many hidden messages and clues throughout the video so it's definitely worth watching it a few times to catch them all!
J Rae: I recall doing a review on your single "Time Thief" back in March of 2023 for Skope, https://skopemag.com/2023/03/30/laura-cheadle-right-on-the-money-with-time-thief. I was thoroughly impressed with your performance then and equally impressed with your performance on this new video. Where does the inspiration and drive come from to step out and deliver a stellar performance each time whether it be recording a track, performing live or filming a music video? Going off of that, how does the performance level differ between the three different approaches?
Laura Cheadle: 'Time Thief' was a song that I truly lived. I was with someone for a good amount of time that wasn't right for me where I felt like time was literally passing me by. When I sang it, I felt every single emotion because I truly felt it. The same goes for the performance in the music video. I literally did one take for the music video because I truly lived this feeling. That emotion is displayed in the final product of the music video. I'm so proud of how it came out!
J Rae: You had a terrific team involved with the making of the "Time Thief" music video. What was it like working with them and can you tell me a little bit about each person and the role he or she played? Also, what did you learn working with each individual on this project?
Laura Cheadle: We creatively worked on it together and enlisted Robin Passmore and Alaina Hubbard to do the choreography and play my 'stalker'. We filmed at Gregg Perry's Antique Clock shop which features so many incredible clocks from different moments of time. This really played beautifully into the concept of time!
This collaborative effort with all the above and John Hoehn felt incredible because we were all on the same creative page! It was truly effortless.
J Rae: How has the response been thus far for "Time Thief" and how does the reaction stack up vs. previous releases?
Laura Cheadle: "Time Thief" is already at over half a million streams on Spotify alone! This is far beyond any of my other releases. I really do feel like growth as an artist is shining through and I've found my footing as an artist. I loved that I was able to show off every nuance and range of my voice in this track.
I am so thankful to my label So Bold Entertainment and Sony Orchard for the support!
J Rae: I know you have been playing with your family for years, which is amazing. Can you tell me about each person and what each family member brings to the Laura Cheadle experience? What's it been like to perform, as a family unit, for so long and what does it mean to you personally on a deeper scale?
Laura Cheadle: My dad has always been such an incredible force. He is such a talented musician and piano player. He also plays left hand bass simultaneously where people 'wonder' where the bass player is! My brother rocks his guitar and my various drummers that step in really feel our groove as a unit. I love being able to express myself and have my family behind me with each new song I write.
J Rae: You have such a catchy style and I've used different terms over the years to describe the Laura Cheadle sound. Skope and I would love to hear a brand new term being coined for 2023 from the Funky Soulstress herself!
Laura Cheadle: Haha! The beauty of mine is that I never liked to be labeled. I feel that I grow and evolve and never like to stick to the same thing. I'm not always in the same mood musically. Sometimes, I'm in a blues mood, other times I'm feeling acoustic singer- songwriter. I feel like the best way to describe me is funky soul stress!
J Rae: What are some of your other interests and have you picked up any new hobbies as of recently?
Laura Cheadle: I have always been a runner, so I love to run. The 'runners high' helps me with my creativity. I often write songs while on the treadmill! I've always been a vegan, so I love exploring new vegan restaurants and vegan cooking styles.
J Rae: With the release of this excellent, new music video for "Time Thief", what's next for Laura Cheadle? Any big plans in the works?
Laura Cheadle: Oh yes! I have a full album coming out with So Bold Entertainment/Sony Orchard. I wrote so many songs over the past few years. The new album is called 'Mannequin' and the next single will be out this fall!
J Rae: Ending on a positive note, are you able to offer up words of encouragement for anyone out there that is reading this? Looking to brighten someone's day, anything you could add that could inspire an individual and maybe even help change his/her life for the better?
Laura Cheadle: Work really hard at your craft and stick to your individuality! Never let people bring you down or try to change you! It costs nothing to be kind!
http://instagram.com/lauracheadlemusic
By Jimmy Rae