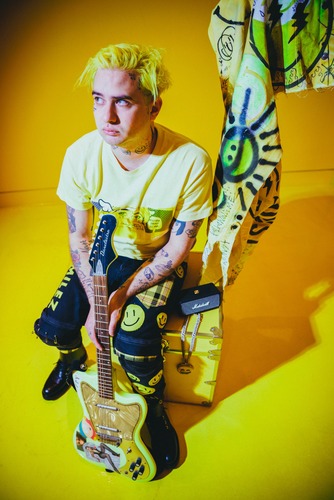 With each song that he releases, SMILEZ further cements himself as a hit artist in the rap genre. The Los Angeles-based singer first gained positive traction after collaborating and touring with Tekashi 6ix9ine. Since then, Smilez has made himself a standout artist by combining the punk despondency of emo music with the upbeat style of rap music. In his head-to-toe yellow branding, SMILEZ is easy to spot in a crowd and is sure to always be the center of attention.
The "Open Ur Eyes" music video starts off unlike any other video SMILEZ has done before. The video begins in black and white, ditching the rapper's typical vibrant yellow appearance. This dramatic black-and-white theme matches the energy and lyrics of the song, which are serious and play more into introspective, rock influences such as Nirvana and The Strokes. SMILEZ wants the audience to know that even though he may appear happy, he still has the "saddest smile in town."
Halfway through the song, the tone of the tune begins to change. The moment the lyrics of the catchy tune begin to have a more positive outlook, four yellow versions of SMILEZ appear on the screen. They urge listeners to "Open Ur Eyes" and realize that life has positive moments to focus on even when times get tough. The video perfectly captures the shift in tone visually as SMILEZ spreads his message of melancholic hope to his fans.
Follow SMILEZ:
http://smilez.com
http://facebook.com/smilez
http://twitter.com/smilezsmilezzz
http://instagram.com/smilez
http://tiktok.com/@smilez