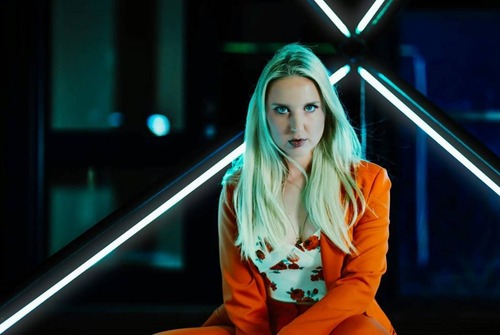 @skopemag news – monday – august 7, 2023 @ 12 pm est
https://www.facebook.com/SkopeMag/
https://twitter.com/skopemag
https://www.youtube.com/@skopetv2
https://www.instagram.com/skopemag/
APP – Apple iTunes –
https://itunes.apple.com/app/id1465224822?mt=8
@skopemag APP – Google / Android –
https://play.google.com/store/apps/details?id=hr.apps.n207414718
Support @skopemag –
https://www.paypal.com/donate/?hosted_button_id=3APKAKT8K6ETW
Una unión que se dejara sentir Olga Tañón y Juan Miguel unen sus voces
Olga Tañón y el talentoso intérprete y productor venezolano Juan Miguel se unen para sorprender a sus seguidores con su más reciente colaboración musical titulada "Me Muero de Ganas versión salsa".
El candente encuentro entre estos dos grandes artistas surgió después de que Juan Miguel lanzara una petición a través de sus redes sociales, solicitando a sus seguidores que etiquetaran a Olga Tañón para considerar una colaboración musical juntos. La petición no pasó desapercibida y "La Tañón" respondió al llamado, dando inicio a una nueva y poderosa alianza musical.
Key Glock celebrates his birthday & his riches in new "Chromosomes" video
A hustler since his start in the streets of Memphis, Key Glock always knew he was destined for success. From basking in his ice to his fleet of cars to groups of beautiful women, the video finds Glock enjoying the spoils of his hard-earned success as he counts his bands over the Bandplay production, complete with layers of triumphant horns and playful pianos over thumping Tennessee-style percussion. I love how he gives a glimpse into his sense of humor in this video, playing a custom, limited edition Key Glock-style version of the board game Operation.
JELLY ROLL EARNS SECOND CONSECUTIVE #1 AT COUNTRY RADIO WITH "NEED A FAVOR"
Entertainment phenomenon Jelly Roll earned his second consecutive #1 at Country radio this week with his Platinum-selling single, "Need A Favor." The chart-topping hit, which also earned multiple weeks on top of the rock airplay charts, is the singer/songwriter's follow up single to his first #1 at Country radio, "Son of A Sinner." The milestone comes on the heels of the Backroad Baptism tour launch, which kicked off this week in Southhaven, MS (7.28) before heading to Atlanta, GA (7.29), Orange Beach, AL (7.30), Huntsville, AL (8.1) and Darien Center, NY (8.3). The 43-city headlining arena tour continues tonight in Mansfield, MA before heading to Banger, ME (8.5), Gilford, NH (8.8) and Bridgeport, CT (9.9).
Rebecca Lynn Releases "I Am My Mother"
Beloved and respected vocalist, songwriter and artist Rebecca Lynn debuted her new song "I Am My Mother" — co-written with Jamie Floyd, Rachel Thibodeau and Carolyn Dawn Johnson — on SiriusXM The Highway.
Lee Brice says, "Rebecca Lynn is one of the most talented humans I've ever had the pleasure of working with. She has a voice that has been touched by God and I can not wait for the world to get the chance to hear her new music."
"I Am My Mother" is the debut track from an album Rebecca Lynn will release later this year via Pump House Records, with tour dates in support of her release.
Lily Taylor Releases Highly Anticipated Album "Amphora'
Prepare to embark on a musical journey like no other as Lily Taylor, a seasoned musician and captivating performer, is thrilled to announce the release of her latest album, "Amphora." Named after the Ancient Greek vessel that held precious liquids, "Amphora" serves as a vessel of musical artistry, delivering a powerful and delicate experience for listeners worldwide.
TYLER CHILDERS' ANNOUNCES NEW ALBUM RUSTIN' IN THE RAIN OUT SEPTEMBER 8TH MUSIC VIDEO FOR FIRST SINGLE "IN YOUR LOVE"
Of the album, Childers shares, "This is a collection of songs I playfully pieced together as if I was pitching a group of songs to Elvis. Some covers, one co-write, and some I even wrote in my best (terrible) Elvis impersonation, as I worked around the farm and kicked around the house. I hope you enjoy listening to this album as much as I enjoyed creating it. Thank you. Thank you very much."
The Revivialists release new video and announce European tour
On the heels of an explosive Lollapalooza set, chart-topping rock band The Revivalists have dropped a brand-new video for their latest single 'Good Old Days', announced their European headline tour and are currently gracing the cover of Relix's July/August Issue.
Folly Group return with first new material of 2023 in "Strange Neighbour" | UK tour with Geese next month
WILL LINLEY RELEASES NEW SINGLE "GRACIE"
Linley addresses his future soulmate with a fresh sense of hopefulness. In the chorus he sings, "But when I find Gracie, I know she'll be the one to save me from my broken heart. Come take me far away from this loneliness, hoping that somebody like you exists." The song captures the relatable excitement of pondering a nearing romantic future. Linley continues to demonstrate his growing understanding of the pop genre by creating personal tracks that encapsulate the emotional, and at times confusing, circumstances of Gen Z relationships. With the combination of Linley's smooth vocals and the upbeat acoustic backing, listeners can't help but feel butterflies.
THE HANDSOME FAMILY — Debut New Single: "The King of Everything" || Listen Now
Western gothic duo – THE HANDSOME FAMILY – have shared "The King of Everything", taken from their forthcoming album 'Hollow' (out 8 September).
The Handsome Family's new record began with a scream in the night. "It was a bleak winter during the middle of the pandemic," says Brett Sparks. "One night around 4 a.m. Rennie started screaming in her sleep. She screamed, 'Come into the circle Joseph! There's no moon tonight.' Scary as it was, I thought, man, that's a good chorus!"
MJ Lenderman shares new single "Knockin" | Second single for ANTI-
Today, MJ Lenderman presents his new single, "Knockin" via ANTI-. A beloved staple of his "righteously ragged" (Under The Radar) live sets, "Knockin" is a lightning-in-a-bottle distillation of what makes MJ Lenderman one of the most captivating songwriters in recent memory. First appearing on a self-recorded EP, "Knockin" was written between the recording and release of Lenderman's 2022 breakthrough Boat Songs. Growing from tender beginnings to a full-blown scream-along chorus, the newly recorded rendition of "Knockin" was recorded at Drop of Sun Studios. Alongside "Rudolph," last month's first single for new label ANTI-, "Knockin" will appear on a forthcoming 7-inch single, available for pre-order now and set for release this Autumn.
HOT CHIP UNVEIL NEW SINGLE "FIRE OF MERCY"
Last summer, Hot Chip released their eighth album Freakout/Release, a continuation of what, at this point, seems like an impossible run for the quintet, another dizzying peak in a multi-decade career that's seen them continue to innovate and develop a rich, resonant songcraft.
Grammy-Winning Songwriter Joelle James Releases New Single "Been That Girl"
MNRK Management client and GRAMMY Award-winning singer/songwriter Joelle James releases her new single, "Been That Girl," featuring and produced by OG Parker, today. About the single, James says, "'Been That Girl' is a great song and message that describes a new movement and stance on behalf of all girls who realize that they have more value than they thought and were not represented before now!!!"
[PRESS] Sadlands Release "Flowers" Single
Brooklyn/Queens indie-punk quartet Sadlands have just released a new single titled "Flowers" from their upcoming self-titled debut EP. The band is made up of members of Answering Machine, Choke Up, and Ellen and the Degenerates and play a mix of alternative, folk, and pop-punk. Led by the dueling vocals and songwriting of Samantha Campanile and Jess Lane, Sadlands have churned out quite a few earworms in the vein of scene favorites like Swearin' and Discount.
ADAM DOLEAC DELIVERS NEW SONG, "DON'T MAKE ME GET OVER YOU"
A daringly honest look at falling in and out of love, "Don't Make Me Get Over You" intertwines the real and raw emotions of the hope for reconciliation with hesitation and doubt. The track, written by Doleac,Andy Skib, and Bobby Hamrick delivers a stripped back new style of contemporary soft rock equipped with soulful guitar riffs, melodic keys, and steady percussion.
A cinematic journey: Paulina & Rigoazulado release the official video for "Dejarlo ir"
OUT NOW: British Electronic Outfit KINOBE release eighth full-length album, Over The Horizon
Chloey Rose searches for answers in 'Shot You Down' video!
The track weaves its hypnotic repeating refrains around her, growing and growing with intensity as she works through her emotions. "I'll paint your name all over this town", Chloey sings in this epically woven ballad which combines big production values with raw feelings to really work its way under the listener's skin.
RED REIGN AND DEKO ENTERTAINMENT TEAM UP FOR THE RELEASE OF FORTHCOMING ALBUM "DON'T LOOK BACK" OUT ON OCTOBER 27
Richmond, VA-based rockers Red Reign take 80's influences and steer them in a more contemporary direction – bridging the sounds of yesterday and today. The band is comprised of members singer/guitarist Carlton "Bubba" McMichael, guitarist Stevie Shred, bassist Larry Moore, and drummer Sammy Lee. Red Reign has worked with Grammy Award-nominated multi-platinum producer David Ivory (Halestorm) on both its releases: 2021's self-titled EP and 2023's forthcoming full-length Don't Look Back.
Tasty Goody Records Releases "MacDougal Blues" Performed by Scott McCaughey and Peter Buck, Out Now
The R.E.M. members' "MacDougal Blues" is the latest single released as part of Let's Go Dancing: A Celebration of Kevn Kinney, a tribute to Kevn Kinney's four-decade long career by his many musician friends. It will be released in a series of four physical albums over the course of a year with a final aggregation of 100 songs digitally, performed by a mix of lesser-known cult favorites, big national artists and everything in between. The first installment, "Said the firefly to the hurricane," will be released on November 24, 2023.
Radio Personality/DJ/Producer Mr Peter Parker Delivers A New Single "Sheesh" FT. Freeway & Ren Thomas
Radio personality/DJ/producer Mr Peter Parker kicks off his freshly inked Varick Street distribution deal with a new single Sheesh FT. Freeway & Ren Thomas. The Eli Fire produced track brings out each emcees high energy and bombastic rhymes."It's inspired by all white uptowns, ROC velours & 4th quarter comebacks" says Parker. This song will be featured on his upcoming project with appearances from Wiz Khalifa & Taylor Gang, NYC legends Nature and Maino, Crimeapple, Millyz, OT The Real, and many more. This is a return to high quality modern Hip Hop with a classic feel that remains true to today as much as 20 years ago. Check it out now on your preferred digital streaming provider.
The Natvral shares new single "Summer Of Hell" & announces tour dates
Today The Natvral (Kip Berman, former frontman of The Pains of Being Pure at Heart) shares the appropriately named "Summer Of Hell," the third single from his new solo album, Summer of No Light, due September 1 on Dirty Bingo Records.
Folk-Rock Duo Listening Party Look At The Bright Side With New Single "It Ain't So Bad"
Milwaukee, WI – With their new single, "It Ain't So Bad," Wisconsin-based folk-rock duo Listening Party hone in on the upside of a sticky situation. Riding a wave of flat-picked acoustic guitar, piano, and a driving bass & drums accompaniment, "It Ain't So Bad" follows a character that keeps being promised a fresh start or a new journey only to be ditched by his partner upon arrival, but what could be construed as a hopeless narration ends up being a lesson in letting it all go.