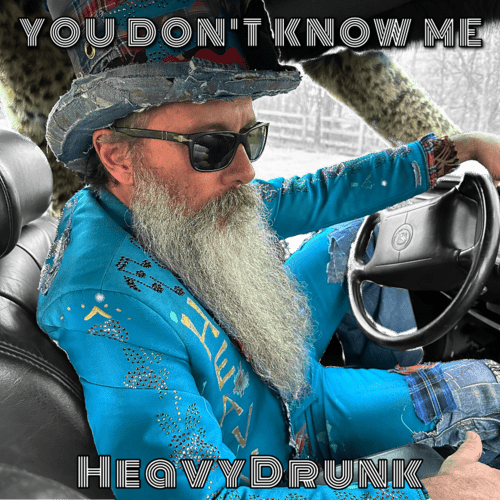 "A smart, stylish take on deep-dish Dixie soul is served up on a consistent bases by this solid, savvy rhythm-and-horns outfit." – Roots Music Report
Son of the south soul musician HeavyDrunk teams up with Visit Greenwood for 'Redeeming Robert Johnson' campaign that seeks to restore the burial site of the Blues Legend, with new record 'You Don't Know Me'. The release of the album July 15th seeks to raise funds and awareness for the condition of Johnson's burial ground and the conditions of the church he lays at now.
Robert Johnson is buried at The Little Zion Missionary Baptist Church in Greenwood, Mississippi. The Church is perhaps best known to the public for its appearance in the major Hollywood feature film The Help starring Emma Stone, Viola Davis, and Octavia Spencer. Robert Johnson has been described by the Rock and Roll Hall of Fame as "the first ever rock star" after his only 7-month long career came to influence generations to come.
"I went to Robert Johnson's grave one day and met some of the members of the church who were there cleaning in preparation for Sunday Service. I was concerned seeing this historic black church, built in 1872, and Robert Johnson's graveyard had fallen into disrepair. We immediately started working with Visit Greenwood to help the Church. With the help of Visit Greenwood, we have been able to begin cleaning up the Graveyard and have put up a new fence to protect the graves. The Church still needs a lot of work and I want to use the new record and HeavyDrunk visibility to raise funds for the restoration of this important Delta landmark." – HeavyDrunk
Released on July 15th, You Don't Know Me is a 12-track album that showcases the artist's signature mix of soul, blues, and americana. Its titular lead single You Don't Know Me eases listeners in with a moving gospel style choir, before HeavyDrunk's gravelly vocals wail over the jazzy-blues soundbed below.
You Don't Know Me (record) was recorded and mixed by Grammy winning Casey Wasner. Also featuring on the album are Prince's trombone player Roy Agee, four-time Academy of Country Music Bass Player of the Year nominee Alison Prestwood, LA brothers The Deltaz on guitar and drums, and Dave & Sugar's Etta Britt on vocals.
When not playing, HeavyDrunk is passionate about cooking. Until recently, the artist and his wife owned, restored, and operated the Puckett's of Leiper's Fork. The pair made over 10,000 pies and smoked over 700,000 lbs of BBQ at the restaurant, gas station, and live music venue that USA Today and Rand McNally named "The number one place to drive and eat in America".
Facebook: https://www.facebook.com/heavydrunkband
Twitter: https://twitter.com/heavydrunkband
Instagram: https://www.instagram.com/heavydrunkband/
Website: https://heavydrunk.com/
Youtube: https://www.youtube.com/c/heavydrunkband