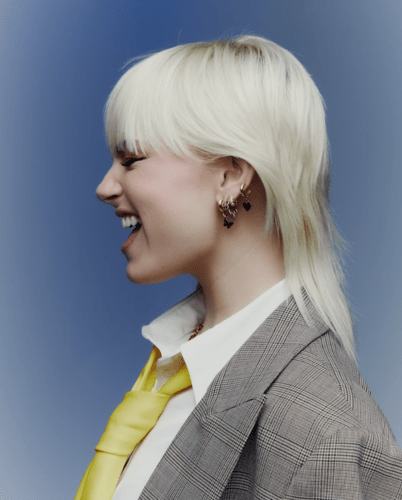 @skopemag news – friday – august 4, 2023 @ 5 pm est
https://www.facebook.com/SkopeMag/
https://twitter.com/skopemag
https://www.youtube.com/@skopetv2
https://www.instagram.com/skopemag/
APP – Apple iTunes –
https://itunes.apple.com/app/id1465224822?mt=8
@skopemag APP – Google / Android –
https://play.google.com/store/apps/details?id=hr.apps.n207414718
Support @skopemag –
https://www.paypal.com/donate/?hosted_button_id=3APKAKT8K6ETW
Empty Country (Cymbals Eat Guitars) Announce New LP
Today, Empty Country — the project of musician Joseph D'Agostino (Cymbals Eat Guitars) — returns with the announcement of their sophomore LP on Get Better Records (US) / Tough Love Records (UK), a full-length aptly entitled Empty Country II (due 11/3). To celebrate the announcement today, the group share the newest cut off the record, a track called "Erlking," alongside an accompanying music video.
Singer/Songwriter Qwynn Releases Video For Her New Single "Time"
LARUSSELL PREPARES FOR A SUMMER TAKEOVER WITH NEW ALBUM 'HUSTLENOMICS'
Hustlenomics is laced with nocturnal piano sounds that haunt the sonics, while LaRussell nonchalantly switches from slick rhymes to motivational motifs. He prides himself on his hustle, helmed by a meticulous DIY approach that's changing the mechanics of the music business. More than anything, LaRussell's commitment to leveling the playing field for aspiring artists is exemplified by his mission-driven style of rap and his practical advice on how to control the narrative.
CROWN SOLACE Release Video For "The Sounds That Make Me Feel Alive"
Modern symphonic metal quartet CROWN SOLACE have unveiled a haunting visualiser for their track "The Sounds That Make Me Feel Alive". Taken from the new EP Animus that released today, the track delivers drama with emotion and power.
JORJA SMITH UNVEILS NEW SINGLE "GO GO GO"; NEW ALBUM "FALLING OR FLYING" OUT SEPTEMBER 29
Further to climbing the charts with her latest summer single "Little Things," today Jorja Smith has unveiled her third offering of 2023 in the form of "GO GO GO" a propulsive indie-adjacent track that nods to Jorja's teen love of groups like Jaws, The Kooks and Bombay Bicycle Club. " GO GO GO' is kind of a f you song. Why do people have to kiss and tell, kind of vibe." she candidly states. "I'm in my little alternative bag, but I've always kind of been in it. People might be like, 'I didn't expect this', but I'm like: 'well, I would!'"
GRAMMY®-NOMINATED ARTIST SAWEETIE PRESENTS INTOXICATING "SHOT O' CLOCK" MUSIC VIDEO
In the head-turning visual, the toll of a grandfather clock rings out as Saweetie takes a dip in a giant cocktail. She dons a fit that would make any desert queen envious, complete with sultry and sensual choreography that reaches a climax when she dances with a giant white snake. The clip pops off as the perfect companion to this bold banger.
Kelz2Busy Drops '3 Typa Nights' Project
Kelz2Busy's musicianship takes center stage on 3 Typa Nights, highlighting his versatility as a songwriter and performer across three distinct new tracks demonstrating why he's already earned recognition as an 2023 "Artist to Watch" by Apple Music, along with co-signs from industry luminaries Ice Spice, Pharrell, Drake, Jack Harlow, Jorja Smith, Brent Faiyaz, and Timbaland.
Satin Cali revel in the nostalgia of times gone by with new single 'Nirvana and Cheap Groceries'
Wollongong's Satin Cali continue to blaze their own trail through 2023, punching back in to deliver another surefire favourite, 'Nirvana and Cheap Groceries'.
HIP HOP ICON LIL WAYNE TEAMS UP WITH R&B LEGEND MARIO & TYGA ON THEIR NEW SINGLE, MAIN ONE!
Hip Hop legend, Lil Wayne joins the R&B soul singer Mario and Tyga on the summer anthem, Main One via Epic Records. This iconic trio brings the heat on their new single accompanied by vibrant visuals and a sexy ambiance. The video is infused with diamonds, high end designer looks and beautiful women all inside of a jaw dropping mansion. The balance of Lil Wayne and Tyga's bars against Mario's lush vocals makes for a instant banger.
LENNE Releases New Music Video for Single "Plastic"
AVE Unleash Incidenary New Track, "Serpents," Featuring Magnolia Park​​'s Joshua Roberts
Florida's sensational quartet, AVE (A Valiant Effort), continues to seize the music scene's spotlight with their latest explosive video and single release, "Serpents." Following a trail of hit releases, including "Valhalla" (2022), "Soul Vacancy" (2023), and "Let Down" (2023), AVE demonstrates their remarkable genre-bending prowess across their evolving discography. Notably, this latest track features guest vocalist Joshua Roberts from the acclaimed band Magnolia Park, adding an exciting new dynamic to AVE's soundscape.
Rising Popstar Ari Abdul Releases New Single MAKE ME CRY feat. Deadbeat Girl
The melancholic melody and the haunting instrumental at the beginning of the song contribute to its dark and sensual atmosphere before unleashing into an electrifying beat. A hypnotic dance anthem, the new single contrasts Ari's smooth vocals with a strong, perfectly paced beat, both equally addictive and percussive.
Tori Kelly performs "alive if i die" from new album
Vevo, the world's leading music video network, announces the release of Tori Kelly's live performance of "alive if i die." "alive if i die" follows Tori Kelly's previous studio performances of "shelter" and "missin u – r&b edit."
Chicago's Born Days announces new LP & shares animated video for "My Little Dark"
Born Days is the conceptual darkwave synth-pop project from Chicago-based multi-instrumentalist singer, songwriter, and producer Melissa Harris. Her first full-length album My Little Dark is set to release on October 6, 2023, through AudioSport Records.
IGNITED Post Music Video for "Bloody Satisfied"
Stockholm-based heavy metal band IGNITED has launched the official music video for "Bloody Satisfied," the first single off the band's upcoming new album, Cradle of the Wicked. The album marks IGNITED's second full-length, following 2019's Steelbound.
Siddhartha Releases New Single "ACAPULCO" With Emmanuel Horvilleur
Siddhartha, who during the past year has completed more than 20 concerts throughout Mexico and the United States and who after a well-deserved break, re-mounts stages as of August not only with his extraordinary showmanship, but also with new music under his belt. "Acapulco" is the song that he presents to us, and on this occasion, he does it in hand with one of the most iconic rock voices and figures in Latin America, Emmanuel Horvilleur. The friendship between the two dates back several years, the most memorable moment perhaps being the latter's participation as a live guest of the Guadalajaran musician at his concerts at Auditorio Nacional in Mexico City, performing the song "Fuma."
BUZZING RAP PHENOM CEL NOLACKIN DROPS SIZZLING NEW SINGLE & MUSIC VIDEO "TOLD U"
The track's ethereal piano underlines tense chanting vocals. As 808s pulsate, Cel dominates the beat before serving up a promise to "be the one who run the block." Elsewhere, a flurry of braggadocios bars gives way to a menacing laugh as he proclaims, "My label don't play no games, when they sent that bag got a bulletproof truck." The accompanying visual seamlessly brings this vibe to life in cinematic fashion. Cel lyrically flexes as he cruises New York City with a cohort of friends, capturing the energy of the song.
Purple Disco Machine drops disco-laden remix of Wamdue Project's 'King of My Castle'
Grammy-winning producer and DJ Purple Disco Machine returns with an explosive new remix of Wamdue's 'King Of My Castle', 4th August on Strictly Rhythm.
Having already scored a 2023 Grammy for his remix of Lizzo's 'About Damn Time', the German DJ and producer turns his attention to Wamdue Project's classic 1998 floorfiller 'King Of My Castle'. The new version adds a disco stomp and irresistibly funky bassline to the original, breathing new life into that iconic vocal.
NEW: Megan Wyn releases 'You Don't Get It'
With a coming of age Truck Festival set under her belt, Megan Wyn is today (04.08.2023) releasing her coming of age soon to be classic track, 'You Don't Get It'. John Kennedy will also be premiering the release on Radio X on release day.
Top New EP // Sody – "Star Potential"
Today, brilliant songwriter Sody releases her brand new EP "Star Potential" which tells recent life stories across a rollarcoaster of emotions, whether it be navigating relationships or the music industry.
BBNO$ & YUNG GRAVY UNVEIL NEW SINGLE "NIGHTMARE ON PEACHTREE STREET" WITH FREDDIE DREDD
Today, BABY GRAVY, the most dynamic of duos Yung Gravy and bbno$ (baby no money), sink their teeth into a (not-so-) shockingly dope new single entitled "Nightmare On Peachtree Street" [feat. Freddie Dredd]. It pops off as the latest tune to be unveiled from Baby Gravy 3, which drops Friday, August 25th via IMPERIAL.
Experimental rockers My Octopus Mind release new single 'Wandering Alone' – OUT TODAY
Bristol-based experimental-rock three-piece My Octopus Mind reveal their new single 'Wandering Alone' released today, taken from their upcoming third studio album 'Trying To Be Normal', due November 3rd 2023.
NEWSKI releases new single This Love Is A Fluke
'This Love Is A Fluke' is the first single after the recent release of new album 'Friend Rock'. The durable three-piece will hit American, European and South African highways for a 100-date touring year behind the new LP.
Swedish House Mafia release euphoric new single 'Ray Of Solar'…
Electronic music powerhouse Swedish House Mafia, the trio of Steve Angello, Axwell, and Sebastian Ingrosso, have just shared their second new single of the post-Paradise Again era, a summer-y slice of digital euphoria appropriately titled 'Ray of Solar.' Already a fixture of recent performances (a clip of the group performing it at Ushuaia Ibiza has been making the rounds online), and bolstered by contributions by Tove Burman, 'Ray of Solar' joins the recently released single 'See The Light (feat. Friday)' as material that will ultimately serve as the foundation for an anticipated new album. Listen to "Ray of Solar" HERE
Nonô raises the temperature on sizzling new single 'Domingo'
OUT TODAY: Dutch Criminal Record Sign With AntiFragile, Release Vibrant New Single 'Oat Milk'
Brighton based Indie trio DUTCH CRIMINAL RECORD return with their stylistic breezy, sun-soaked sound on the vibrant high octane new single 'Oat Milk', taken from the eagerly anticipated upcoming EP Apathy Mixtape.
ADVOCACY release new single and video "Cut Loose"
Fresh from being signed to UPRISING! Records, Danish prog metal extraordinaries ADVOCACY release today the first single and video from their upcoming album. "Cut Loose" is an epic track with all kinds of moods: from rock subtle melodies and textures to hands-on, prog metal complex patterns.
PETER ROXX Post 'Are You the One' Music Video, feat. members Of Mean Streak, Engel, Gathering Of Kings
Swedish Melodic Rock outfit PETER ROXX, featuring members Of Mean Streak, Engel, Gathering Of Kings, have posted a new music video for their third single 'Are You the One', which is out today. The YouTube video can be viewed here:
SARAH KLANG'S NEW SINGLE "HALLOWEEN COSTUME" BLENDS BRIGHT AMERICANA-POP WITH DIFFICULT LYRICAL THEMES
Today, Sarah Klang announces her new album Mercedes will be released October 20th via Nettwerk. Klang has enjoyed plenty of success in her career to date, with three Top 5 albums in her homeland of Sweden, as well as winning the Swedish Grammy for Best Album twice. Yet none of that could prepare her for an entirely different journey. Leaving her twenties behind and becoming a mother with her first child, whom the album is named for, became the catalyst for a new cycle of songs all grounded in personal, but also general shared human experiences. Sarah delivers these songs with the steam-of-conscious storytelling style that has endeared her to so many, but now with more candour.
CAM THOMAS – 'NEVER EASY' FEAT. ISSEY BABY OUT NOW
Cam Thomas is an emerging UK hip-hop artist who is rapidly establishing himself as a unique and compelling voice within the British rap scene. His innate gift for introspective and thought-provoking lyricism, which tackles issues that resonate deeply with a broader audience, sets him apart in the genre.
Indie Rock Risers The Slates Unveil Empowering New Anthem 'What Have You Done?'
Yorkshire's own The Slates are ready to make waves in the indie rock scene with their latest single, 'What Have You Done?'. Comprised of four friends, frontman Louis Barnes, guitarist Joe Briggs, bassist Jude Wales, and drummer Zak Oldroyd, The Slates are fueled by their passion for songwriting and their insatiable desire to get crowds bouncing.
MICHAËL BRUN & JOEBOY DEBUT NEW SONG + VIDEO "GAME OVER"
The track is perfect for soaking up the last few weeks of summer. While the beat is one you can't help but dance to, the lyrics tell another story. A looping beat produced by Michaël is the ideal backdrop for Joeboy's smooth voice as he pleads, "Don't tell me game over, I don't want to hear game over."
Bianca James shares self-titled debut album + new single "Bang Bang Baby" (FFO: Amy Winehouse, Duffy)
Toronto's Bianca James establishes herself as a truly compelling singer/songwriter with a tight set of incredibly hooky sixties inspired tracks on her self-titled debut album out now.
Stream Annie Hart's new album, plus watch a new music video for "Boy You Got Me Good"
Renowned musician and composer Annie Hart has released her fourth full-length studio album, The Weight of A Wave today on Uninhabitable Mansions. This album is a fun and upbeat collection of songs ranging from krautrock-inspired electronic pop to post-punk. Brooklyn Vegan says of the album: "While she's mostly been associated with the gentler side of synthesizers, the new album shows she can rock out too."
Bleach Lab Shares New Single And Video "Nothing Left To Lose"
On 'Nothing Left To Lose,' frontperson Jenna Kyle finds parallels in water to illustrate the uncharted depths of new romance. "Nothing Left To Lose is about the beginning of a relationship. Being afraid of what's to come and questioning your path forward. Keeping your walls built up and ending up being stuck in the same place because of it. 'When oceans collide, there's a different blue on each side' is one of my favourite lyrics of the album. I'd read a story that day about a place in the world where two bodies of water meet but don't mix, and I loved that idea as a metaphor for colliding with someone else and not seeing eye to eye. Both strong forces in your own way but unable to blend together."
LOONY's soulful, anticipated "Old Friends"
LOONY, aka Scarborough, Ontario's Kira Huszar, today shares her first single of 2023, the characteristically soulful, voluminous, sunny sinlge "Old Friends," released independently via AWAL and produced by great friends and Grammy nominated collaborators Akeel Henry (Jamine Sullivan, John Legend), Dan Farber (Lizzo) and Aaron Paris (Kanye West, Drake). The mature but playful song reads like a one-sided conversation or voicemail message, leaning into a breezy, classic melody with epic Motown-like harmony stacks. Listen/watch "Old Friends," HERE.
Canadian Rock Band Odds Release Seventh Studio Album 'Crash the Time Machine'
Today, Canadian rock band Odds release their long-awaited seventh studio album, Crash the Time Machine, co-produced by Steven Page. Available to stream now, Crash the Time Machine is a vibrant painting of struggle and the community that both feeds it and transcends it. The band goes in new and exciting musical directions while retaining the dark ironic signature that has earned them a place in the hearts of listeners for over three decades.
THE FRONT BOTTOMS RELEASE NEW ALBUM YOU ARE WHO YOU HANG OUT WITH
Fueled By Ramen band The Front Bottoms have released their eagerly awaited new album You Are Who You Hang Out With.
Katelyn Tarver shares new single "Parallel Universe" | 'Compliments Only' Tour Begins September 6th
Today, acclaimed LA-based singer-songwriter Katelyn Tarver arrives with her new single "Parallel Universe" via Nettwerk. Co-written by Delacey (Halsey, Demi Lovato) & Grammy-nominated songwriter/producer Scott Effman (JP Saxe, Kelly Clarkson) and produced by Chad Copelin (LANY, Sasha Sloan), this latest effort offers another exciting glimpse into Katelyn Tarver's forthcoming sophomore album slated for early 2024.
Mann Terror (WiseGuys) Salutes His City With New Video "Roxbury Love" FT. Edo. G, Che Afrique & Michael Bivins
Boston OG Mann Terror (WiseGuys) salutes his city with a new video Roxbury Love FT. Edo. G, Che Afrique & Michael Bivins. Produced by Dmathpro, the visuals highlight landmarks and positivity around the metropolis. "It's the place I grew up and I wanted to do a record to shine a light on the love and history. To pull this record off I had to reach out to my orchard park brother and New Edition's own Mike Bivins along with my fellow Roxbury MC Edo. G and singer Che Afrique .The inspiration was just to give the world our home but in a good way" says Mann Terror. The single is featured on his most recent project End Of An Era II. "The album is just more of me back enjoying music and bringing it back to what made me love Hip Hop" says Terror. Check it out now on YouTube and your preferred digital streaming provider.
Sultry Singer-Songwriter Re Mattei Drops Flirtatious New Single, "Ya Got Two Wheels"
In this song, a girl is drinking coffee at Starbucks and by chance sees this guy on a Harley. It is love at first sight. She gets on the back, wraps her arms around him, and sees where the road takes her. "Ya Got Two Wheels, I've got a tank top. Let's go for a ride and see where the road stops." In the last chorus, it says, "we know that we won't stop," because it was true love and that road goes on forever!
Maria Wilman cross-examines the unknown in debut album, 'Dark Horse'
Maria Wilman has a history of doing the unexpected, of transforming in ways guided by a trust in her own potential and strength. It's a trait that the London-based singer/songwriter explores with candidness and depth on Dark Horse, produced by Colin Elliot (Richard Hawley, Slow Club) that offers a first taste of a much larger body of work written between 2019 and 2022.
KALI UCHIS DEBUTS "MUÑEKITA" WITH EL ALFA AND CITY GIRLS' JT
"I love bringing artists together that you'd least expect," says Uchis. "El Alfa is a Latino legend and JT is someone I've admired forever. Both of them are known for their summer hits and high energy, so I'm incredibly excited to bring them together for a fun, sexy song like this."
ALINA BARAZ DELIVERS SOULFUL NEW SINGLE "KEEP ME IN LOVE"
"Keep Me In Love" is a sonic concoction packed with infectious melodies, rooted in the kind of uptempo R&B that makes for a summer romance. A swooning gem that sparkles with Baraz's commanding vocals, it's an ultra-modern take on love that nods to her relatable songwriting. "I want someone, someone who gets me," she coos over a balmy instrumental.
Vallis Alps consider mental wellbeing on 'Start Again'
"Start Again," Vallis Alps' latest preview of Cleave shuffles to the cycle of self-doubt and the pendulum swing of self-esteem. Sonically in line with their peers in Glass Animals or The Wombats, synths subtly bubble, growing with each skip of assurance and empowerment. Although uptempo in nature, "Start Again" sparks a deeper internal impetus to managing our anxieties. "Are you living in a fever oh it only holds you down," sings Parissa, pausing to consider the tools at our disposal to manage the manifestation of nervous tension, to "Find your feet or let me in, your mind's awake, don't hesitate to start again."
TEENAGE WRIST RELEASE THIRD STUDIO ALBUM 'STILL LOVE' OUT NOW
Having spent the last eight years continually evolving and refining their sound, Still Love represents a fully realized version of Teenage Wrist. Reaching new heights in both scope and execution, their third record is a demonstration of the band maturing as songwriters and musicians. Deftly tackling much more introspective subject matter than their high energy, nihilistic sophomore effort, Still Love chronicles the process and emotional catharsis of learning to love oneself through pensive lyricism.
ADAM DOLEAC DELIVERS NEW SONG, "DON'T MAKE ME GET OVER YOU"
A daringly honest look at falling in and out of love, "Don't Make Me Get Over You" intertwines the real and raw emotions of the hope for reconciliation with hesitation and doubt. The track, written by Doleac, Andy Skib, and Bobby Hamrick delivers a stripped back new style of contemporary soft rock equipped with soulful guitar riffs, melodic keys, and steady percussion.
Miya Folick Teams Up with Skinny Atlas for "Can't Have It All" Single
Today, NY-based producer and multi-instrumentalist Skinny Atlas teams up with acclaimed vocalist, songwriter and producer Miya Folick to release a new single "Can't Have It All." The track is a flip of "Ordinary," a fan favorite from Folick's sophomore album ROACH.