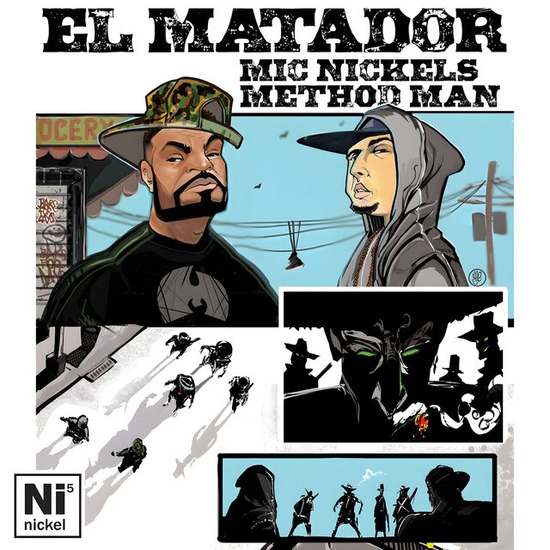 When your skills are unquestionable, even legends show respect. "El Matador" pairs an indomitable, fiercely idiosyncratic underground emcee with one of the most famous voices in the history of hip-hop with no incongruity whatsoever. NYC alt-rap hero Mic Nickels and international celebrity Method Man sound like they've been doing this forever. Their styles are complementary, their flows are impeccable, and their belief in the power of hip-hop is total. By the end of the track, there's only one question: when will these two lyrical champions collaborate again?
"El Matador" is one of the many highlights of Bars for Days, an album that establishes Mic Nickels as a formidable solo artist, a rap traditionalist, and an autobiographical storyteller with few peers anywhere in the music industry. It's a culmination of the work he did with Nickel and Dime Ops, the fiery jazz-rap project that Mic Nickels has taken around the world. He's been on bills with Jeru the Damaja, The Alkoholiks, Pitbull, and Vast Aire from Cannibal Ox, to name a few, and collaborated with Jean Baylor from Zhané, Ian Hendrickson-Smith of The Roots, Rockness Monsta, Rah Digga, Timbo King, Kurious, and many others. Nickels writes about his unique artistic journey in Bars for Days, a candid memoir that shares more with his most recent album than a title. It's a pure expression of dedication, perseverance, and the love of music.
As for Method Man, he hardly needs an introduction. Millions all over the world have seen him in motion pictures and on Method and Red, his own sitcom. But fans of hip-hop will always think of him first as one of the breakout stars of the Wu-Tang Clan, the immortal Staten Island collective that shook the music industry to its core and reintroduced street lyricism to rap. Tical, his 1994 solo album, was received as a classic upon release — and its reputation has only grown since then.
The Wu-Tang Clan has always been famous for imagery drawn from esoteric comic books and karate movies, and in keeping with this aesthetic, the animated "El Matador" clip presents Mic Nickels and Method Man as urban superheroes. Their High Noon happens on the streets of New York, and their dueling grounds are the aisles of corner bodegas. They take turns delivering their lacerating verse and face down opponents who, frankly, don't stand a chance. Eagle-eyed viewers will notice several references to hip-hop history in the animated clip, including a prominent hat-tip to the late MF Doom, an inspiration to both rappers. Doom had initially agreed to jump on "El Matador", before his tragic passing; Method Man took his place, and he and Nickels play homage to Doom together.
Follow Mic Nickels:
https://www.spotmeanickel.com/
https://www.youtube.com/micnickels
https://www.facebook.com/micnickelshiphop
https://twitter.com/MicNickels
https://www.instagram.com/micnickels/