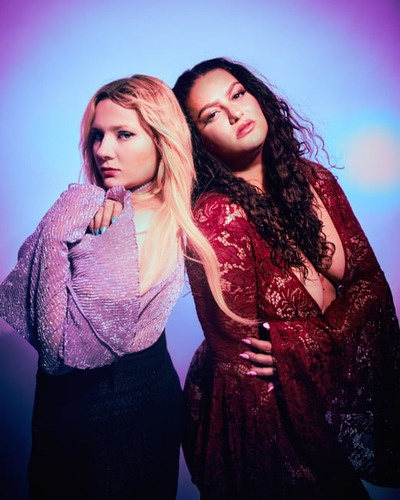 @skopemag news – wednesday – july 26, 2023 @ 11 pm est
https://www.facebook.com/SkopeMag/
https://twitter.com/skopemag
https://www.youtube.com/@skopetv2
https://www.instagram.com/skopemag/
APP – Apple iTunes –
https://itunes.apple.com/app/id1465224822?mt=8
@skopemag APP – Google / Android –
https://play.google.com/store/apps/details?id=hr.apps.n207414718
Support @skopemag –
https://www.paypal.com/donate/?hosted_button_id=3APKAKT8K6ETW
sophie meiers Shares Vulnerable Bedroom Pop Single "someone to be there"
Today, Downtown LA-based artist sophie meiers (they/them) shares their new single and music video "someone to be there", the latest offering from their concept EP 'spark__space' out on August 24th. Part two of their immersive "portal" trilogy of EP's, each one embodies its own unique sound, story, and feel. In this world, they explore the earthly and mundane: flesh and blood. Lyrically exploring themes of lust, devotion, attachment, and the nuances of human experience.
Aluna Unveils Music Video For "Running Blind." Latest Album 'MYCELiUM' Out Now
LA CHINGA: new album announced on Ripple Music
Vancouver-based hard rock power trio LA CHINGA have inked a worldwide deal with Ripple Music for the release of their fourth album "Primal Forces", due out on October 6th. Stream their boisterous new single "Light It Up" on all streaming services now!
Foxtide return with new windows down track "Hold On"
With a newly solidified band lineup, Foxtide is kicking off their next era of new music today, showcasing their mindset of not taking things too seriously and creating the kind of music that they'd listen to themselves. Previously dabbling a little more in easy-going, jazz-inspired, beachy tones, Foxtide's new music leans into the intensity of their live shows that have won them a cultlike following in the SoCal scene. Over the next couple of weeks, "Hold On" will receive an official video treatment and fans can keep an eye out later this year for a new EP from the band.
DOMKRAFT release new video single 'Whispers'
Take a sizzling road-trip with Swedish psychedelic doom masters DOMKRAFT and their new video single 'Whispers' taken from their highly-anticipated fourth album "Sonic Moons", which is chalked-up for release on September 8.
Lily Lane And Sophomore (Abigail Breslin) Unleash "Woman's Intuition"
The energetic and persuasive track, which gained the support of Spotify upon release, explores the depths of a woman's intuition, lingering on its pivotal power in decision-making. As the lyrics guide the narrative, pushing back amidst opposing forces, the video highlights Lane and Breslin in the backdrop of vivid hot pink and soothing lavender hues. Breslin, donning a colorful fringe jacket and a dazzling silver skirt, and Lane, in a black and white lace-trimmed dress, shimmer in their magnetic presence.
Japan, Man shares outstanding new bop 'Nowhere To Hide'💫
Navigating the intensity of emotion, Nowhere to Hide is a fiercely cathartic and exceptionally unique offering from this exciting emerging project, led by Laeticia Acra.
Meernaa Announces Shares New Track 'So Far So Good'. Listen Now
Oakland-bred and Los Angeles-based, producer, songwriter and vocalist Meernaa shares the titular track from her forthcoming album 'So Far So Good' due October 6th via Keeled Scales. With eclectically layered sonics and bubbly hooks, "So Far So Good" provides another taste of what's to come on Meernaa's forthcoming full-length.
Konyikeh Astonishes on Debut EP 'Litany'
In Christianity, a litany is a simple, repetitive type of prayer; the priest might say a line and then the congregation will repeat it back, in a way that can feel quite meditative. In more everyday usage, it's a word used to describe a long list of grievances. For singer-songwriter Konyikeh, the meaning of it sits somewhere in between. Though she does not consider herself to be religious, she grew up in the Catholic Church, where she came across litanies – which would give the name to her alluring EP.
Sarah Jane Scouten announces fourth studio album + shares track "Dragonheart"
The creation of Scouten's forthcoming, road-trip-salt-air filled fourth studio album Turned to Gold inspired her to continue to pursue music professionally. Before 2020, she was burned out and knew that it wouldn't do herself, the music, or the audience any justice to continue. By March 2020, she planned to become a medical herbalist and let her music career fade away. It was through this process she came back to songwriting, but this time, with more perspective.
INTRODUCING: Jack Vinoy and smooth new jam 'EVEREST HEIGHTS'
Arriving as a genre-bending dose of bliss, EVEREST HEIGHTS fuses a slick blend of r&b, warm-indie and alt-rap, leaving you with a new tune born to soundtrack only the finest summer evenings.
RISING STAR MEGA SHARES THE OFFICIAL VIDEO FOR 'DON'T GET TOO CLOSE'
Mega's dazzling voice and stirring emotions takes UK soul into a new era, her empowerment, unguarded lyrics and subtle contemporary production proving the genre's current scene with something new, but inspired by the live instrumentation of the genre's roots. It's a sound with a broad appeal, as evidenced by shows with artists as varied as Self Esteem, Angèle, Hozierand Nathan Rateliff, as well as airplay across Radio 1, Radio 2 and Radio 5. Fans are following for her honest, high-class talents shown with her two EPs to date – 'Future Me' and 'Colour Your World' – which have passed 55 million streams at Spotify alone.
Jenna DeVries Releases New Single "Rhinestone Cowgirl"
Jenna shares, "Rhinestone Cowgirl is the ultimate sapphic love story – it tells the tale of the kind of love that feels dangerous. It was the perfect opportunity to create this small fantasy world that allowed me to play with the idea of gender expression. Love is love – no matter how people identify or look, I believe there is a unique and beautiful love story out there for all of us."
NOCTOMB Release New Single "Zombie Fungus", Announce Self-Titled Album
NOCTOMB, the three-piece ensemble emerging from Raleigh, NC, take a genre-bending approach to their song-writing. They merge black metal with diverse influences, and the result wanders seamlessly between harsh aggression and haunting introspection. NOCTOMB's upcoming self-titled album will be released on September 22, 2023.
NOVA DOLL Announce New Album And Release Video For "California Sunshine"
Traversing the plains of doom, stoner and punk, NOVA DOLL is gearing up to unveil the new album, Denaturing. This offering is intended to be an experience, moving from one season to the next with tracks joined with sounds of nature. Dive into NOVA DOLL's serving of heavy stoner rock laced with garage riffs and punk snarl. Denaturing will be released on September 29th, 2023, via Black Throne Productions and Tarantula Tapes. The video for the latest single from Denaturing, "California Sunshine", is out now!
THE GORGE: Invisible Oranges Streams Mechanical Fiction Full-Length By St. Louis Progressive Metal Outfit; Album To See Release This Friday On Pelagic Records
Invisible Oranges is hosting an exclusive stream of Mechanical Fiction, the new full-length from St. Louis-based progressive metal outfit THE GORGE, ahead of the album's official release date this Friday on Pelagic Records.
"Mechanical Fiction": The Gorge Explore Prog Metal Without Losing Focus (Early Album Stream)
Our Frankenstein Brings Light To The Hopeless With "Illuminate"
Industrial metal band, Our Frankenstein has just unleashed their new video for the single, "Illuminate".
'Illuminate' is a song about finding the light that can exist in a barren and hopeless wasteland while building a better future for yourself. It's about forging forward and discovering the strength in yourself to move on past a difficult time in your life.
Alaina Castillo Serenades Us To The Dance Floor With Her Single "hookah envenena"
Days ahead of Alaina Castillo's new Spanish electronic EP malos hábitos, the songstress releases her final single "hookah envenena." Castillo, is set to release her upbeat pop-infused house synth track, "hookah envenena," via Chosen People/ AWAL. Collaborating again with Grammy-nominated producer, RØMANS (Maluma, Billie Eilish, Labrinth, Fred Again…, etc.), Castillo also brought in additional support from vocal producer Jean Rodriguez (Beyoncé, Christina Aguilera, Anita) to create this euphoric dance floor serenade.
Natural Palace – Debut Release 'Change Of Atmosphere EP' out September 2023 on sound as language / First Single "Mercury Slip" Out Now
Atlanta, GA's Natural Palace features JD Walsh of Shy Layers, Ryan Rasheed of LeBlaze and touring member of Prefuse 73, Sean Rawls of Still Flyin' and Go Public and Ryan Bergeron of Je Suis France. Change Of Atmosphere EP is Natural Palace's debut release and the first of two new releases from the group. Natural Palace's debut full-length album is done as well and scheduled for a Spring 2024 release, also on sound as language (Brin, Euglossine, Ki Oni).
Out Today Toronto indie/pop band Jiants makes it "Real Easy" to start your new life
Jiants is a three piece indie/pop band from Toronto led by the songwriting of ex-professional skateboarder Jesse Landen. Jiants performs a unique blend of nostalgic sounding low-fi indie pop songs complete with great hooks and soaring leads. The band has just finished their fourth album, Tall Tales. The record was engineered and produced by Gavin Gardiner and is set to be released late 2023.
My Violence (mem. Sugarplum Fairies) Announces Debut LP, Shares "Harlot" Single + Video via Post-Punk
My Violence is the nom de plume of Viennese chanteuse Silvia Ryder, formerly half of dreampop duo Sugarplum Fairies. Today, Ryder announces her self-titled debut LP as My Violence, due October 6.
Busty and the Bass Share New Single "Wandering Lines"
Formed at the University of Montreal over a decade ago, Busty and the Bass is now scattered across four North American cities from coast to coast. The band's two studio albums, both produced by Grammy Award-winner Neal Pogue, have been praised by outlets like Billboard, Complex, OkayPlayer and American Songwriter, and have seen the band collaborate with legends George Clinton, Macy Gray, Earth Wind & Fire, members of Slum Village, and exciting new voices like Polaris Music Prize winners Cadence Weapon, Magi Merlin and Pierre Kwenders.
Summer road trip playlist: The happiest songs of summer 2023 are…
It took a deep dive into the season's happiest songs and explored music lovers' preferences when it comes to songs for positivity.
Alt-pop duo TANDM overcome the woes of youth on the 'Sirens' EP
On the surface, they're charming in their sweet simplicity – effortlessly compelling thanks to graceful melodies, heartfelt lyricism, and syncopated synergy. But the deeper you dig, the more Toronto duo TANDM's songs seem to transcend time, place, and even stylistic categorization. The core duo of vocalist/guitarist Maxine Beck-Sinderby and drummer Thomas Franklin first met in their mid-teens and quickly united over a unique creative chemistry.
BISHOP BRIGGS SHARES OFFICIAL MUSIC VIDEO FOR "BAD"
Re: the "Bad" music video, Bishop comments, "The truth is I have been undoing parts of my past for as long as I can remember. I think that's part of being a woman and a human. When I was little, there was a huge emphasis on being "good" and a big part of being "good" was based on being polite. As I have grown up and experienced many iterations of #metoo, I've found that sometimes speaking the truth isn't "polite" or "good" or "pretty." Sometimes it's bad, ugly and honest. I'd rather we see women being the latter and every detail in this music video puts emphasis on finding your voice no matter how hard it is to speak out. Thank you for taking the time to watch."
dayaway (mem CLAVVS) Share "ocean free" Single + Lyric Video via The Big Takeover
dayaway (the dreamy indie-pop project of Amber Renee and Graham Marsh of CLAVVS) just announced a brand new EP, blue summer moon, out August 30 via Turn To Wind. The EP, as described by the duo, is "a collection of songs that tell a story of love and loss; each song is a new phase of that story." They continue, "Naturally, we're releasing it on the only blue moon of the year, August 30th, 2023."
KENNYHOOPLA SHARES "MARRY KILL F*CK//"
Kenny speaks on the music video, "We just made this one day on tour – was just f*cking around being dumb in the studio and this is what came out of it. A lot of this song was initially freestyled so it made sense for the video to have the same vibrancy and spirit as well, I think, haha. We shot the video in about 30 mins, I'd say, and then went to soundcheck hahaha – turned out rad as f*ck."
New single // extravagant summer anthem from Darius Martin
Los Angeles based singer-songwriter and producer Darius Martin pioneers expansive alt R&B music complete with pop-laced hooks and island-drenched soundscapes. Writing about the beauty and struggles found in life, Martin aims to connect with his listeners on a deep level, pouring his own emotions and autobiographical experiences into every release.
UK Producer & Artist Sebastian Reynolds Debuts Single + Video for "CASCADE" Out Now
Inspired by Reynolds' love for bands such as Liars, Public Service Broadcasting and Radiohead, "Cascade" is an electrifying taste of what's to come from his upcoming full-length Canary — taught, dystopic drones for a civilization in collapse marked by a compositional approach influenced by composers like Susumu Yokota, Luigi Nono, Olivier Messiaen, and Karlheinz Stockhausen.
For Skope Mag consideration Americana/country western stand-outs Trent Beaver & The Damage share video for ode to grandfather "Hard Working Man"
Award Winning Artist Trent Beaver is known as one of the Pacific Northwest's premier singer-songwriters. His songwriting and style spans multiple genres such as Soul, Americana, vintage rhythm & Blues. Mixed with rock n roll swagger and country influences. He captivates audiences with his raspy vocals and heart-felt lyrics. Watching and listening to Trent, you will immediately recognize his passion for music and connection with his listeners, as well as his immense vocal and acoustic guitar talent. Trent Has shared the the stage with multiple larger artists throughout the years, such as, Art Alexakis of Everclear, Deana Carter, Sunny Sweeney, Ray Scott, Phil Keaggy as well as sharing the bill with names such as Zach Bryan, Marcus King and Morgan Wade to name a few.