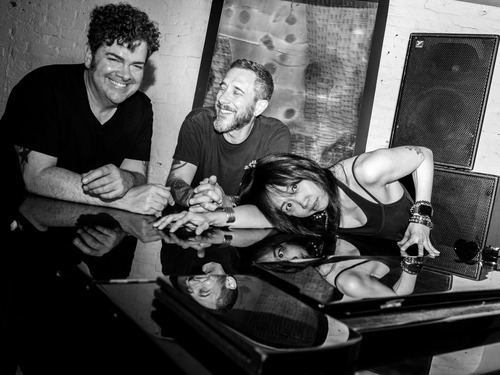 Operating under a slew of alternating monikers over the past few decades, rocker/singer-songwriter Greg Hoy is taking his birth name for a spin this time around. After over a decade in Brooklyn, NY, Hoy relocated to the San Francisco Bay Area as a part of the 2010's tech boom. Relentless with his prolific music output, Hoy's experiences working there informed his music with a rising consciousness of the triumphs and woes of mankind's progress. Yet with over 30 albums released, Hoy can tackle any imaginable topic with his candid lyricism and authenticity of sound. Whether blowing out amps or intimately ballading over a piano, Hoy never fails to inject his voice into the hearts of his listeners, who (funnily enough) end up being the ones feeling "heard" through his genuine homespun tunes. With his most recent album, Yay For Effort, Hoy lends his humor, wit, talent, and sincerity to contemplating modern societal woes, like climate change, the pandemic, love, and mental health. Check it out and catch him live this summer as he tours the Northeast with his rock trio Greg Hoy + The Boys.
An upbeat track from his recent album Yay for Effort, "Comfort Vendetta" is Greg Hoy's fuzzy, 90s-inspired reflection on dating an emotionally unavailable partner. The song launches out the gates with a sunny synth motif over a guitar and bass strutting in parallel. With the strain and grumble of his voice, Hoy brings to life the agony of constantly stretching out a compassionate arm to a partner in continuous withdrawal. Despite its difficult topic, the song begs to be sung and danced along to—a product of a skilled songwriter balancing emotional tension with infectious musical energy.
See life after lost love in the "Comfort Vendetta" music video directed by Hoy and starring Anna Copa Cabana. In the video, we encounter Anna post-breakup, realizing she won't get the connection she needs from her ex. Instead, she takes her stuffed ducky Gordon (aka her inner child) out for a day of exploration around Brooklyn. Their adventures together shine like the bright synth motif, hinting at the growth and positive self-awareness that can emerge after escaping a doomed relationship. This is what makes Hoy special—synthesizing an entire personal journey into a cheery four minutes of pop-rock reflection and capping it with an engaging video. Lucky for newcomers to Hoy, there's always more to discover.
Follow Greg Hoy:
https://www.thegreghoy.com/
https://youtube.com/GregHoyOhYeah
https://www.facebook.com/greghoyandtheboys
https://twitter.com/thegreghoy
https://www.instagram.com/thegreghoy/