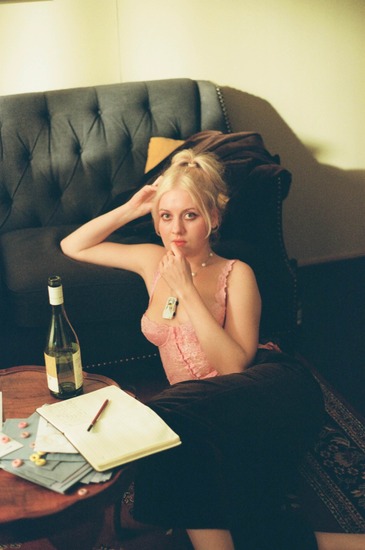 @skopemag news – saturday – july 15, 2023 @ 12 pm est
https://www.facebook.com/SkopeMag/
https://twitter.com/skopemag
https://www.youtube.com/@skopetv2
https://www.instagram.com/skopemag/
APP – Apple iTunes –
https://itunes.apple.com/app/id1465224822?mt=8
@skopemag APP – Google / Android –
https://play.google.com/store/apps/details?id=hr.apps.n207414718
Support @skopemag –
https://www.paypal.com/donate/?hosted_button_id=3APKAKT8K6ETW
MATILDA MANN's RELEASES HER NEW EP "You Look Like You Can't Swim" OUT TODAY
Speaking about the EP, Matilda explained "Over the past few years, I've loved progressing and experimenting with different types of genres and musical instruments and working with other musicians and producers, but I've had such an urge to create a small group of songs that feel so simple, vulnerable, Romantic and emotional. The kind of songs I would've dreamed to make and release when I was 16."
Queer alt-pop artist a kid named rufus Shares Debut Album 'Whatever Works'
July 14th, 2023 – NYC-via-Malaysia rising queer alt-pop artist a kid named rufus (they/them) shares their debut album whatever works via Nettwerk. After a series of singles and a debut EP under their belt, the songs from a kid named rufus' whatever works mark a giant leap forward—both sonically and lyrically—as they solidify their artistic and personal identity.
MULTI #1 COUNTRY-ROCKER TYLER FARR REDNECKS LIKE ME EP OUT NOW
"This is the first project I've co-written all the songs on, so this is a big step in my career for me," said Farr. "I'm so proud of this album as it showcases my evolution as a singer/songwriter and I can't wait for fans to hear it."
Candlebox Releases New Single "Punks" and Reveals Details For Final Studio Album 'The Long Goodbye'
"Candlebox weren't the punks that paved the road for all these other bands that came along, but the statement is that music has always been there and nobody's really doing anything differently," shares Martin. "You think that you're invincible and you try to grab all those things that come along with being in a rock band and touring the world. But inevitably, you're left with yourself, and if you don't have something within yourself that can keep you grounded, what are you doing it for?"
THE GLORIOUS SONS ANNOUNCE FOURTH STUDIO ALBUM "GLORY" OUT SEPTEMBER 6TH & SHARE NEW TRACK, 'DREAM'
MisterWives share fervent 4th studio album 'Nosebleeds' out now | Touring with Bishop Briggs this Fall
Nosebleeds, the highly anticipated fourth studio album by MisterWives out today, propels the group into all new territory, this time, equipped with bravery, confidence and strength. Through a decade-long career, of tremendous highs and lows, the forthcoming project meets the band at their most evolved as they turn their pain into power. Over ten compelling tracks, the band digs deeper than they ever have before, capturing the nuances of life's highs and lows and re-defining what it means to succeed and to fail.
BUJU BANTON ANNOUNCES NEW ALBUM BORN FOR GREATNESS OUT SEPTEMBER 8 VIA GARGAMEL MUSIC / ROC NATION RECORDS / DEF JAM RECORDINGS
On the album, Buju shared: "Another milestone, Another stage. I embrace it all. I've accepted the change. Here is something special. From my experience and musical journey. An ode to those who acknowledge the struggles and challenges that surmount. And others who will, your eyes are not deceiving you nor are your ears, you were born for greatness. I embrace you with love melodies and music."
Watch the new video from Atlanta's Kid Fears for "How Long Are We Here", out today!
In moments of sparse clarity, and in those shrouded behind layered blankets of distortion, these songs each approach the elusive human truths that lie just outside the scope of understanding. Rose Ewing writes with moving honesty and gentleness, weaving together everything from ineffable grief to quiet encounters with the sublime, as Emma Shaw, Michael Whelan, and Ben Ewing join to create the lush sonic environment in which the songs unfold.
Platinum Award Winning Hip Hop meets R&B Twin Hector
"Genie" is a kickback anthem laced with notes of budding flirtation over subliminal, dream-like beats. Twin Hector confides, "The song 'Genie' came together from a lifestyle of grown up fun. Being aware; a student of my environment and real life scenarios I find myself in." Over a decadent storm of rhythms, deep plunges of percussion, and fantasy-filled sonics, Twin Hector will lure you inside his world with a pristine vocal cut from raw experience.
Metalcore Band Preacher Release New Single "FORCE-FED" to all major platforms! New EP 'BLUR' Drops July 14th
Metalcore band Preacher released their new single "FORCE-FED" to all major platforms on June 30th. The single is from their new EP, Blur that released today, July 14, 2023.
"For fans of Architect, this one's for you!" says Nate Garrison, the band's vocalist.
ASTN SINGS THROUGH THE HEARTACHE ON NEW EP 'WHERE DO WE GO FROM HERE?'
WYATT FLORES SIGNS TO ISLAND RECORDS, NEW SINGLE "HOLES" AVAILABLE TODAY
Wyatt Flores, native son of Stillwater, Oklahoma, announces his signing to Island Records alongside OEG Management, and the arrival of new single "Holes" today. With a loyal grass roots Country-Americana following, Wyatt is building momentum, releasing 9 independent singles over the past two years. "Holes" is his first release via Island Records.
SOMNURI: Metal Injection Debuts "Paramnesia" Video From Brooklyn Sludge Metal Unit
Brooklyn, New York's favorite sludge metal outfit SOMNURI today unveils their latest video/single for "Paramnesia." Now playing at Metal Injection, the monolithic track comes by way of the band's impending third full-length, Desiderium, set to drop next Friday, July 21st, via MNRK Heavy.
KATIE FEE RELEASES FUN SUMMER SINGLE
With fun-loving lyrics like to a carefree summer of long hot days, no, I don't wanna let it go to waste, "Hello Good Times" is sure to become the anthem of the season.
NONPOINT Drops New Single "A Million Watts" Today Along with Humorous New Video
Claud Releases New Song 'A Good Thing', Watch the Video featuring Paul Rudd Now. Second Album 'Supermodels' out Today on Saddest Factory
Claud has released a video for new single, "A Good Thing," to coincide with the release of their impressive second album Supermodels – the first Saddest Factory Records release of 2023. The new album follows 2021's much-lauded debut Super Monster. The new song, produced by Claud and Dan Wilson, chronicles a relationship filled with doubt, is accompanied by a video – filmed in both NYC and LA and directed by Christina Xing – starring beloved film actor Paul Rudd. Claud has been so inspired by Rudd's movie performances over the years that they titled one of the tracks on Supermodels in tribute to the actor. Having him appear in the new video was a dream come true for the musician.
Blanco White Announces New Album 'Tarifa' Out September 29th; Releases Title Track
"I booked the trip [to Tarifa] because I had begun to feel more confident in my body's ability to work intensely on music again after a nerve and chronic pain condition had stopped me from playing and recording altogether. Although I still had symptoms during that time, my pain levels had improved a lot from where they had been in the previous few years, and I wanted to begin pushing myself to see how my body would react", Edwards explains.
CALLIGRAM, Position | Momentum, Out Now
CALLIGRAM has today released their sophomore album, Position | Momentum, via Prosthetic Records. The London, UK based multinational band's second full-length sees the black metal group celebrate the chaos of existence across eight songs, with CALLIGRAM currently on tour across the UK – info on all remaining dates below.
NY Riser Chow Lee Explores the 'Hours After The Club' With New Album
A relentless flirt with a feather-light flow, Chow Lee specializes in NSFW anthems for debaucherous late nights. Collecting 18 songs perfect for streaming after the clubs close but before the sun comes up, the Long Island native shares Hours After The Club, his new project. Marked by the airy melodies and unexpected punchlines that dotted his critically acclaimed 2 SLIZZY 2 SEXY collaboration with Cash Cobain, Hours After The Club is an addictive listen, radiating with the seductive charm that inspired Pitchfork to affectionately call Chow Lee one of the "horniest rappers out."
Paul Kalkbrenner Shares Groundbreaking Video "Schwer"
Today, Independent Creative Agency Mother Berlin partners with award-winning director Jovan Todorović and production company BWGTBLD to bring techno icon Paul Kalkbrenner's new single to life with a groundbreaking music video. The track, "Schwer," Kalkbrenner's first release since 2021, takes inspiration from the German word "Fremdkörper" or foreign body, which is used as the film concept.
NIGHTLY Releases New Single "like i do"
LIL TJAY RELEASES LONG AWAITED ALBUM '222'
Multi-platinum, chart-topping artist Lil Tjay has released his highly anticipated album 222 today via Columbia Records. This long-awaited release comes after a pivotal moment in Lil Tjay's life as he survived a traumatic shooting in June of last year. 222 embodies his journey while pushing the boundaries of vulnerability, storytelling, and skill in the realm of hip-hop.
Icewear Vezzo drops "Raw ASL" Video
Bava – "Imitate" (EP+Video… Out Now)
Today, the Popstar-in-waiting Bava wraps a bow around her opening remarks as a newcomer in her impressive debut EP titled "Imitate." The release gets a companion in the shape of her incredibly sleek and seductive video to its title track.
The Intemperate Sons Release New Single "Faceless Man" + Official Music Video via FRAME|WORK
Önnu Jónu Son walks on his own with single "Big Boy Boots"
FORAGER Share Single "Hello to the Kiddies" via Earmilk
Is it ever good to be a hater? FORAGER answers in a boisterous, singable anthem: maybe not, but you should try it sometime. "Hello to the Kiddies" is an earworm that's warped by the band's characteristic off-kilter production choices, propulsive bass lines, and dreamy vocal styling. The chorus only hits once, but that's all you'll need to remember the hook.
Brooklyn trio FORAGER drop boisterous anthem "Hello to the Kiddies"
ELEINE Unveils Official Music Video For The Title Track To We Shall Remain; Album Out Today Worldwide On Atomic Fire Records
Beautifully Honest & Vulnerable Honey-Soaked New Single
Born to a jazz pianist and retail-clerk, the Amsterdam based Elif Dame (meaning she who brings light) started practicing her creativity at a young age. Having her musical interests initially sparked by the likes of Michael Jackson, Stevie Wonder and the gospel genre, it would greatly expand and shift through the realms of countless genres throughout the years. By writing her first songs to beat tapes of MF DOOM, J Dilla and Madlib and experimenting with different sounds, Dame gradually allowed her sound to develop into an eclectic form of alternative R&B through which she touches on topics such as her battles with depression and anxiety, insecure attachment and relationship issues, trauma, family drama and addiction.
Sony Music Canada Artist laye Releases Spiteful Dark-Pop Break-Up Anthem "unhappier"
Co-written by laye, Cici Ward (Cheat Codes, Lil Huddy, GAYLE), and Oscar Neidhardt (Thirty Seconds to Mars, Adam Lambert, Conan Gray), "unhappier" is a song "about heartbreak, but also about love," says laye. "My hope is that people find comfort in the mundane emotions of jealousy, unhappiness and really find some solace in the fact that those feelings are universal."
Poet Leanne Hoffman sets collection of emotive written works into dynamic pop LP The Text Collector
Submission for Skope Magazine, from Melanie A. Davis
Emanating from the low hills of western Kentucky (Murray, KY) are the unmistakable songs of Melanie A. Davis. A performer at heart and writer by trade, her ability to craft simultaneously poignant and liberating tunes is steeped in an appreciation for the nuances of human relationships. Whether contemplating the potential of her immediate community, reflecting the global zeitgeist, or considering her own vices and tendencies, she never shies away from the glaring truths therein.
MIDNIGHTCHOIR Shares "Rising Tide" Single via StereoEmbers
Today, NYC electronic act MIDNIGHTCHOIR finally shares their second album, Loverboy Molotov (out now via all DSPs).
STEREO EMBERS EXCLUSIVE TRACK PREMIERE – "Rising Tide" from LGBTQ Activist, Darkwave Artist Patrick Bobilin AKA MIDNIGHTCHOIR from Forthcoming Album "Loverboy Molotov" + 4 bonus interview questions
Skope video submission: LongLiveCzar, "In My Bag". Omarion collaborator goes for self
The South central native is also a former dancer and choreographer best known for his choreography and judging on the TV show So You Think You Can Dance as well as his role in the 2005 krumping documentary Rize. He has worked with Madonna, Missy Elliot, Usher and Chris Brown, to name just a few. Czar says his new track is about "being in the state of flow. That special pocket where no matter what you're doing, the execution is masterful, effortless and automatic because you're completely in sync with the universe. It's the apex of swagg!" "In My Bag" is out now on CZARMUZIK/Foundation Media.
Rockstar Photographer Nathan James Releases New Single "TOXIC WORLD" + Official Music Video to all major platforms on July 14th!
ERIC CLAPTON RELEASES NEW VIDEO FOR "HOW COULD WE KNOW"
Eric Clapton has released a new recording of "How Could We Know" from Bushbranch/Surfdog Records along with an animated video, out now.
Healing & Inner Exploration // New Single from Cayo Coco
ERIC CLAPTON RELEASES NEW VIDEO FOR "HOW COULD WE KNOW"
SWIMM Share "Be Easy" Single via Consequence
After a 6-week North American tour and a flourish of lauded singles boasting multiple high profile spots (from a Kelly Slater documentary, to the Hulu feature film The Unicorn, a national Progressive Insurance commercial, and a Juneshine commercial and ambassador event), LA-based psych-pop group SWIMM prepare to release their sophomore LP Best Comedown Ever on August 10.
Song of the Week: BTS' Jung Kook Drops One of the Sexiest Songs in K-Pop History with "Seven" feat. Latto
TRIPPIE REDD ANNOUNCES HIGHLY ANTICIPATED ALBUM A LOVE LETTER TO YOU 5 – ARRIVING AUGUST 4th
Named one of Spotify's 'Top 50 Most Streamed Rappers,' Trippie Redd announced the album today on Instagram to immediate fan excitement. The series that started it all back in 2017, A Love Letter To You notoriously highlights themes of love through smooth hip-hop flows backed by iconic samples and beats. With four iterations released in the last six years, the upcoming album guarantees to see Trippie at his best, recently kicking things off with "Took My Breath Away" featuring singer/songwriter Skye Morales.
Moonshine Bandits Release New Album and Music Video for "Can't Take My Hometown"
The wait is finally over as MOONSHINE BANDITS proudly presents their long-awaited album, "POUR DECISIONS," available now on all major digital music platforms via ONErpm. This highly anticipated release combines the raw energy of backwoods bravado, the heartfelt essence of country soul, the infectious beats that make kegs thump, and a unique blend of hip-hop, resulting in a genre-defying signature sound that sets the Bandits apart.
RIOT Mobs Into Bass House With High-Octane Single "In Your House" on Gud Vibrations – OUT NOW
They have an upcoming headline show at the Old Fire Station in Bournemouth (UK). The single follows their foray into DnB on the label with "Meditate," garnering press coverage from This Song Slaps, EKM, Find Your Sounds, The Festival Voice, as well as five previous singles picking up support from EDM.com, Your EDM, Dancing Astronaut, Heard It Here First, Let the Bass Get Ya. Their most successful track to date is the "Wake Up" collab alongside Kayzo, amassing more than 37M streams.
Norwegian blackened death metal act Tides of Chaos release new single "Screams"
Fans of melodic extreme metal are encouraged to check out Tides of Chaos and experience the power and epicness of their music. "Screams" will be available on all major streaming platforms on June 30th 2023. And this is just the beginning. More singles and eventually a full album will be released throughout 2023.
RIOT TEN and Jessica Audiffred Link Up on Ever-Evolving Collab "Dale" with Blvkstn on Bassrush Records- OUT NOW
Riot Ten has a prolific catalog littered with numerous Beatport #1 Top 100 Dubstep tracks, a Top 10 debut on iTunes' 'Dance Album' charts, and his massive single "Rail Breaker" amassing almost 16M streams to date. He has an upcoming performance at Rampage Open Air. Jessica has previously toured alongside RIOT TEN with sold-out arenas, as well as a recent back-to-back set at EDC Las Vegas. She has festival gigs plotted at Toxic Summer, Moonrise, Lost Lands, Tomorrowland (Brazil), Apocalypse, as well as headline shows at The Depot (SLC), Liquid (Madison), recordBar (Kansas City), The Midway, (SF), NOVA (San Diego), The Vanguard (Orlando), and support for Tiesto at Phoenix Raceway.