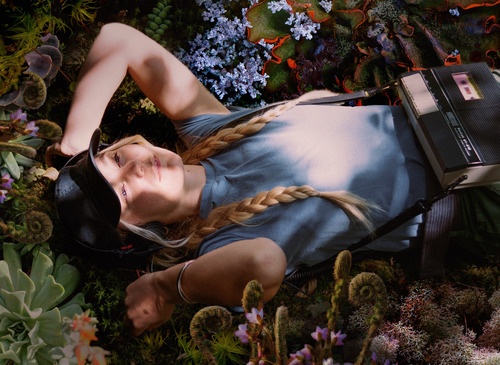 @skopemag news – thursday – july 13, 2023 @ 7 pm est
https://www.facebook.com/SkopeMag/
https://twitter.com/skopemag
https://www.youtube.com/@skopetv2
https://www.instagram.com/skopemag/
APP – Apple iTunes –
https://itunes.apple.com/app/id1465224822?mt=8
@skopemag APP – Google / Android –
https://play.google.com/store/apps/details?id=hr.apps.n207414718
Support @skopemag –
https://www.paypal.com/donate/?hosted_button_id=3APKAKT8K6ETW
Maya Donovan Unveils Introspective New Single "Lenox"
Following the successful release of her latest song, "We Should Get Dinner," introspective singer-songwriter Maya Donovan has announced the next chapter with her follow-up single, "Lenox." Named after a small town in Massachusetts, this sweeping ballad recounts Donovan's experiences of the weekend her sister went into long-term residential treatment for PTSD. Donovan's newest addition to the field of immersive production and tender vocals, "Lenox," is now available to stream and download.
International Anthem shares jaimie branch's new soul-warming single "the mountain"
Today, International Anthem shares "the mountain," the latest single from jaimie branch's Fly or Die Fly or Die Fly or Die ((world war)), out August 25. The record is the late trumpeter and composer's third and final album with her quartet. Whereas lead single "take over the world" paired branch's virtuosity with the unrelenting velocity of hardcore, "the mountain" — a cover of The Meat Puppets' "Comin' Down" — is sparse and rustic, a beautifully loose and minimalist Appalachian blues. Fly or Die bassist Jason Ajemian sings lead while branch provides harmonies. In singing together, they express a congenial solidarity — branch and Ajemian were best friends and longtime collaborators, after all — and though restrained, it's rousing.
Panda Bear & Sonic Boom Enlist Adrian Sherwood for 'Reset in Dub'
Panda Bear & Sonic Boom, the duo of Noah Lennox and Peter Kember, will release Reset in Dub, a dub version of their acclaimed 2022 LP Reset, featuring reworkings of all nine tracks by the legendary British dub producer Adrian Sherwood, on August 18 digitally and December 8 on vinyl via Domino. Sherwood created his version of Reset at his On-U Sound Studios with a crew that included such storied musicians as Doug Wimbish and Skip McDonald of the Sugarhill Gang and Grandmaster Flash and The Furious Five, as well as Prisoner, Alex White, Horseman, Mark Bandola, "Crucial" Tony, Ras Badthings, Ivan "Celloman" Hussey, and Mathew Smythe. "One of the primary influences on Reset was Jamaican rocksteady and it seemed like an interesting idea to explore taking it back to that sort of tropical root," says Kember.
Ryan Brown takes us on an whirlwind ride with new single "Carousel"
This upbeat tune is a metaphor comparing relationships to a ride on a carousel. The whirlwind of emotions and excitement that comes with entering a new relationship. Until you inevitably have to face the ups and downs that come with being intertwined with someone else. Then comes the rude reminder that eventually every ride has its end. Ryan addresses her naivety in her past relationships, singing, "I hoped that we could beat the cycle/ I hoped we'd never change." Even after everything she's been through, there is still hope as she claims, "Someday I'll find someone and we'll ride this carousel."
IN CASE YOU MISSED IT | AUDIO LINK) Pop-Soul Singer-Songwriter, JOVIAN Releases New Single, "I'M READY", In Anticipation of Debut Album
"I'M READY" was written by Jovian and Kay'vion and produced by Jovian and Blood Cultures. "I'm Ready" started with the concept, which became a line in the song, "who are you staring at while you undress?" Who are you with when you aren't with me? Who are you texting when you aren't texting me? It's about the fears of taking that first leap when falling in love with someone and the paranoia that comes along with it," mentions Jovian. "Do I secretly not want it to workout? Am I actively doing things to make it not workout? Fear is the mind killer and "I'm Ready" is the sonic representation of that fear. All I've been waiting for is to tell her "I'm Ready" quicker than my brain tells me not to," he adds.
PROVOKER RETURNS WITH NEW SONG AND VIDEO
Los Angeles-based post-punk band Provoker are back with a new song and video for "Debt Collector," an immersive journey, across life and death, through the depths to weigh the human soul. Directed by Gustav Stegfors (Drain Gang, Yung Lean, Nike), the video takes over Slakthuset (a former slaughterhouse) to begin the tale of a hulking repo man. A concentrated blast of post-punk barely reaching two minutes, vocalist Christian Crow Petty steps into the role, admonishing an unseen debtor and making clear that they're gonna "have to clean their act up." The video takes this premise to the next level, with Petty appearing supersized and blue, an immortal, unstoppable repo man coming to claim what's his. He smashes and bashes his way through stone, metal, and flesh to collect it in glorious b-movie fashion.
FREYA Premiere New Single "Nothingness Or God" At Metal Injection
Today the band has shared a fresh new single, "Nothingness Or God", which has premiered exclusively at Metal Injection. The band shares: "What awaits beyond, at some point, all of the speculation and philosophy about the possibilities of karma, eternity and an afterlife will have an answer."
GABRIELS SHARE STUNNING VIDEO FOR "GREAT WIND"
Omar is known for his revolutionary use of modern technologies in video art. He effectively turns abstract, emotive concepts into tangible visuals, making the ordinary extraordinary with his unique artistic approach. His signature style comes to the fore in his collaboration on Gabriels' video for "Great Wind," where he masterfully blends modern technology with the phenomenal humanity of the song.
DC The Don Puts his Critics out of Business on "STOP HATING"
With his natural magnetism and chameleonic style, DC The Don adds a thrilling flair to any sound he tries. Returning to his roots with the rage-ready style he cut his teeth on, DC exhibits his leveled-up artistry on his brand new video single, "STOP HATING." Kicked off by a hectic, futuristic synth instrumental, DC's vocal gravitas cuts through the frenetic production, bringing a sense of authority and cohesiveness to the track as he asserts his Don status: "Who brought the fire out?/B*tch, you teed up on a muhf*cking Monday, my young n****s still going viral."
NEW DOCUMENTARY 'MIXTAPE' TO PREMIERE 8/1 ON PARAMOUNT+ IN PARTNERSHIP WITH MERCURY STUDIOS & DEF JAM RECORDINGS
A Must-Watch! French Alt. Metal Act Smokeheads Presents 'One Million Ways' Video
French Rising Metal sensation Smokeheads is thrilled to unveil their mesmerizing video for the track 'One Million Ways', a captivating song from their highly anticipated album "All In," set to release on September 15, 2023, via Wormholedeath.
Dan Auerbach releases 'Every Chance I Get (I Want You In The Flesh)'
Easy Eye Sound — the Nashville based label headed by Dan Auerbach and named Billboard's 2022 Blues Label Of The Year — has spent the past six years not only preserving the blues, but uplifting unsung voices in the genre and, in the process, building a thriving, multigenerational community that has earned 16 GRAMMY® nods, 4 Billboard #1 Blues Albums and widespread acclaim.
VIRGIN MUSIC STRIKES DEAL WITH PAUL ROSENBERG'S GOLIATH RECORDS TO RELEASE NEW MUSIC FROM RAPPER AND SOCIAL MEDIA PERSONALITY NEMS
Virgin Music today announces the signing of an agreement with Paul Rosenberg's Goliath Records for the upcoming album by Nems titled Rise of the Silverback. The rapper and social media personality's new single "Drip" and the new album are set for release soon.
Paul Rosenberg, Chairman of Goliath Records, said, "Nems is a battle-tested street legend in New York City with a devoted fanbase that he built from scratch. Same for his brands. He's got incredible intuition and of course unbelievable talent. He did it his way and totally on his own so far. I'm thrilled to be able to work with him to bring his music to the world with Goliath Records and Virgin Music."
Cassetta release debut single "Swallow the Sun"
Cassetta, a new project based out of greater Los Angeles, has released their debut single "Swallow the Sun" on Bandcamp and all DSPs. The hardcore/metal group blends influences from the heaviest, darkest spaces to create a relentless, pummeling wall of sound. The song features guest vocals from Cameron Miller of Duhkha and was previewed yesterday via Knotfest.
Metallic hardcore prospects Cassetta make a menacing introduction with "Swallow The Sun"
RADIANT KNIFE: Metal Injection Premieres Pressure From Louisiana Progressive Sludge Metal Duo; Full-Length To Drop This Friday, July 14th
Metal Injection is currently streaming Pressure, the latest full-length from progressive sludge metal duo, RADIANT KNIFE, in its entirety. The premiere comes on the eve of the record's official unveiling, Friday, July 14th.
Vulnere Releases "Devious Indoctrination Of Outer World Evil" From Upcoming EP
The early stages of writing that would become Vulnere begin in 2017 with drummer Cody Pulliam and guitarist Mike Ashton. The goal was to create death metal with the aggression and complexity inspired by countless brutal death metal and technical grind releases of the mid 2000's/early 2010's. Vocal duties were soon filled by Mark Smith, and shows commenced as a three piece, offering something unique and crushingly heavy.
Key Glock Gets Straight to Work on "No Hook"
OXX: Decibel Magazine Premieres "The Hypostasis" From Danish Avant Hardcore Trio; Fourth Album, The Primordial Blues, Nears August Release Through Nefarious Industries
Decibel Magazine is hosting an exclusive premiere of "The Hypostasis," the new single from Aarhus, Denmark-based avant/technical metallic hardcore outfit OXX. The song is found on the band's fourth album, The Primordial Blues, nearing August release on Nefarious Industries.
Songwriter & songstress Debbie has been singing since her earliest years. Now 23, the fact she was raised in the church comes as no surprise. Raised on a restricted musical diet of Mary Mary and Kirk Franklin, the way the music flows out of her makes her seem like a seasoned veteran: from her reflective but effortlessly relatable lyricism to her rich, resounding voice and her spiritual curiosity, she's a careful blend of refreshingly new and intimately familiar.
Maya Donovan Shares New Single "Lenox" – for Skope
Tenderly introspective Brooklyn-based singer/songwriter Maya Donovan has released her latest single "Lenox," a contained ballad that recounts the residual emotions created through trauma. This track sees Donovan embrace rich bass lines, complex vocal harmonies, and a uniquely electric piano tone to establish her signature sonic environment. Following her 2018 debut EP and a successful 2023 single "We Should Get Dinner," Maya Donovan is hopeful to bring her mellow compositions, and heartfeltly modern lyricism to audiences through a string of upcoming single releases.
WATCH: AMERICAN IDOL WINNER NOAH THOMPSON DELIVERS THE OFFICIAL MUSIC VIDEO FOR "MIDDLE OF GOD KNOWS WHERE"
American Idol winner Noah Thompson delivers the exceptionally relatable and emotionally haunting official music video for his debut EP's title track "Middle of God Knows Where" today. The first of four videos to be released from the heart-hitting project, "Middle of God Knows Where" begins to weave the passionate ups and downs of a relationship and the somber and devastating end. Watch HERE.
MID CITY release vibrant and high energy single 'Happy Ever After'. Title track from band's forthcoming debut album, out August 25
Building impressively upon music released so far in 2023, in 'COMPROMISE' and 'EMILY', Melbourne's MID CITY have returned to further tease the release of their long-awaited debut album HAPPY EVER AFTER, with the reveal of the album's title track.
The single 'Happy Ever After' (also the album opener) is a standout of the record as a whole – jam packed with energy and demonstrating MID CITY's powerful hold over anthemic rhythms and euphoric vocals and melodies.
Laura Misch reveals new single 'Hide To Seek' from debut album Sample The Sky
2023 marks the beginning of a bright new chapter for London-based multidisciplinary artist, producer and writer, Laura Misch.
With the announcement of her much-anticipated debut album Sample The Sky stoking the flames of excitement surrounding her and her music, Misch continues to tease her forthcoming studio record with the reveal of her new single, 'Hide To Seek'.