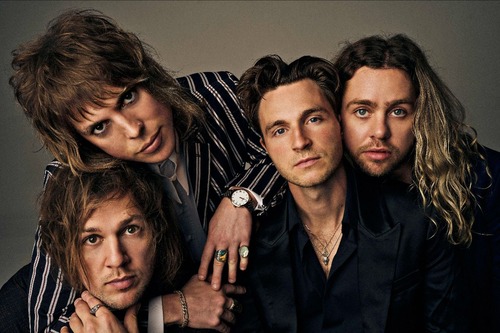 @skopemag news – friday – june 30, 2023 @ 8 am est
https://www.facebook.com/SkopeMag/
https://twitter.com/skopemag
https://www.youtube.com/@skopetv2
https://www.instagram.com/skopemag/
APP – Apple iTunes –
https://itunes.apple.com/app/id1465224822?mt=8
@skopemag APP – Google / Android –
https://play.google.com/store/apps/details?id=hr.apps.n207414718
Support @skopemag –
https://www.paypal.com/donate/?hosted_button_id=3APKAKT8K6ETW
Ariel Posen Announces Third Album, REASONS WHY, Out on September 8 via Soundly Music
Recorded in Winnipeg, Manitoba and Montreal, Quebec in early 2022, Reasons Why represents reflection and growth for Posen in both personal and artistic ways. The title refers to the explanation behind how and why we act, and how choices can further affect oneself and others.
Morgan Harper-Jones Shares New Single "Forever For Now"
Rising newcomer Morgan Harper-Jones releases a new single, "Forever For Now", available today through Play It Again Sam. The new track is the follow-up to Morgan's 2022 EP While You Lay Sound Asleep, produced by Luke Smith (Foals, Depeche Mode) and featuring co-writes with Eg White (Adele) and Keaton Henson. "Forever For Now" is streaming across all platforms from here.
THE GORGE: Metal Injection Premieres "A Decision Was Made" Video From St. Louis Progressive Metal Outfit; Mechanical Fiction Full-Length To See Release July 28th Via Pelagic Records
Born from their shared love for heavy music and twenty years of experience in playing together, THE GORGE consists of four jazz musicians who use the project as a creative outlet besides their day jobs as session musicians and music educators. Triangulating the chaotic yet groovy energy and the guitar masterclass of Botch with the riffage of Mastodon and the nimble instrumental intricacy of Animals As Leaders or Intronaut, Mechanical Fiction is an immensely ear-pleasing collection of tasty riffs and complex compositions that are nonetheless free-flowing like a river smoothly carving its winding path through a rugged landscape.
Alex Exists Asks Listeners to Think Critically on "Mindful Madness" from 'Everybody's Famous' LP
Alex wrote the song, "Mindful Madness," in the heat of worldwide lockdowns. The lyrics touch on themes of self-reflection, questioning reality, and describe a sense of widespread confusion and a desire for clarity. Overall, this is a song that explores themes of self-discovery, rebellion, and societal disillusionment. It encourages embracing individuality, questioning the status quo, and finding solace in the chaos of life.
LAUREN SPENCER SMITH SHOWCASES REAL COUPLES' LOVE STORIES IN OFFICIAL VIDEO FOR "THAT PART"
PRE's Jay Fizzle Drops Brand New Single "Been Going Crazy"
PRE's Jay Fizzle unveils his brand new video single "Been Going Crazy" out now via Paper Route Empire. This is the first track he's dropped since the release of his infamous DonaFizzo (Deluxe) mixtape late last year. The track finds Fizzle skating over a hard-nosed trap instrumental as he weaves his flow through thumping snares, finding fertile ground to illustrate the expanse of his spoils: "I used to be broke 'til I stopped being lazy/Now my pockets so fat like it's pregnant with babies."
INJI ANNOUNCES DEBUT EP LFG SHARES NEW SINGLE "UNTZ UNTZ"
Speaking on the track, INJI confidently explains: "'UNTZ UNTZ' is that song you're going to hear at every club for the next 6 months until you're absolutely sick of it (I hope). The Chainsmoker's "#SELFIE" and Mau P's "Drugs from Amsterdam" had a baby, and it's INJI's "UNTZ UNTZ". It's a deep, full, banging house track (like it's father) with catchy lyrics that everyone will be singing to (got that from its mother). It's hilarious, relatable, extremely danceable and will quickly become a crowd and dj favorite. Also, it'll be nice to have a 5'4 Turkish girl's song dominate club music for a change."
ALBI. Won't Be Your LVR GRL Unless You Love Yourself
Inspired by connections where she realised no amount of love could help someone into loving themselves, ALBI. fuses elements of hyperpop and drum & bass with her infectious melodies to create a punchy self love anthem that celebrates establishing boundaries when experiencing less than the love you deserve in relationships. Produced by UK producer Song Higginson, the duo serve up a powerful track that will leave you feeling empowered on the dancefloor.
GRATEFUL DEAD – HERE COMES SUNSHINE 1973
In the spring of 1973, the Grateful Dead was universally praised for delivering a consistently spectacular series of performances. The band was dialed in for the season's final five shows, including back-to-back nights at RFK Stadium, co-headlining with the Allman Brothers Band. Without a doubt, the June 10 finale belongs on the shortlist of must-hear Dead concerts. Clocking in at nearly five hours, the show is one for the ages: an epic musical journey, peaking with a third-set encore that includes Dickey Betts and Butch Trucks of the Allman Brothers sitting in with the Dead.
media release : eilish gilligan announces new single + video 'involved you'
OUT TODAY: Sara Fjeldvær – Meant To Love (FFO Susanne Sundfør, Ane Brun, The Weather Station)
Sara Fjeldvær grew up in a house full of musical instruments on the small island of Hitra on the northwest coast of Norway. With little else to do in a small community, it seemed inevitable to her that she would make music. Having released her self-titled debut album in 2021, she returned in September 2022 with the release of her Best Love EP.
JK-47 returns with open-hearted single 'Rain'
JK-47 and Jay Orient return to the fore, with new soulful single 'Rain ft. Adrian Eagle', out today, Fri 30 June, following an exclusive first play on triple j last night.
Opening with a tinny trumpet line reminiscent of an old radio, the single cleverly unfurls to an open-hearted soul-swinging hip-hop anthem. His blistering verses harness the past to shout to the hope of the future: Watch me turn these problems to progress.
WEST COAST PHENOM HAITI BABII RELEASES NEW SINGLE "YO BABY MAMA UGLY"
Haiti Babii rose up out of Stockton, CA and into the conversation as a tried-and-true West Coast contender. He made waves with otherworldly freestyles, catching the endorsement of everyone from Rihanna and Chance the Rapper to Meek Mill.
COUNTRY POPSTAR TANNER ADELL SHOWS HER VERSATILITY IN NEW SONG "TRAILER PARK BARBIE"
BROTHER-SISTER DUO BETWEEN FRIENDS SHARE NEW SINGLE AND VIDEO, "SMILEY"
The charming Los Angeles-based duo, BETWEEN FRIENDS have just released their new single "Smiley" along with its accompanying music video. The new record is a continuation of their string of vibrant yet emotive singles that they've been releasing throughout the year – giving a glimpse into their renewed sound to match with their cleverly relatable lyrics.
Alexa Cappelli Releases New Single/Video "Backwards (ft. Knox)"
"Backwards" features Nashville-based singer and songwriter Knox. Opening with serene guitar-picking and Alexa's arresting vocals, the song soon blooms into a sweeping, heart-on-the-sleeve duet. It's an emotionally charged and empowering breakup anthem that sees two of the most exciting names in pop joining forces.
Denver's ISADORA EDEN Reveals Video For New Single 'Mirror' Released 30th June 2023
Denver, Colorado based Isadora Eden is pleased to reveal the video for her new single 'Mirror', which is released on 30th June 2023.
The track is the final single to be taken from her forthcoming debut album forget what makes it glow, set for release on 14th July 2023.
Vintage Culture, Fideles & Be No Rain join forces on euphoric summer anthem 'Fallen Leaf'
Brazilian DJ icon Vintage Culture has teamed up with Italian DJ duo Fideles and London singer Be No Rain for euphoric new single 'Fallen Leaf', the latest track taken from Vintage Culture's highly anticipated debut album. Out today and distributed by Virgin Music.
Sammy Virji & Flowdan release highly anticipated garage banger – 'Shella Verse'
UK-based DJ/Producer Sammy Virji has released the hotly anticipated collaboration 'Shella Verse' with iconic vocalist Flowdan, out 30th June on Positiva / EMI Records.
A lean and bassy garage cut blessed with Flowdan's rapid-fire vocal delivery, 'Shella Verse' shows off Sammy Virji's talent for combining killer hooks with immaculately crafted productions.
Hardwell drops new single 'ANYBODY OUT THERE' with Azteck & Alex Hepburn!
The new track continues the exploration of the hard-hitting techier side that devastatingly has become synonymous with of late and blends in snappy kicks and up-tempo bass with infectious hooks. Alex Hepburn's vocal looms large over the whole song, with the impressive production of Hardwell and Azteck crafting an instant crowd favourite that will surely leave a trail of euphoria in its wake.
The Struts are 'Too Good At Raising Hell'
Released today via Big Machine/John Varvatos Records, 'Too Good at Raising Hell' is packed with a driving chorus and Stones-esque guitars as the band offers up cheeky-yet-surprisingly-introspective lyrics, reflecting the ennui of living a louche lifestyle. It's the perfect introduction to a newly perfected sound brimming with riotous, arena-ready tracks.
JACK VALERO SHARES THE NEW SINGLE 'TEMPORARY HELPLESSNESS'
Jack Valero's two sets at Glastonbury helped introduce him to an ever-growing audience, showing those present the sharply observed songwriting that has won praise from a host of tastemakers as well as repeated airplay at 6 Music and Radio X. It's a talent that's worth coming back for, as Jack demonstrates with his brand new single 'Temporary Helplessness'. Both this track and his recent single 'Pull Back The Hammer' will feature on a new EP which will follow later in the summer. Listen HERE.
The Remix Factory Calls On Fatman Scoop, Angelo Flow & Anjii Cii For 'Hips Don't Lie'
Just in time for summer and those unmissable trips to Ibiza with your friends, Delakwiz and Don Dante who make up The Remix Factory have enlisted no other than Fatman Scoop, Angelo Flow and Anjii Cii for their latest anthem, 'Hips Don't Lie'. Re-imagining Shakira's hit single; this explosive release instantly transports you onto an island with its infectious energy.
BLACK OAK COUNTY release new single & video "It's On You"
BLACK OAK COUNTY releases today a brand new hard-rocking single, "It's On You"! The Danish hard rock quartet is out with their second single from the band's coming third album.