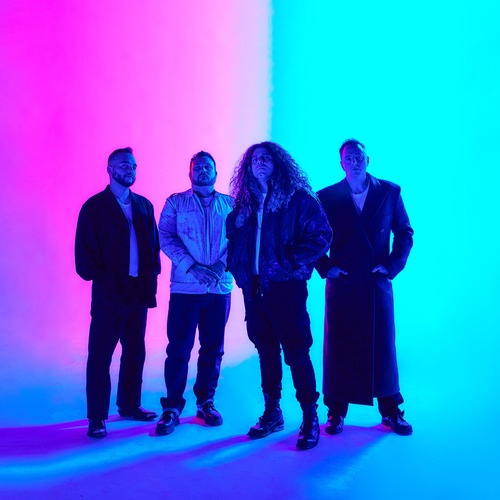 @skopemag news – tuesday – june 20, 2023 @ 5 pm est
https://www.facebook.com/SkopeMag/
https://twitter.com/skopemag
https://www.youtube.com/@skopetv2
https://www.instagram.com/skopemag/
APP – Apple iTunes –
https://itunes.apple.com/app/id1465224822?mt=8
@skopemag APP – Google / Android –
https://play.google.com/store/apps/details?id=hr.apps.n207414718
Support @skopemag –
https://www.paypal.com/donate/?hosted_button_id=3APKAKT8K6ETW
THE PLEASURE DOME Sign To Hound Gawd! Records + Reveal AA-Side Single 'Insane'/'Love Is Dead' Out Now
Bristol grunge-rock/punk trio The Pleasure Dome are delighted to announce that they have signed to Hound Gawd! Records and will release their debut album later this year.
Alongside the signing news, the band are pleased to reveal a brand new AA-side single 'Love Is Dead'/'Insane' which is released on 20th June 2023 on all good streaming services, with a 7″ vinyl release set for 4th August 2023.
Finnish Occult Heavy Metallers BYRON return with the new single "Resignation"
Finnish heavy metal band BYRON, which mixes its eclectic sound from NWOBHM to doom metal and back again to occult rock, was formed in 2019 and consists of long-term, competent musicians whose history lies in doom and black metal, as in hard rock and other styles of metal. BYRON currently released the full length "The Omega Evangelion" (2021) and the song "Sometimes Dead Is Better" (January 2023).
Give ear to RESIGNATION right here:
PALACE ANNOUNCE NEW EP OUT JULY 18TH + NEW SINGLE
London band Palace today release a brand new single "When Everything Was Lost", the title track from their upcoming four track EP "Part I – When Everything Was Lost", out July 18th via Fiction. The new EP introduces rich, deep strings to Palace's sonic arsenal, building on their now-trademark warmly melodic yet melancholic sound.
Dutch four-piece Lewsberg announce new album Out And About, and share new AA-side single
Today, Dutch four-piece Lewsberg have announced their fourth studio album, Out And About, is set to be released on September 15th (self-released everywhere except US, via 12XU). Alongside the announcement, the group have shared new AA-side single 'Without A Doubt / Communion'.
Dolores Forever return with new single 'I Love You But You're Making Me Sad'…
Produced by Askjell Solstrand (Sigrid, Aurora), 'I Love You But You're Making Me Sad' sees the band take a more melancholic approach, embracing their descriptor of 'indie ABBA'. The results speak for themselves, with a summer sad banger that's set to confirm the duo as one of the most exciting acts around.
JEREMY DUTCHER — New Album: 'Motewolonuwok' Out 6 Oct || + Listen To "Ancestors Too Young" Now
Today, Jeremy Dutcher – the classically trained Two-Spirit song carrier, composer, activist and member of Neqotkuk (Tobique First Nation) in Eastern Canada – announces his sophomore record, 'Motewolonuwok', to be released October 6th on Secret City Records.
M.Rider releases dreamy house single and video 'Little Things'
THE SMILE: NEW SINGLE "BENDING HECTIC" OUT NOW
Produced by Sam Petts-Davies and with strings by the London Contemporary Orchestra, the standalone single was recorded at Abbey Road Studios in London earlier this year. It was first debuted by The Smile during their Montreux Jazz Festival appearance in 2022 and, while not included on the subsequent live album The Smile (Live at Montreux Jazz Festival, July 2022), it became a word-of-mouth phenomenon, with fans and critics calling for its release. After a year of waiting, "Bending Hectic" gets a global digital release today via XL Recordings.
Snõõper share new single 'Powerball'
Next month, the Nashville-based DIY punk outfit Snõõper will release their highly anticipated debut album Super Snõõper, out 14th July 2023 on Third Man Records, and today present another fully-charged single/video, 'Powerball'. They also announce their first ever UK tour taking place this November.
Short Fictions Releases New Single "Wasting" via Lauren Records Ahead of Tour Plans
Short Fictions is an indie rock band hailing from Pittsburgh, PA, known for their introspective lyrics, captivating melodies, and raw emotional energy. Formed in 2015, the band quickly made waves in the local music scene with their unique sound and thought-provoking themes.
International project THE ELIALI PROJECT release gorgeous third single 'Virtuality'
Composed by acclaimed Israeli singer Eliezer Botzer, in a joint performance with esteemed musician/actor Lucky Ali, this highly anticipated single, transcends borders, cultures, and the diaspora of unity between Islam and Judaism.
AS I SPEAK Release New Video For "Mend"
"'Mend' is a very personal song for me and came from a place of loss. Losing a family member is always difficult but there's a certain hell in watching someone die slowly from cancer, which is exactly what I did in 2016. I was able to find a sense of closure after finally sitting down and writing about it." – Zach Cunningham
CACHE: New Noise Magazine Premieres "Forever In Retrograde" Single From Minneapolis Doom/Hardcore Punk Band
New Noise Magazine is hosting an exclusive stream of "Forever In Retrograde," the new song from Minneapolis, Minnesota-based doom/hardcore punk outfit CACHE, as the band prepares to release their eponymous debut EP next week.
Coheed and Cambria Drop Animated Video for "Ladders of Supremacy"
Coheed and Cambria launched their music video for the song "Ladders of Supremacy" today, premiering on the massive anime site, Crunchyroll.com. The song is a progressive powerhouse and fan favorite from the band's most recent album, Vaxis – Act II: A Window of the Waking Mind. The animation is derived from the original art from the album, created by Chase Stone. The video was directed by Darin Vartanian, AKA Pixelface, who explains the "the animation seeks to interpret chapter 8 of Vaxis 2 in a collage of high-fidelity 3D scenes, employing the subjective perspectives of each character's mind's eye. In this frozen moment in time, the characters bear witness to a comprehensive array of past and future events, intricately woven into the very fabric of their most crucial decisions."
Guided By Voices Share "Meet The Star" Lyric Video via Brooklyn Vegan
The ever-prolific and always active Guided By Voices is back at it again with their second release of 2023, a brand new full-length record entitled Welshpool Frillies, due July 21 via GBV Inc. As a follow-up to the record's first single, "Seedling," today, the band returns with a second single entitled "Meet The Star," along with an accompanying lyric video that comes with the following description:
COLD HART SHARES NEW SINGLE "CANDLELIGHT PT. 2"
Vocalist, songwriter and producer Cold Hart is back with a new single titled "Candlelight Pt. 2" out today via Epitaph Records. This marks his first new music since 2022's mixtape The OC Season 3 which features collaborations with alternative rap collective GOTHBOICLIQUE, including friends and collaborators Wicca Phase Springs Eternal and Lil Peep.
Oliver Tree Returns With New Single, Video and Album Announcement
Internationally acclaimed, multi-Platinum, chart-topping artist Oliver Tree has shared his highly anticipated new single, "Bounce," available now via Atlantic Records. Notoriously at the helm of all things Oliver Tree, the multi-faceted, multi-medium artist not only wrote and produced "Bounce" but directed the accompanying official music video too.
GHØSTKID – Release Video for "HOLLYWOOD SUICIDE", Announce UK Tour Dates
GHØSTKID is happy to share a flashback to their tour supporting BAD OMENS earlier this year with the latest video for "HOLLYWOOD SUICIDE":
Cindy Alexander Gives Thanks on New Single "House Without Windows"
Big Sur-based singer-songwriter Cindy Alexander today released "House Without Windows," the tender third single from her forthcoming record, Messy. Inspired by the move from Southern California to the rugged Central Coast and her deep connection to nature, Alexander guides listeners to the river in a gospel-inflected paean to belonging. Producer Paul Bushnell (Tim McGraw, Chris Cornell) keeps the sound wide open, turning understated contributions from an all-star band into a song like warm wind through the trees.
Joh Chase releases "Another Lover" single (Kill Rock Stars)
TELOCH VOVIN: Decibel Magazine Premieres Epic "Dragon Sworn"
Decibel Magazine is hosting an advance stream of "Dragon Sworn," the massive new song from New York black metal octet TELOCH VOVIN. The song advances the band's split album with fellow NYC black metal act VISERION, nearing release at the end of July.
VOLUME Release First Single From Their 20th Anniversary Edition of Requesting Permission To Land
Psychedelic rockers VOLUME have released the "Colossal Freak". The first single from their upcoming 20th Anniversary release of Requesting Permission To Land which will be released on vinyl on October 27th, 2023.
M. Ward Shares "too young to die" feat. First Aid Kit, 'Supernatural Thing' Out This Friday
M. Ward is sharing "too young to die" feat. First Aid Kit today, the final pre-release track from his upcoming album 'Supernatural Thing,' out this Friday. In the song's new video, Ward is a security guard working the graveyard shift who starts to see the ladies of First Aid Kit appear in his security camera's video feed. Watch it below.
Dro Kenji Gets Stuck in a Loop in "Over & Over" Video
Highlighting his sobering perspective on toxic behaviors and substances with melancholy melodies, Dro Kenji's music masterfully channels the elusive overlap of grief and contentment. Returning to caution listeners about the dangers of lingering in comfortably destructive cycles, Kenji shares the new video for "Over & Over." "Over & Over" will appear on WISH U WERE HERE, Kenji's next project, coming in July via MiraTouch/Internet Money Records/10k Projects.
Loveless Share "I Hope I'm Not Sick"
Loveless, the Los Angeles rock duo comprised of vocalist/producer Julian Comeau and multi-instrumentalist Dylan Tirapelli-Jamail, share their new single "I Hope I'm Not Sick" via BMG/Rise Records. Produced by Comeau alongside Nick Morzov (Animals as Leaders, The Night Game), the track highlights the duo's unique blend of emo, alt-pop, and high-velocity hard rock. The song offers an introspective exploration of the emotional landscape encountered while navigating mental health challenges.
KENZO B ANNOUNCES NEW MIXTAPE 'TOP 2 NOT 2' ON COKE BOYS / WARNER RECORDS
From the first frame, she immediately commands attention. The show-stopping spitter turns up in a Bronx park surrounded by friends. Kenzo transfixes with fast-paced choreography proclaiming her status at the top of the food chain, "I'm a five-star bitch." The clip also showcases the borough's love for her as she never relents, and sparks literally fly from her freshly manicured trigger finger.
LANiiDAE Premieres "Everhaze" at Metal Injection Today
"'Everhaze' is a small detour from our usual frenetic metalcore sound. We leaned into a more rock n roll vibe with soaring melodies, ethereal guitars, and enough emotional weight to crush a building. We've never been afraid to step out of our comfort zone, and 'Everhaze' stands as a testament to our ever evolving sound." – LANiiDAE
SLUDGE KEEPER: No Clean Singing Debuts "Weed Incubator"
"Weed Incubator" is the new single from Italian death metal act SLUDGE KEEPER, now playing exclusively at No Clean Singing. The song precedes the new project's debut album, Slough Of Despair, nearing July release on Selfmadegod Records.