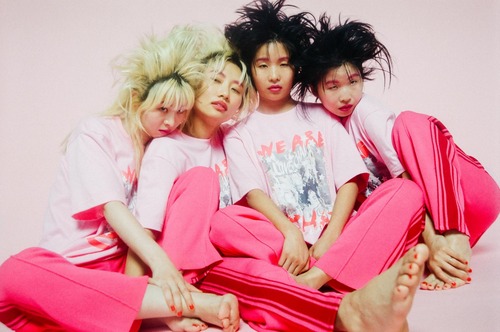 @skopemag news – thursday – june 15, 2023 @ 6 am est
https://www.facebook.com/SkopeMag/
https://twitter.com/skopemag
https://www.youtube.com/@skopetv2
https://www.instagram.com/skopemag/
APP – Apple iTunes –
https://itunes.apple.com/app/id1465224822?mt=8
@skopemag APP – Google / Android –
https://play.google.com/store/apps/details?id=hr.apps.n207414718
Support @skopemag –
https://www.paypal.com/donate/?hosted_button_id=3APKAKT8K6ETW
Amazon Music and Still Rising Corp. Announce Leimert Park Juneteenth Festival Lineup, With Alex Vaughn, Kalan.FrFr and More
The Leimert Park Juneteenth Festival, Los Angeles' annual free celebration of Black culture and community, has announced additional artists to the festival lineup set to perform at Leimert Park Village on Monday, June 19. Artists scheduled to grace the stage include South Central star Kalan.FrFr, rising star Alex Vaughn, and radio personality DJ Hed. As previously shared, Grammy Award-winning R&B icon Jazmine Sullivan will headline.
Fans can look forward to live interviews during the livestream with hosts Rob Markman, Gia Peppers, Amber Grimes, and DJ Hed. The Amazon Music livestream hosts will chat with festival performers and participate in a special sit-down interview with Los Angeles Mayor Karen Bass, who will also address the crowd during the festival celebration.
A-F-R-O & 60 East – Journeymen (Music Video Submission)
A-F-R-O and 60 East return with the 2nd Music Video off their new collaborative EP titled "At The Sideshow". The first Single titled "Cali Ozone" featured Ras Kass and showcased not only A-F-R-O's microphone skills, but also his production. Their new Single "Journeymen" also showcases A-F-R-O's production, but this time sheds a light on the project's main MC, 60 East. A-F-R-O, though a world renowned lyricist, chose to focus on his production on this project calling it "the first official project produced by me". At The Sideshow has been making some serious noise around the industry and the duo have already hinted at a part 2 of the series on an IG Live they did on release day. Check out the new single, and if you haven't already go support the new project available everywhere now.
Toronto's Jeremy Voltz Transports Listeners to a Romantic Getaway with New Indie Pop Soul Single "Sunrise"
This burst of indie soul pop is a vocal forward, deeply catchy invitation to take a deep breath and join him in a sweet escape. Voltz's collaborator Oliver Charles travelled to join Voltz in his studio to record this track, bringing a vacation vibe to this outlier of an approach to the rest of Running Away's tracks made in Montreal.
Konyikeh Captivates on "Teenage Dreams"
On "Teenage Dreams" Konyikeh combines visceral and honest writing with her beautifully emotive voice to delve deeper, exploring familial relationships and her experience of adolescence as a Black woman. Produced by British producer, Charlie J Perry, the song details the school experiences Konyikeh endured in comparison to those of her thin, white girl peers:
Hataałii's Jangly Garage Rock Recounts A Childhood "Dodging Cannibal Battalions" On New Song "Laugh Out Loud"
Today, 20-year-old singer-songwriter Hataałii shares "Laugh Out Loud," the latest preview of Singing Into Darkness, his debut album for Dangerbird Records out June 30. On its face, the liquid guitar tones and shuffling rhythms of "Laugh Out Loud" suggest the effervescence of a long-awaited backyard kickback.
YNP MAINE TAPS NDOTSPINALOT FOR EXPLOSIVE NEW SINGLE & VIDEO "AW YEAH"
YNP Maine is an unmistakable voice of the South—he grew up between Baton Rouge and nearby Gonzales, and has that city's penchant for bleeding-heart honesty in his raps—but the visuals for "Aw Yeah" find them on Ndotspinalot's home turf. The rappers saunter through record label offices, inhale plates of noodles, and flaunt Maine's crisp Latrell Spreewell Knicks jersey. The linkup is the pure embodiment of the collaboration, melodic pain music fused with New York drill.
SossHouse riser Kura teams up w/ Pi'erre Bourne for 'Born Seditionary' album
The follow-up to Kura's 2022 PUNKBOYYY EP, Born Seditionary finds SossHouse's youngest signee rebelling against rap's status quo and carving out a space for himself sonically through haunting synth patterns. Across the album's 14 tracks, you'll also come to discover Kura's love for fashion, sprinkling in luxurious flexes across tracks like "No Rules" and the previously released "Hold It Up." Born Seditionary is the latest release in a slew of releases from the exciting young artists signed to Pi'erre Bourne's SossHouse label, following projects from J Billz, Chavo, Sharc, and Frazier Trill.
THE ZENITH PASSAGE: Los Angeles Progressive Death Metal Goliaths Unleash "Divinertia II" Video
Los Angeles-based progressive death metal goliaths THE ZENITH PASSAGE today unleash their latest single, "Divinertia II." The punishing new hymn comes by way of the band's Datalysium full-length, set for release on July 21st through Metal Blade Records.
Quantic Returns With New Single "Run" ft. Andreya Triana
Quantic – aka British born producer and DJ Will Holland – has returned with a new single "Run", his first new material of 2023. Recorded at Selva, Quantic's own recording studio based in Brooklyn, NY., the song was co-written with British singer and songwriter Andreya Triana.
RAHWAY is BLASTING OFF!
Rahway – New Jersey (6/9) Let's take a trip on a spacecraft built for two on the new single, "Rocketship", from rockers, Rahway. The band consists of fellow space travelers – Nick Hade (Lead Vocals), David Cardenas (Guitar), Chigger (Bass), and Steve Cardenas (Drums/Backing Vocals). "Rocketship" is either an explosion of sound reminiscent of "a little Velvet Revolver attitude and guitar work," says PJ Farley- Fozzy, Trixter. Or possibly an outright crash landing on the moon with debris flying everywhere. "The track is a killer hard rock tune," gushes Eddie Trunk- Sirius/XM Trunk Nation. "For sure a band worth keeping an eye on."
MULTI-PLATINUM RAP PHENOM NLE CHOPPA DROPS "COLD GAME" MUSIC VIDEO FT. RICK ROSS
In the visual, Choppa and Ross trade bars outside of a massive mansion. In between vignettes of models at the pool, these two serve serious star power together. After cruising on a jet ski and blessing the club with a flurry of dollar bills, Choppa turns up on a luxury yacht, scanning the city's skyline from the water at night. He has ultimately emerged as a "Boss" in his own right, and his first collaboration with Ross only affirms this coronation.
America Jayne Announces New EP, Shares Single "Eat You Up" | 'Shove It' EP Out This Summer
Featuring hardcore vocals, relentless drums, and heavily distorted guitar, "Eat You Up," out today, is the heaviest song Brooklyn alt-rocker America Jayne has ever released. The first single from her forthcoming EP titled Shove It, due out later this summer, the track's stylistic exploration is fitting, as the song dives deep into a concept AJ has never touched: accepting that you are the one in the wrong in a relationship.
BIG RED FIRE TRUCK Release Video For "Love Bite"
The band comments: "'Love Bite' is a personal reflection of my experiences in the music industry and its comparison to the highs and lows of a place like Vegas. It's easy to get caught up in the glittering facade of success and become fixated on the idea of making it big. I read an article recently that helped me come to realise that the industry is in fact a lot like a casino – a few win big, a few even win small and those that don't are kicked to the curb and left to fend for themselves. This song is a reminder to myself and others to enjoy the journey, no matter what the outcome may be."
Female President release "Waves As Sharp As Knives", second single from "The Healing Ritual" EP
WAVES AS SHARP AS KNIVES is the second single released from "The Healing Ritual" and it sets the tone for a much louder, more aggressive, and energizing sound than on "Our Year To Grieve". Healing is a tough and chaotic process, it often takes pain and discomfort to create motivation to change. Often when you work on making your life or circumstances better, you find yourself surrounded by strangers and outside of your comfort zone. The Healing Ritual explores the roller coaster ride from pain to peace.
Seismic Dance Event Announces Lineup for 6.0 Edition
Seismic Dance Event, the premiere boutique house and techno festival, has announced the lineup for its 6.0 edition at The Concourse Project in Austin on November 10-12. Seismic remains a leading name in the global underground dance movement, building its legacy on gathering world-class international musical talent in an intimate environment.
hunter & wolfe Share "Last Time" Single + Video via Wonderland
Platinum Certifed Duo Smith & Thell drop new Folk-laden single
Following on from the soaring success of their much-loved 2021 sophomore LP 'Pixie's Parasol', which has since gone onto garner more than 250m streams on Spotify alone, Swedish folk-pop duo and platinum certified Smith & Thell now look to preview their next studio album with the riveting new single 'We Were In Love'.
Caicos Announces New Album, Shares Single "A Spade A Spade" | 'Ascension Intention' LP Out 9/15
Today, New York-based indie-pop maestro Caicos, Alex Frenkel's moniker for his solo project apart from the indie band Gospels, released the first single from his forthcoming album Ascension Intention, out on September 15th via #veryjazzed Records. The single is titled "A Spade A Spade" and demonstrates the depths of Caicos' sonic and lyrical world; the track is about finding tranquility in accepting today's reality, even if it's not what you expected.
POSTDATA Announces New LP, Shares "Mine The Sea" Single + Video via Brooklyn Vegan | 'Run Wild' LP Due 9/22 via Paper Bag Records
Today, POSTDATA — the solo music project of Wintersleep lead singer and songwriter, Paul Murphy — returns with the announcement of a brand new LP, Run Wild, due September 22 via Paper Bag Records. To commemorate the announcement, he has also shared the record's first single, "Mine The Sea," alongside an accompanying video.
Los Angeles' Rubber Blanket readies Our Fault for Mt.St.Mtn
Los Angeles' Rubber Blanket (members of Wounded Lion and The Intelligence), a group that proffers a distinct humor/horror consciousness that is coaxed via a crate of oddball musical machinery that is arranged in a manner that bucks all subterranean boogie, is set to release their sophomore album. Our Fault, via Mt.St.Mtn on June 29.
Pitchfork Approved Synthpop Electronic Artist
Since beginning his musical project in his dorm room in 2009, The New Division has attracted a fervent fan base around the globe and has garnered millions of plays and has been profiled by the likes of Pitchfork among others. Thanks for your consideration,
ICYMI: Max Winter shares new single "O Matter" + untitled (recs) announce new "(zero)" singles series | Home to TAAHLIAH, Jerskin Fendrix, Famous, Waterbaby + deathcrash
CHAI || Announce New Self-Titled LP + Present New Single & Video "PARA PARA" || UK & EU Live Dates Including Pitchfork Music Festival London
Today, CHAI announce their dazzling new, self-titled album out 22 September via Sub Pop, announce US, UK and EU live dates in support of the new record, and present the album's lead single, "PARA PARA." Unlike their acclaimed 2021 album WINK, this self-titled collection of songs finds CHAI returning to their roots, drawing inspiration from their Japanese cultural heritage and the music that raised them. "Everything reflected in the lyrics expresses our experience as Japanese women," vocalist/keyboardist MANA says, explaining why they chose to self-title this album. CHAI's ethos is one of inclusion, and the previously shared "We The Female!" — recorded live off the floor to honour the band's riotous performances — is "energetic and bright" (Stereogum), beckoning all listeners into the mission.