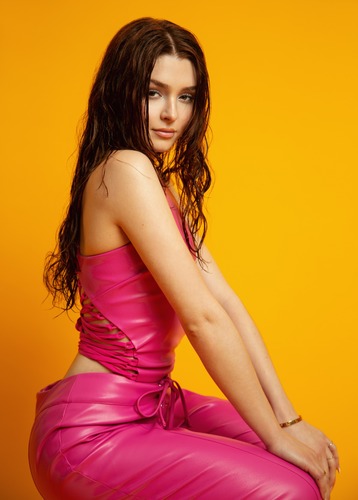 @skopemag news – thursday – june 15, 2023 @ 11:30 pm est
https://www.facebook.com/SkopeMag/
https://twitter.com/skopemag
https://www.youtube.com/@skopetv2
https://www.instagram.com/skopemag/
APP – Apple iTunes –
https://itunes.apple.com/app/id1465224822?mt=8
@skopemag APP – Google / Android –
https://play.google.com/store/apps/details?id=hr.apps.n207414718
Support @skopemag –
https://www.paypal.com/donate/?hosted_button_id=3APKAKT8K6ETW
Los Angeles Rapper nascar aloe Shares Sinister New Music Video "OGRE"
Blending raw, unrestrained energy with his punk aesthetic and cutting-edge production, LA-based artist nascar aloe is trailblazing a new wave of underground rap that welcomes a brash genre-bending musical approach. Today he shares the cinematic music video for "OGRE", a track from his freshly released EP HEY ASSHOLE! out now via Epitaph Records.
The Hails enchantingly fuse indie, soul, and alternative R&B on new single "Heaven"
Solari shared, "'Heaven' emerged as our first in-person collaboration after months of remote songwriting, fostering a melodic exchange between myself and Robbie. As the penultimate single from our debut album, it incites introspection about one's lasting influence, even in absence. The poignant question, 'If I was in heaven… would you fall in love again?' persists, underpinned by a steady drumbeat symbolizing life's constant progression. A climactic flurry of strings offers a glimmer of hope for an eternal reunion."
Teddy Geiger aka teddy<3 Shares "True Love" Single via Rolling Stone | New LP, 'Teresa,' Coming This Year via STEM
Grammy-nominated songwriter Teddy Geiger — under the moniker teddy<3 (pronounced "teddy") — is kicking off a new era with a brand new single entitled "True Love," out now via STEM. This track is the first single from her forthcoming record, Teresa, due later this year.
AUSTIN MAHONE ANNOUNCES NEW ALBUM A LONE STAR STORY ARRIVING JUNE 23, 2023
STRABE Share New Single "Memories" || Debut Album Announced
STRABE have premiered brand new single "Memories", which is available now on [PIAS]. The band have also confirmed details of debut album How Our Love Grows, due for release on September 15th and introduced in style recently with "All My Heart" (alongside a stunning, AI-generated video). Having gone viral for their first track "Best Worst Year" – which surpassed 10 million streams over the pandemic – and dropped acclaimed first mixtape JUVENOIA.
CARRY THE TORCH Release Video For "El Niño"
Swedish death/thrash quartet CARRY THE TORCH have released a video for "El Niño" which is taken from their album Delusion which was released on June 9 via Black Lion Records.
Progressive Extreme Metal Group THE ARCANE ORDER Share New Lyric Video "A Blinding Trust in Chosen Kings"
Danish extreme metal quintet THE ARCANE ORDER returns with their fourth album Distortions From Cosmogony, out today via Black Lion Records. With their new experienced line-up consisting of members from SOILWORK, MØL and HATESPHERE, the band has created an epic metal album within their singular style combining the extreme, the grandiose, technical and melodic while telling the story of mankind's eternal existential conflict between autonomy and submission. The band is now showcasing the a striking lyric video for the focus track "A Blinding Trust in Chosen Kings".
New Music: Zilched Announces New LP + Shares "The Flood" Single + Video Today
Jam Band Golden Feather Capture their Incredible Energy on Full-Length Live Album 'Welcome\\Release'
Golden Feather is a project that was started by Steve Kiely and Brad Germain, inspired by their love of bands that like to jam and take their listeners on a musical journey. So far, Golden Feather has released the 2022 EP Now & Then (Sonic Unyon Records) and followed that with a full-length live album, Welcome\\Release.
Maeta (Roc Nation) Releases Video For "Questions" Produced By Kaytranada
Roc Nation's R&B songstress Maeta has released the video for "Questions," the song off her latest EP When I Hear Your Name that was produced by KAYTRANADA. The video shows Maeta as she contemplates if a love will stay forever while Kaytranada's slick beat sets the tone for this Summer hit.
A LIGHT WITHIN Unveil Video For "Count With Your Eyes"
Dynamic, post-metal ensemble A LIGHT WITHIN have unveiled their new video for "Count With Your Eyes". Continuing to push the boundaries of their music ever further, "Count With Your Eyes" is a thrilling offering with an emotive and uplifting message.
Drummer Nick Sloan comments about the track title: "In the absence of aural cues, one learns how to count with their eyes." And in relation to the lyrical content, vocalist Kyle Brandt states: "This is a story of one's inner struggle between passion and expectations. We have an inner voice to give up, but we don't have to listen."
Today Sia Shells Rallies her Fellow Merbabes on Uplifting Love Song "Your Mermaid"
Coinciding perfectly with Disney's live action version of The Little Mermaid, Sia has created "Your Mermaid," an anthem for her ocean loving beach babes. The tropical seashell sounds evoke the nostalgia of Ariel, Flounder and co. while the chorus resembles the ethereal calls of a siren, managing to keep it positive and uplifting instead of too moody and dark.
RADIANT KNIFE: Decibel Magazine Premieres "Slumber"
Emerging from the swamp-ridden landscape of South Louisiana, RADIANT KNIFE features Greg Travasos on drums and Stephen Sheppert at the helm of guitar, synths, and vocals. Principally inspired by artists like Today is the Day, Zeni Geva, Loincloth, Yes, and King Crimson, together, the pair manifests a heavy sonic landscape rife with unorthodox time signatures, grizzly guitar tones, and layered, sci-fi influenced synth textures.
La Materialista cautiva corazones con su nuevo sencillo "Tú eres"
La talentosa cantante dominicana, La Materialista, irrumpe en la escena musical con el lanzamiento de "Tú eres". Compuesto por la propia intérprete junto a Bryan Peguero Reyes y escrito por Santiago de Jesús Montero, este fascinante tema nos sumerge en una atmósfera romántica y positiva, que se entrelaza con una melodía de merengue irresistible, invitando a todos a dejarse llevar por el ritmo y el baile. Aunque se trata de una canción de corte tropical, "Tu eres" conserva el inconfundible "flow" urbano distintivo de La Materialista.
OSEES Share "Goon" Single + Video via Paste,
The ever prolific and constantly frenetic OSEES recently announced details for their forthcoming LP, Intercepted Message, due August 18 via In The Red. Following the release of the record's first single and title track, "Intercepted Message" (alongside an accompanying video), today, the band shares another new track entitled "Goon," also with its own video (starring Zack Palmisano).
COCO JONES CROWNS HUGE "ICU" BREAKTHROUGH WITH CERTIFIED GOLD SINGLE HITS #1 AT URBAN RADIO
Coco Jones, the triple-threat multi-hyphenate actress, singer/songwriter and R&B's new "It Girl," celebrates an absolute breakthrough year with the RIAA Gold certification of her mammoth single "ICU," as it hits #1 on both the Mediabase and Billboard Mainstream Urban Charts.
Gabi Sklar Reveals "Good Kisser" Music Video
"Good Kisser" is a sultry and sophisticated pop anthem that highlights Gabi's captivating vocal range. "The song explores the 'maybe I should, maybe I shouldn't' relationship with a really good friend — it's about that push-and-pull of intuition vs. temptation," she says. Since releasing last month, the single has racked up 150K streams, as well as praise from tastemakers like Rolling Stone and Celeb Secrets.
Big Jade Sends a Message to Mr. Right Now in "Soulmate" ft. Fredo Bang
Big Jade burst out of Beaumont with blunt force bars and a lyrical honesty that helped her stand out in the Texas scene. Switching up her style for a sultry new anthem, Big Jade shares "Soulmate," her new video single. Produced by DJ Chose, "Soulmate" is no romantic gesture, but a definitive statement of where things stand: "You ain't my soulmate, you my f*ckmate," intones Jade. The new song departs from Jade's usual style, showing a melodic side of the emcee that she's never revealed before.
Polish Cairo-Based Guitarist/Songwriter ANDRZEJ CITOWICZ Releases New Single 'Electric Heartbeat Symphony'!
Andrzej Citowicz, a Polish Cairo-based guitarist and songwriter, and former recording artist for Down Boys Records, has just released a new guitar instrumental single titled "Electric Heartbeat Symphony" under the moniker CITOVITZ AND THE FIREFLIES OF FEBRUARY. This latest release is one of several singles that Citowicz has put out in recent months as a preview of his upcoming album, "Never Ending Storms," set to drop in the summer of 2023.
Seismic Dance Event announces deadmau5, Chris Lake, Kaskade (Redux), MK, Anfisa Letyago, Boys Noize, Astra Club (DJ Tennis b2b Carlita), Loco Dice, Mau P, Walker & Royce, VNSSA + more for 6.0 edition
Seismic remains a leading name in the global underground dance movement, building its legacy on gathering world-class international musical talent in an intimate environment.
Headliners for the 2023 edition kick off the most impressive Seismic lineup to date, featuring patron saint of modern electronic music and mau5trap founder deadmau5, Black Book Records heavyweight and super producer Chris Lake, and storied mainstage icon Kaskade performing a Redux Set.
Veterans of the global dance scene will make their presence felt at Seismic this year, featuring AREA10 label boss MK, the iconic sounds of German producers Boys Noize and Loco Dice, and Dirtybird favorites Walker & Royce.
THE DAY THE MUSIC DIED, Acclaimed Documentary Celebrating 50 Years of Rock Classic 'American Pie,' Comes to Blu-ray, DVD and Digital
In 8½ minutes, singer-songwriter Don McLean defined an entire generation's fears, disillusionment, grief, and even hope with the epic tapestry of the song "American Pie."
On June 23, during the song's yearlong 50th-anniversary celebration, noted film and music producer Spencer Proffer's THE DAY THE MUSIC DIED: The Story of Don McLean's 'American Pie,' offering stunning insight and remarkable context for the enduringly popular song, will be available to own on Blu-ray and DVD, through Bob Frank Distribution/The Orchard, following its acclaimed premiere last year on Paramount+. Then, on June 27, the film will also be available to buy and rent on digital platforms from Paramount Home Entertainment.
"THE DAY THE MUSIC DIED: THE STORY OF DON McLEAN'S 'AMERICAN PIE'" AVAILABLE NOW ON PARAMOUNT+
Tei Shi shares official video for "¿QUIÉN TE MANDA?"
Following the release of her new indpedent EP BAD PREMONITION, Canadian-Colombian singer-songwriter and artist Tei Shi shares her official video for her single "¿QUIÉN TE MANDA?", a fan favorite taken from the 6-track EP. Co-produced alongside Chairlift's Patrick Wimberly and Unknown Mortal Orchestra's Jake Portrait (Lil Yachty), the bilingual track delves into themes of deception, self-empowerment, and independence all while drawing inspiration from her cultural roots. It's a reflection of the frustration, manipulation, and deceit Tei Shi endured while navigating the music industry. The single and its accompanying visual which premiered earlier today on REMEZCLA are a powerful testament to Tei Shi's artistic expression and serve as an anthem of strength and liberation.
Sydney soul artist Melita releases smooth & groove-laden EP 'Hearticulate'
Pulling sonic influences from a wide array of sources, Sydney's Melita has today unveiled her debut EP titled 'Hearticulate'. With comparisons being drawn to artists including Silk Sonic, Parcels & Tom Misch, Melita's glossy vocal performance is a highlight across the release, backed strongly by glorious soul, funk and R&B rhythms. Starting with the swirling 'Greetings', the 7-track 'Hearticulate' EP then rolls into the title-track, engulfing listeners with Melita's warm & oh-so-smooth vocals. 'Delusional', 'Crystal Logic' & 'Smile' continue to showcase Melita's lush vocal range, with 'Saturn Blues' picking up the tempo for a funk-inspired number, before rounding out with the climatic and ethereal 'Hold On To My Mind'.
Jack River Shares "Lie To You" Today; New Album 'Endless Summer' out Tomorrow!
Jack River (aka Holly Rankin) shares the official music video today with the release of Endless Summer's focus track "Lie To You" – watch HERE. On the new single, River explores the eventual, and often necessary, tensions that arise as we delve deeper into intimacy and find ourselves clutching to the imperfect line drawn between falsities and truth. Overarching sonic peaks and troughs are skillfully interwoven with River's entrancing vocal delivery, 'If I said I was leaving, would you fight for me, or start grieving.'